Fairly regularly on this reflector there is a discussion on the value of higher transmitter power. Someone points out that doubling the power is half-an-S-unit which is of little value to the receiver; and the response comes that it is very valuable to stations near the limit of detection.
I have some quantitative results from two WSPR experiments that Ken VE6AGR and I did recently.
We set up two WSPR transmitting stations in Calgary. Ken's station was kept constant from day-to-day, and Ian's station was reduced in power each day, running at 200mW, 100mW, 50mW, 20mW, and 10mW. We ran the experiment on both 20m and on 40m. On 20m the power reduction was conveniently done in the late evening when the band had closed and we were not being heard anywhere. On 40m the power was reduced in the morning when the spot-rate was nearly zero. The two WSPRlite devices were re-started simultaneously, so the transmission from both units were synchronized at all times.
We calculated for each power-level the average range of all spots received, the number of spots that were received, and the number of periods where transmissions were made but no-one heard them.
For each parameter, at each power level, the result of Ian's station was divided by the result of Ken's constant reference station. The results for 40m are shown graph. The results for 20m are similar.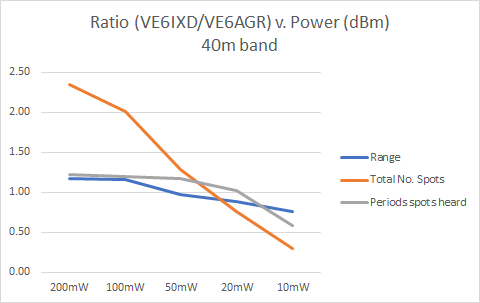 In summary for WSPR transmissions, we found that doubling the power of transmission caused the number of stations reporting to (approximately) double as well.
So this observation does suggest that when struggling to make 4 contacts under marginal conditions, doubling of power is a useful way to significantly increase your chance of being heard.