I just wanted to let you all know about my recent project regarding SOTA and APRS. As some of you may know I use APRS a lot, also on my SOTA activations. Due to the mountainous topography in my area there are quite a lot spots where it is almost impossible to get a packet out into the APRS-Network.
So I decided to build myself a portable APRS I-Gate that is listening for my (and other) APRS-Packets in my car during my hikes … so I got myself a Raspberry Pi 3. As I was not familiar with RPi and Linux so far I had to do some research, reading and learning! I'm still far from calling myself an expert, but I managed to set up an APRS I-Gate in a rather short period of time.
As APRS-Software for my RPi3 I chose "DireWolf", it can be found here:
Some helpful links for setting up DireWolf on a Raspberry Pi:
First I tried to setup the system with an RTL-SDR-Dongle, but the SDR was very deaf and did not decode very much of the packets. So I replaced the SDR with my old Kenwood-Handheld, which I have not used for some years now. The results were a lot better, had the system running for some days at home connected to my WLAN and it worked very good and stable.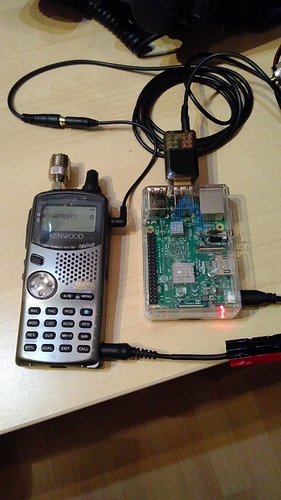 The next step was to get the system to work in portable mode. I decided to get myself a small portable WLAN-Router by TP-LINK and a prepaid sim card:
Yesterday I tested the setup for the first time on a hike to a local summit (NO SOTA REF.). At the parking lot I connected the whole system together and started the hike. The results were great, no packet was lost during my three hours walk:
http://aprs.fi/#!mt=osm&z=15&ts=1489363200&te=1489419600&call=a%2FOE5REO-7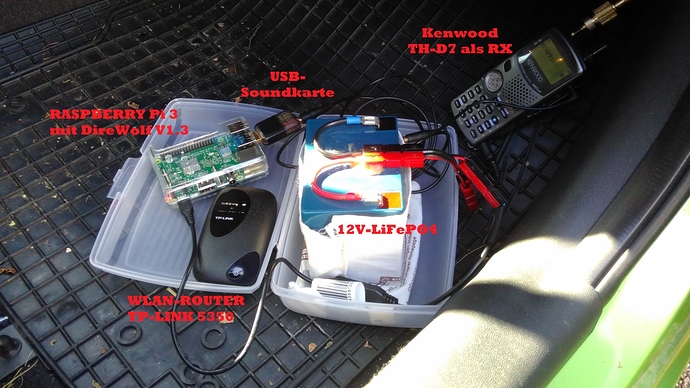 The next step will be to mount the RPi3 into the car, connect the audiocable with my existing vhf-radio in the car and fit everything together so that the I-Gate can easily be switched on.
I hope that some of you will follow me on my SOTA/APRS hikes in the future!
73 Martin, OE5REO