Terrific ideas. I'll have to try some of these in my backyard before my next summit.
Hi,
I guy my roach pole with three pieces of cord with a tent slider/adjuster on each. I tie them to the pole with clove hitches and use tent pegs or rocks. Seems to stay upright and nothing to go wrong!
Ciao
MM0YCJ
I only ever used small hand ratchet straps to secure my 7m mast to anything vaguely vertical … that was until 3D printing came into my life. A mast anywhere anytime… Hollywood voice over not included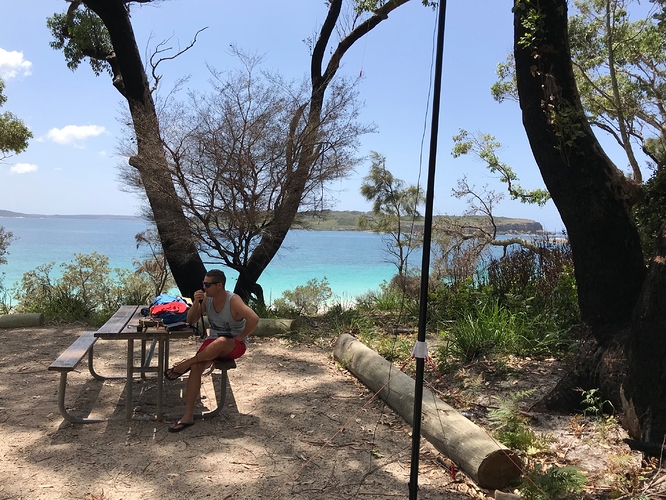 VK1MIC .com
Wade
I use a Sotabeams guying ring (orange) which allows me to rotate my mast if I have a beam antenna. The cords and stakes are stored on the winder.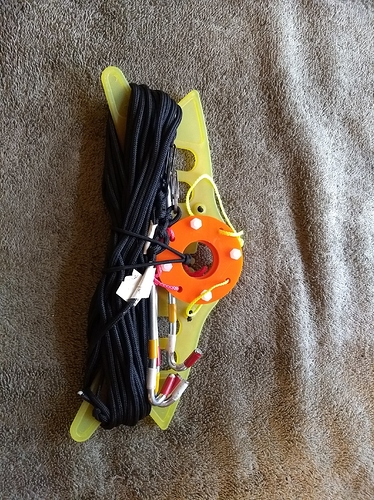 thank you all for your replies.
i tried my new pole guying setup on the last three activations and it worked fine. in fact it's so easy and simple to use i think this will be my favourite way of guying the antenna pole in the future. now i ask myself why i did not think of that solution earlier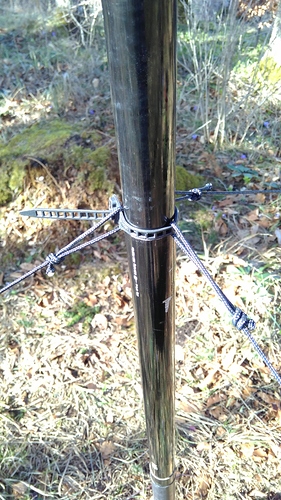 i use a cable tie, three simple cords and three mini-pegs. the additional weight doesn't matter: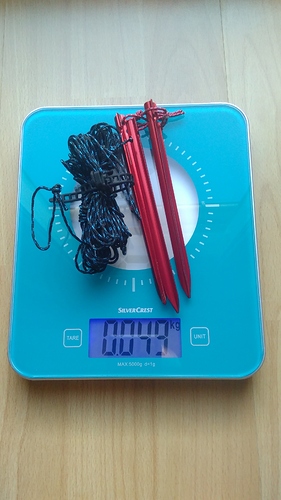 73 martin, oe5reo
Martin,
That looks very quick and simple. How high up do you use it from the ground??
Malen
VE6VID
About one meter from the ground. The pole is 6m long …
If you're looking for ideas , here's another DIY solution …
I made this to hold a small "golfing" umbrella (also from my beloved Decathlon store, hi).
It's made from a 30cm PVC tube, diameter 40 mm + a piece of aluminium angle stock, 29cm long, of which one end is made into a pointed tip ( Note : don't take this in your backpack on a plane … it's a weapon! ;-).
One long 4 mm bolt with a thumbscrew makes it easy to unfold and use. Two nuts inside the tube make sure that I don't crush the tube. All tension is held by the bolt alone.
The handle of the umbrella is a tight fit, I did test it on a windy summit … and on a windy beach on Mallorca !
I suppose it can also hold a light fishing pole (not tested yet), either by taking a larger tube to fit the pole inside, or using all but one element of the typical 6m pole from Decathlon, this will fit inside the 40mm tube. You will only lose the bottom 58 cm, still enough pole to put up a full size GP for 20m.
Still to do : make two cutouts as marked in the next picture, so that I can fix it at a 90° angle. Not sure where to use that, maybe for putting it between two large rocks on a summit, when you can't put it in the (rocky) ground ?
(Would be OK for an umbrella, but probably will not take the torsion force of a fishing pole).
Other application ideas welcome !
73, Luc ON7DQ
Just need to make sure your pole will fit into the square slot on top of the anvil.
Ciao
It's my lucky anvil, I take the same one with me when I go sky-diving.
Glad to see you keep it nicely lacquered Andy, a rusty anvil can make such a mess in your back-pack.
73 de Paul G4MD
(I'll confess now before Gerald dobs me in - I use the wimpy 75lb version

)
Seeing you make Gerald carry it, you are just being far too kind to him

No wonder Gerald needed his pipes rodding through if you were sneaking that into his bag!
[straight face]
I always wrap my anvil in bubble wrap so it doesn't get damaged when it's in the bag.
[/straight face]
One day i will visit you and I want to take your photo as you lug that thing up your driveway, let alone a summit.
Hi Martin, For six hundred activations now have avoided any need to guy a pole. I simply "brace" the pole instead. Such is simpler, lighter, and much faster. I may typically wedge the base of the pole between rocks, between branches of a fallen tree, in a rock cairn that I may, but rarely, have to build up, and use the EFHW wire to gently pull the pole to one side. Done. No guy lines, no attachments, no bungies, no helper, no nothing. Of course if there are bushes, I can just stick the pole in. If there are trees with branches, I can use the pole like a tool to reach up and hang the insulated wire over a tree branch which can be almost 28 feet high. The pole just hangs from the branch, hi hi. No sense carrying anything that isn't actually needed. 73, Fred KT5X (aka WS0TA)
Fred, I know you're really just envious of Andy's Anvil …and would love lugging that 100-lb beast up a 14er just for the fun of it!


I have found this thread really interesting, but like Fred I find I do not need to guy my pole. Usually, I lash the base to a nearby object, usually a tree stump, larger rock, or the like. This works quite nicely for me. I do carry three aluminum tent stakes and paracord just in case. I have yet to have a nice barren summit to activate.
Come to Scotland then! We have plenty of summits like this: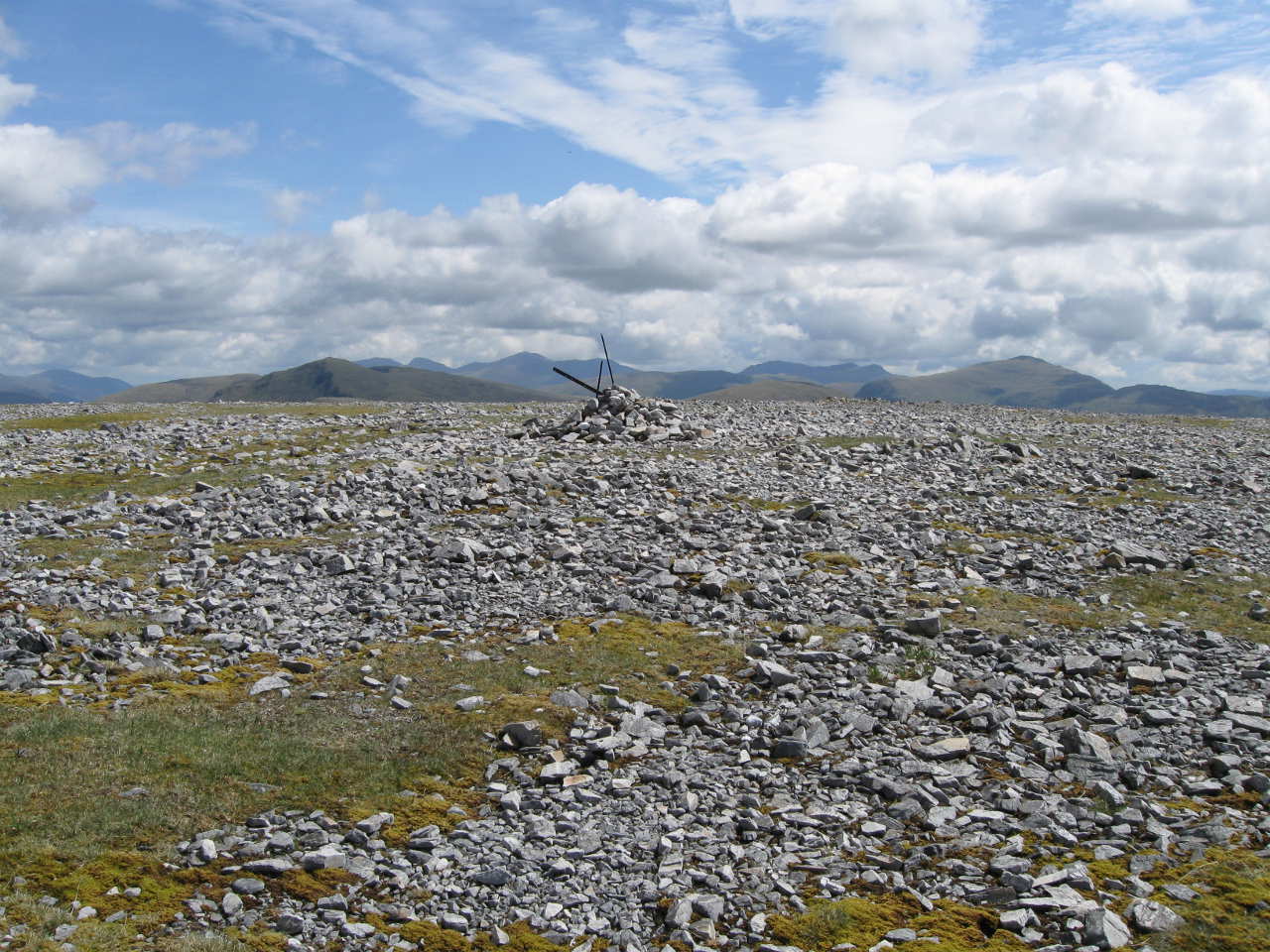 But repurposing the cairn and those scrap fence strainers is bad form. Even here, 7.5km walk from the car, 21km down a dead-end glen, you still meet walkers and commandeering the cairn is not acceptable. You have to get a bit off the true summit to play with wires across the hill.
I'd guess 40% of summits look like this with nothing suitable to lash the pole against.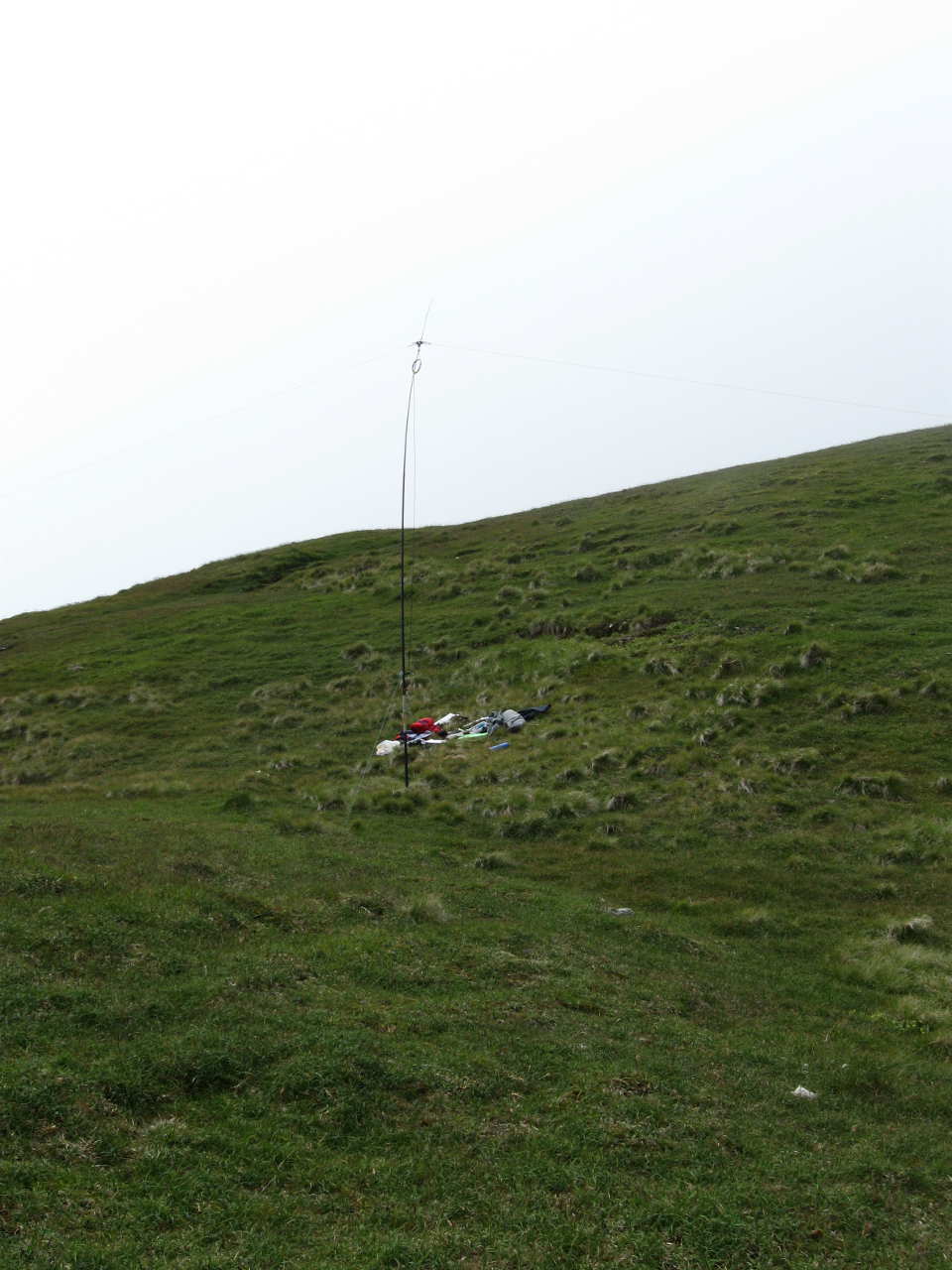 Sure there are plenty of fences and rocks on other summits. But I can guy with 3 tent pegs and 3 lanyards in less time than I can build a rock base for the pole.
What we need is one of these on every summit, just ideal to slip the pole into!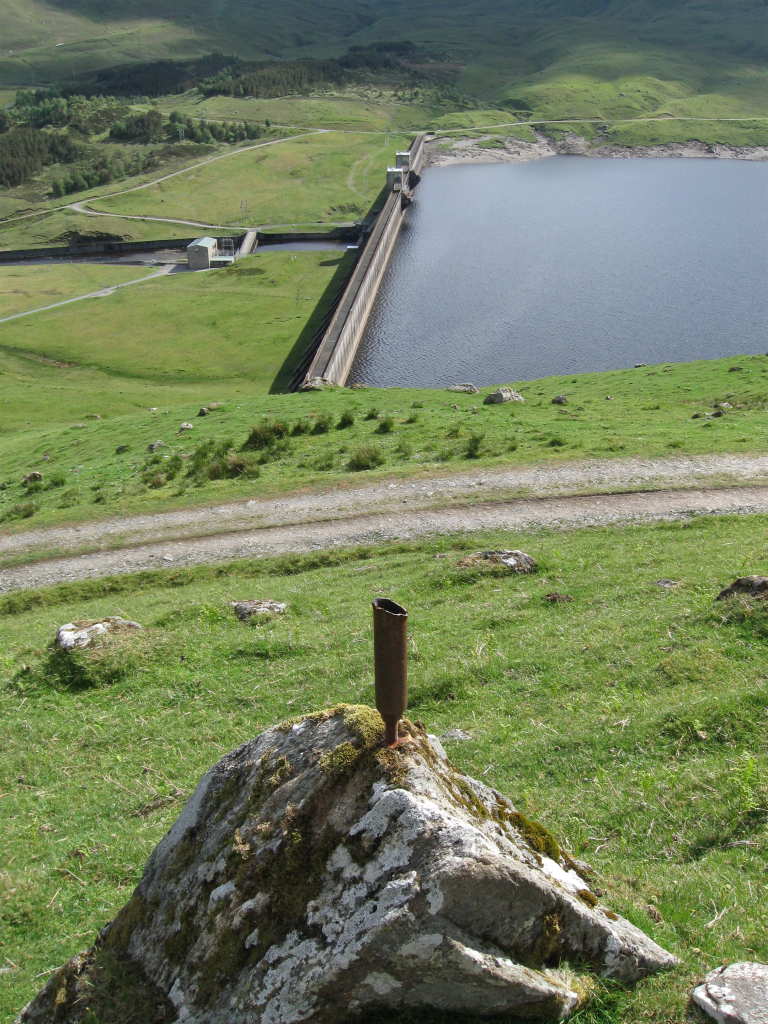 Sadly this is about 400m lower than the summit and it's the only such thing I've seen in 11.5 years of SOTA! The dude who installed this did a good job. That's been exposed to Scottish weather for 60+years and it was corroded on the surface.
It's a fundamental mark for the damn construction… there should be another one on the other hill and all the sightings were done from here.