I prefer BNC connectors for their: size, weight reduction, quick-connect, etc.
I bought a few of these adapters from China on eBay and they were quite good.
I bought a few more from a different vendor and when the new batch arrived, 2 of them had self-disassembled in transit. The guts are press-fit, no crimp. I found that when they get cold, as in sitting outside in the (cold) mailbox on in your ruck during a winter activation, the white plastic insulators contract more than the outside metal shell and they literally fall apart (easy to loose the small parts).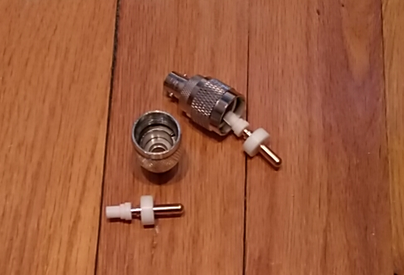 They can easily be reassembled when cold and when warmed back to room temperature, they seem solid enough. They also press fit together easily at room temperature.
This is easy to test in the freezer at home. Put them in a zip lock bag or container so the parts don't separate and scatter.
Yes, I did cold-test all the other adapters that I have and might use on a summit (including the spares),
Clearly, I won't be using these dodgy adapters in the field for anything and I will mark them with bright nailpolish. Or maybe just recycle them.
The eBay vendor did offer a refund.
I wonder what other kit I have which doesn't behave well in the cold?
Batteries are obvious so I try to keep them warm and wrap them in a layer of insulation in the winter.
Fingers too, which enhances my QLF.
Any other thoughts?