It was the day before my scheduled 5th chemo session and, with several tough days I had after the 4th session, I just wanted to enjoy mountains and radio before the 5th chemo session will get me again into bad times.
I have not felt any urgency nor too much interest on the activator points since I started SOTA in November 2013, because being 1, 2 and 4 pointers most of the summits around my QTH and having a limited time for activating due to work and family commitments first and due to health contrains later, reaching 1000 points struck me as a very long term task. Little by little the points have continued adding up and I've found now that MG is something really close and something I now feel like achieving.
With my health constrains, drive up summits or short easy hikes is all I can afford now, so I targetted these 2 summits, because I've activated both before and I was able to get to the very top with my Rodius AWD. I need to make a warning because the path to the top of Girizu in very much on the limits of the 185mm ground clearance of my car and a regular can will not make it at all.
These 2 summits form a perfect pair and suit perfectly my needs.

The WX forecast was for a sunny day so, what else could I ask for?
The 65 Km drive go through very courvy mountain roads until Roncesvalles, a village well known by all those walkers of Camino de Santiago like Andrew @VK1DA and other walkers or passers by. The so called Camino Francés = French Way starts at Saint Jean Pied de Port (France) and soon crosses the border getting into Spain. The very first stage ends here in Roncesvalles.

I had this coffee with a chocolate muffin: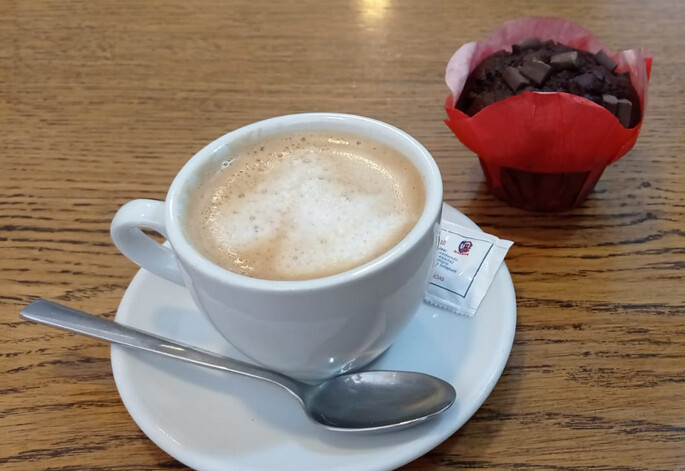 at Roncesvalles casa Sabina:

Then I continued a few hundreds of meters (perhaps 1 Km) up to the Col of Ibañeta:

where I took the road to the right before the hermitage:

This broken road can be driven up to the top of Mt. Ortzantzurieta EA2/NV-012.
During the ascent I was delighted with the view of this majestic Griffon vulture on top of these rocks. Looking ahead here:

Looking over the shoulder here:

And the summit was finally reached:

Awesome views from the top, where there still remained some few snow patches:

I setup my usual sloper OCF 10m wire to an unun 9:1 with a shorter elevated 3.1m wire about 1m above the ground, but I forgot taking a picture of it. Only this picture I took from my operating position shows part of the elevated shorter leg:

When that picture was taken, the antenna was beaming to the NorthEast to enhance chances with Europe on 40 and 30m. Later I changed the orientation to the NorthWest to enhance chances with North-America on 20m.
The activation went like this:

It was a CW only activation, with the exception of a S2S with César EA4IS on 40m SSB, because speaking out to the michophone is far more energy consumming to me than CW and I'm pretty short of energy in these days…
A total of 61 QSOs on 40, 30 and 20m band, with 3 S2S and 2 DX USA.

And 6+3 activator points in my bag.
I remember having announced QRT a couple of times after some unresponded CQ calls on 20m and then having still a number of chasers calling in. Of course I worked them.
I finally went QRT, packed up and descended to just cross the road at the Col de Ibañeta and start the ascent to my second summit of the day. Mt. Girizu EA2/NV-042.
I had to open, pass and close behind me a couple of gates with its corresponding cattle grid on the floor. Then I continued along a very steep dirt road up, having to stop some times to inspect the feasibility of some crossing water evacuation channels with my vehicle. I even had to abort some attempts and retry with a slightly different trajectory and the bottom of my car touched/rubbed the ground in one or two occasions. With a bit of holding my breath sometimes, the great Rodius AWD and it's driver finally made it to the top.
Given the time of the day and my remaining time available, I setup like this beaming North-West to enhance chances with North-America:

The activation went like this:

It was again a CW only activation, with the exception of another S2S with César EA4IS on 40m SSB.
A total of 53 QSOs on 20, 17 and 40m band, with 1 S2S and 6 DX USA, being one of those with the state of Alaska on 20m and other with California on 17m.

And 4+3 activator points in my bag.
The call from @NL7V in Alaska was a thrill with a strong signal and a typical auroral fluttering and echoes. Something very interesting to hear.
The call from @N6WT in California was a big surprise too because he was my first chaser after I had just selfspotted and started CQing on that band, which I haven't used much so far because my manual MFJ antenna tuner had problems to tune my antenna on that band, but my brand new mAT-10 automatic antenna tuner easily tunes on that band, so I think I'll give this band many more chances from now on.
The Sun was lowering and the wind had picked up, so I went QRT, packed up and descended with no problems at crossing the evacuation water channels crossing the track.
A great time in the mountains and playing SOTA.
I forgot making a selfie at the summits, so here is a selfie made upon my arrival home:

Thanks dear chasers for your calls and QSOs. I'll be looking forward to copying you all again soon from a SOTA.
73,
Guru