The first thing for this summit was to get permission to operate. Since I was going to be activating this summit for the OARC SOTA day I had plenty of notice. Emails to the rangers were sent and permission received in ample time. Since this is the third activation I've done there, I know what they are looking for so a quick turnaround this time.
I went to bed the night before thinking I was going to have to call it off. Rain in general and lightning in particular were not my ideal situation. I'm sure there's advice about holding on to large conductors during a lightning storm.
The day itself started out pretty well though so I leapt out of bed and took the bus to the Commonwealth Pool in Edinburgh to enter Holyrood Park at the Innocent Railway Tunnel. A place with a disputed naming history but they assure me it's not a suspiciously specific denial.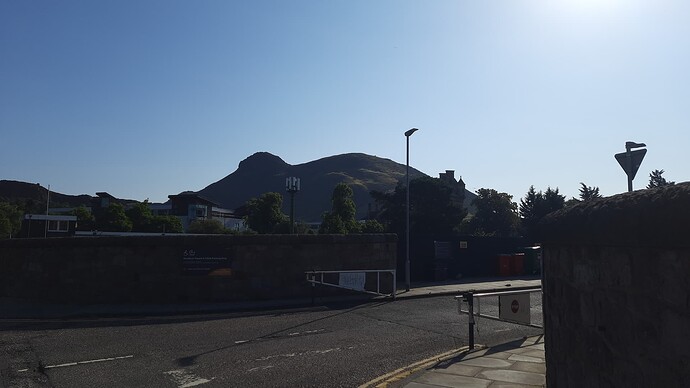 The route to the summit from there is short but steep with a lot of steps and a narrow path. It is a popular hill so the path is busy and if you don't stop at passing places you may find yourself pushing into brambles to make way for oncoming traffic.
At the summit I quickly set up. Another job for needing three hands. One to hold the telescopic pole with my 2m Slim Jim antenna, one to hold the radio and one to hold the log. It's a sharp drop in places and if the wind had caught my journal I would not have gotten it back.
Several people stopped to ask what I was doing, but the stand outs were another amateur from New Jersey over on holiday. I realised later that he would have been able to operate here under reciprocal agreements and I could have offered him a shot of my radio. Something to keep in mind next time.
The next pair asked what band I was on and then one administered a pop-quiz to the other regarding VHF power/distance calculations. I asked why they'd be expected to know and it turns out they were both pilots with a lot of radio knowledge.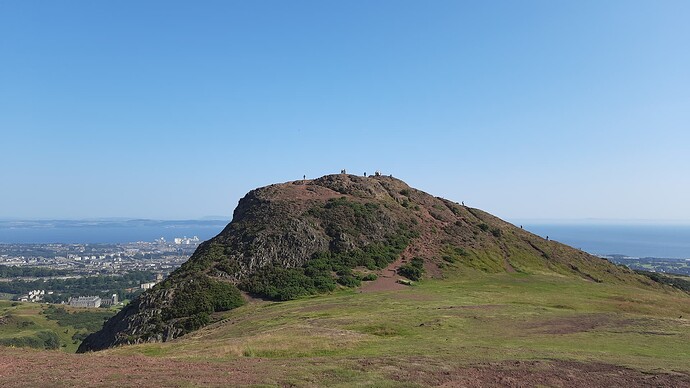 I was set up in the activation zone away from the very peak of the summit which was very convenient. As the day wore on the summit got more and more full of both visitors and one spectacularly loud arguing couple.
The forecast rain turned up, the wind by this point really quite significant, and blew horizontally at me. I thought this was going to be the end of my activation but it blew through and away. Many of my QSOs were lamenting the weather at their QTH but it seemed I was getting away with it.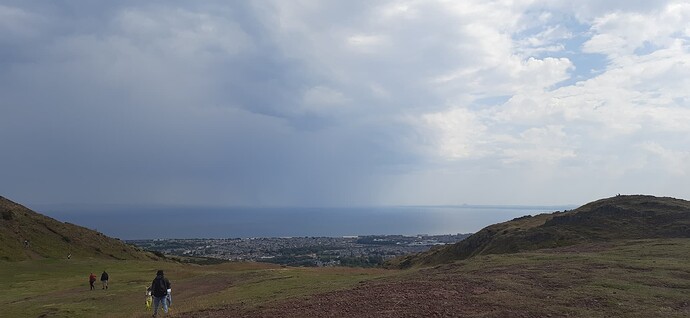 (On one side: Sunshine. On the other: Mordor)
22 contacts in all but only three S2S. I have a suspicion that setting up south of the peak was blocking more of the north of Scotland than I'd imagined. Still a glorious day out. I would have stayed longer if the leap from bed and the dash out the door hadn't precluded packing a lunch. Toast only saw me through the morning and instead of the rain pushing me off the hill, it was the lure of soup.
A very suitable hill with ample operating space in the activation zone even when it's busy, and well served by local and national public transit.