Goat Fell GM/SI-006, Isle of Arran, 28th. April 2022
The trip didn't start well: my daughter and I left her flat near Glasgow to arrive at the Ardrossan ferry terminal in plenty of time to catch the 8:15 sailing but CalMac had cancelled it "due to technical problems". Later I discovered that their main ferry was out of action following a prang with the quay at Brodick days earlier. Maybe I should have checked their website but I was probably in my nostalgic mindset when last time pre-internet, I 'activated' Goat Fell on 2m FM pre-SOTA ~25 years ago. So, we had to wait nearly 2 hours on the mainland.

Killing time at Ardrossan harbour waiting for the later ferry
The loss of 2 hours meant we were short of time to catch the return ferry and we really wanted to avoid catching the later one. It took us about 3½ hours to walk from the [fancy and new to me] Brodick ferry terminal to the summit of Goat Fell. Nothing much else had changed since the 1990s.

On the coastal walk - Goat Fell beckoning on the horizon
Crown Copyright - (C) Ordnance Survey 2022
It's a long slog especially the last 20 minutes with steep 'steps' – the last thing you want with tired legs.

Views from the summit
Given the shortage of time my daughter set off down the mountain whilst I activated GM/SI-006 on 2m FM with my 5W HT to a roll-up J-pole on a handheld 3m pole. I worked through the pileup of chasers politely but quickly to get packed up ASAP.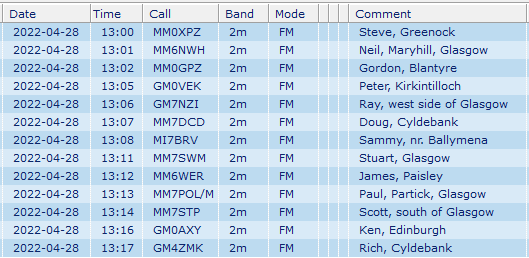 (C) Google Earth 2022, ADIF Processor courtesy M0NOM
I headed back down from the summit wondering a) why I worked GI and Edinburgh with 5/9 reports but no G stations today [conclusion: the Southern Uplands (red line on map) blocking my LoS path to the SE] and b) How the heck was I going to make the 4:40 ferry in time?
Once down to the wooded lower slopes I started jogging, which was tough with rucksack, my big hiking boots and Bella pulling on her long lead, not to mention my tired legs. Despite sweating like a pig by now I managed to keep mostly jogging along the forest road part of the descent and along the coast back to the ferry.
On the way I got two painful thigh cramps and had to stop to rest a bit. Bella [on her lead the whole time] caused me to fall on my backside and I cut my hand and grazed my arm. I didn't notice the foot blisters until later: my boots are very comfortable when walking but obviously there's chafing when jogging. I made the ferry with 10 minutes before the 'gate closed'.
If would have been nice – as on previous visits to the Isle of Arran when I lived in Ayrshire in the 1990s - to have strolled back along the coast from Brodick Castle and had an ice cream and a fish supper before catching the ferry – but it was not to be. C'est le vie!