Congratulations to Atlas, my 4.5 month-old miniature dachshund puppy, on his initiation as our newest SOTA Dog! He hiked the 2-mile round trip on an initial activation of W4K/EC-177 in Pikeville, KY. A nap was had in my backpack during my activation.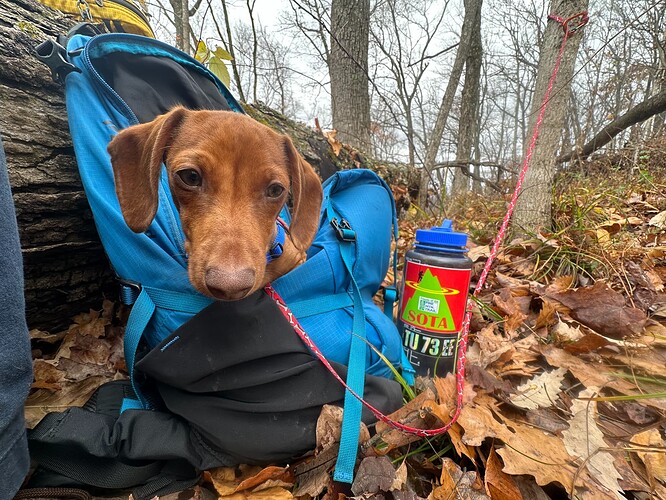 Summit Notes:
W4K/EC-177 1540B is located within the Bob Amos Park in Pikesville, KY. While the summit itself is an antenna site and is gated on the main paved access road, the Real McCoy trail (opened in 2022) grants access to the extreme edge of the AZ. A trail map is located here.
I began at the Peach Orchard Trailhead (37.47014724081112, -82.55737753802002) which has parking for about 5 vehicles depending on their orientation. (See my track for more information.) I continued up the paved trail to the Cedar Hills Connector, which begins after a two-track trail but before a park bench. The trail seemed newly-created, marked with survey flags, but follows a faint logging trail to the obvious Real McCoy trail. (In mid-November, the Cedar Hills Connector was covered in leaves but may be easier to follow in other seasons.)
The intersection of the Real McCoy trail occurs just as the trail turns beneath some high-tension power lines - remember this when you're on your way out.
The Real McCoy Trail continues South to a saddle at about (37.46451, -82.55246) which, followed North, comes into the outer extreme of the AZ.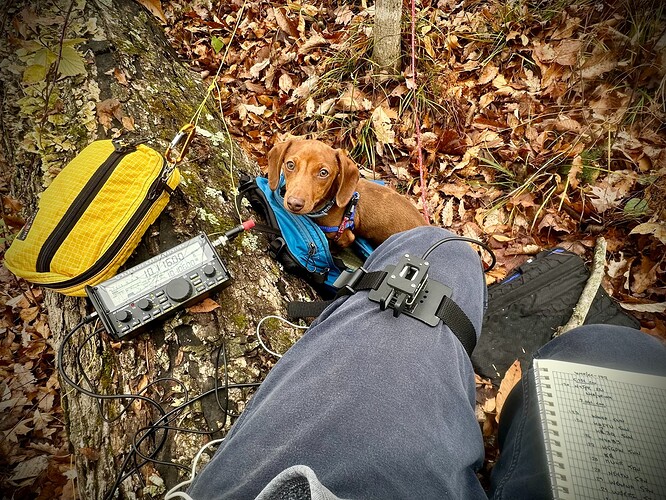 There was adequate AT&T service for spotting, and featured a nice fallen tree trunk to sit on for the activation.
Michael, N4DCW