With the very bad weather over November and December, activation opportunities in the west of Ireland have been severely limited recently. Christmas came and went in a torrent of rain and any plans for working off the Christmas pudding on the hills had to be shelved. Therefore it was a pleasant surprise to see the forecasts for the weekend of the 9th/10th January offering a small window of opportunity to take advantage of a winter bonus. Occasional showers, clear conditions and crucially, light winds were promised for the Sunday.
The target was Nephin EI/IW-002, which I have been itching to activate for some time. At 806m, it's a long but fairly gentle gradient with easy navigation and a large plateau like summit - an ideal candidate for a winter hike. Nephin stands apart from nearby summits and presents an imposing sight as you approach by car from the south. I wasn't expecting the extent of the snow covering on the mountain, but I looked forward to experiencing the extra challenge this would bring.
I was accompanied on this trip by a work colleague starting his new year's fitness campaign. Leaving the parking layby, we had a little difficulty navigating a narrow pine forest, but once on the slopes proper, we made pretty good progress. The sun shone for what seemed like the first time in weeks and it offered some respite from the biting cold breeze coming from the north-west.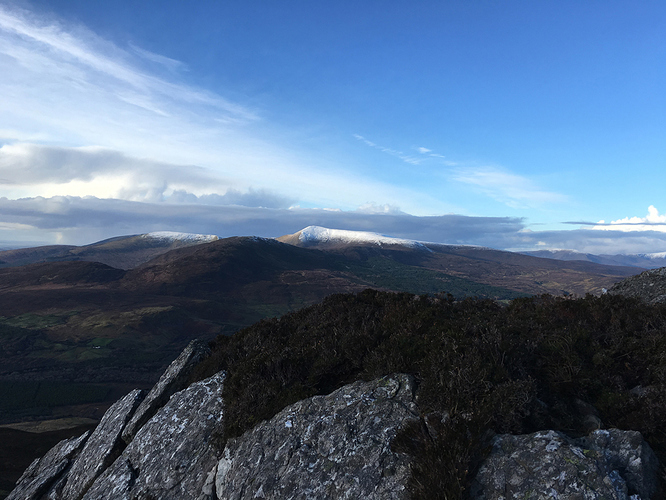 Snow-covered Corranabinnia EI/IW-008 and Bengorm EI/IW-029 to the east during the climb
There was a good 6 inches of snow on the summit, obscuring the rocky plateau. The trig point is at the far end of the plateau and after taking photos we rapidly retreated to the relative shelter of the summit cairn. It was roughly 2hrs hike from the car to summit. I set up the EFHW at the cairn with the apex only at about 15ft in the wind. My hands were completely numb with the cold by the time all was set up. Tuning up on 20m, my planned 14.285 ssb was occupied so I went up 3kz and started calling. No response and after 10 minutes of increasing cold, I resorted to the self-spot. I soon had a few callers and kept going until there weren't any more, getting 10 in total.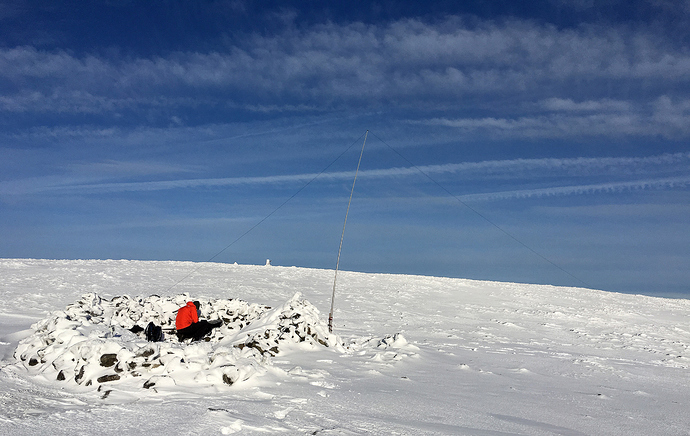 QRV from the shelter of the summit cairn
Just too cold to qsy to 40 and 10 as originally planned, so packed up again and had a cup of tea to defrost – mission accomplished. Back down safely in about 90 minutes.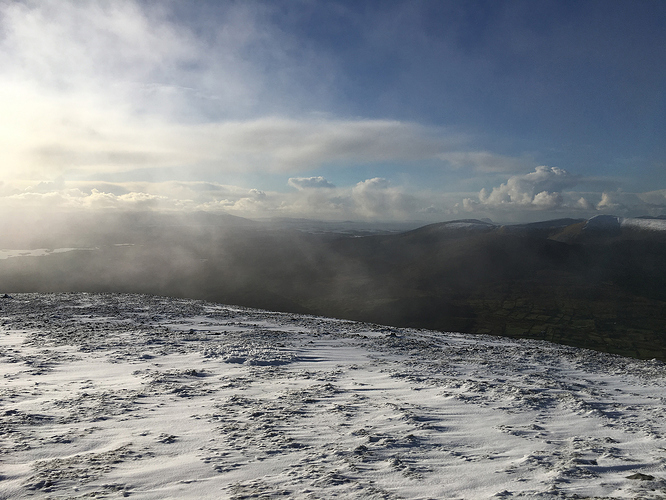 On the descent
So the cobwebs have been blown off the 703 and the 2016 season gets good kick-start. Here's hoping that we get some more benign weather conditions like this before the end of the winter bonus season.
73 John EI3KA