Kettle Reservoir and Altoona Mtn (18points)
Mobile phone coverage when using Verizon although it was spotty on the east side of the ridge leading to Altoona Mtn summit.
EQUIPMENT:
Radio kit: KX3 Transceiver (in a Plano H2O proof box), Link dipole for 40-20, two spare packs each consists in 4X A123 26650 cells ~2.8Ahr… back-up stuff… long wire 56' + 17' counterpoise, LNR EFHW "MTR". HT: VX8, 1/4Wave whip
Other:
Garmin GPSMAP 64 GPS
Outer layer Goretex, mountain hardware… insulated jacket… & enough other stuff to stay out the night.
Altoona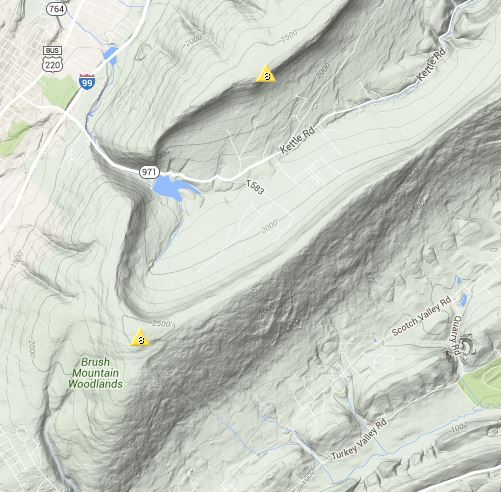 Having previously taken a look at Altoona mtn (Southern summit in attached map) from the east and having to turn-back after a half mile or so at a line of "posted" / no- trespassing signs I was hopeful that the obviously harder walk-in from the North would be an open 'back-door" for this activation. It was a toss-up to decide which of the two summits for the day would be attempted first, I say attempted as neither had been activated previously and so were still very much unknowns.
Aside… PA summits I have found typically have access, even those on private land, if you can identify the land owner and have a chat… showing them / using a SOTA handout what you're upto you'll get the OK. However, if you're hitting no- trespassing signs belonging to businesses, that can be a real access problem.
It turned out that Chris KC3GIO was planning to activate Sugarloaf (W3 / PT 004) on Saturday, morning, so we decided to align our timing for a planned PA S2S…
Leaving home at 0630 I had plenty of time (in my mind) for the 1hr 10min drive, Gas stop and breakfast sandwich on route. As I neared Altoona, I contacted Chris and checked the time plan. Looked it it would need to be the "easy one" first.
W3 / SV-009 Kettle Reservoir Mtn:
I arrived on Kettle Road at around 7:30am… finding somewhere to park was the first order of business. The obvious "parking area" seen on the Satellite images was actually gated. But I was able to park on the road shoulder by the eastern most of the two sharp bends in the road shown on the map just north of the reservoir. With the summit programmed as a Waypoint in my GPS I headed up an obvious gully due North (0800hrs) and met a track running approximately East / West. Prior inspection the map had shown me that the most likely route to the summit ridge line would be an approach from the West… so I headed West. The track was perfect… and led me to exactly where I had wanted to go… (that doesn't happen often).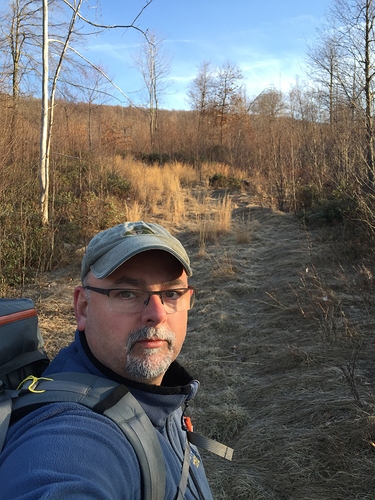 Within about 15mins I was able to see the ridge line probably 300ft above me. I only had to cross a rather steep boulder field. Watching for snakes as I made my way up I was upon the summit ridge in about 20mins. I couldn't believe it when a wide rocky track presented itself… that wasn't on the map! With just over a mile to reach the Summit and time moving on it was time to make the most it.As I entered the activation zone I was relieved to have not seen any "posted" / No trespassing signs… but that didn't last. I wasn't able to reach the true summit and was halted a few hundred feet short.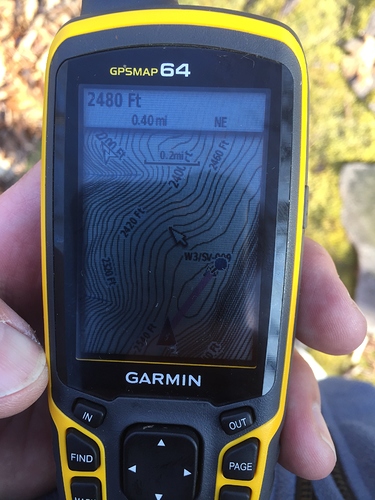 I pushed off the track to the East side of the ridge to take in the view and set-up the radio kit. Link dipole at head-height… I was ready to go and calling CQ around 09:20EST. As the CQ WPX contest was running I started in the "Extra" band area, spotted to the SOTA site and quickly logged 8QSO's.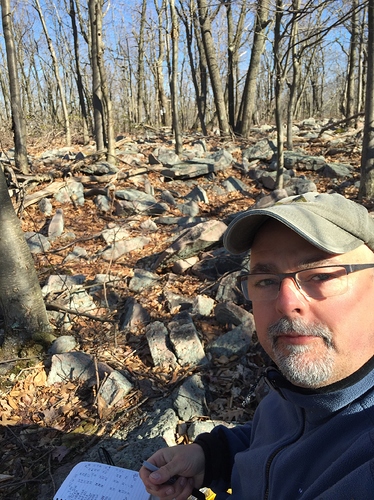 I then QSY'd to the General band area and 3 more in the log… then a couple of CQ WPX calls stopped by (fortunately I remembered my serial number from the night before), a few more of the regular chasers and then a S2S… with KC3GIQ, Chris. Job done at around 10:20hrs, I headed back to the car… arriving at around 11:20hrs.
Goto PART 2 for Altoona Mtn…