First of all, apologies for not popping up as alerted, and then, an explanation.
I intended to activate Mynydd Nodol today, followed by Foel Goch GW/NW-039, both on 145MHz FM and 5MHz ssb.
Having de-iced the car I was a few minutes late leaving home, and then the drive up to Bala took a few minutes longer than it usually does.
Mynydd Nodol is a new unique for me, and finding a route up, though fun, took a few minutes longer than planned (I use the term loosely). I did manage to chase John GW4TQE/P whilst booting up, which compensated slightly for missing out on the S2S later - sorry John.
By the time I had reached the summit and set up, I was running 40 minutes late. After 15 minutes, I had three 2m FM QSOs in the log, then it went quiet. Time to send an SMS spot - but no, despite a couple of bars of signal showing, and a bit of waltzing around the cairn, the text refused to take flight. A few more cq's on the calling channel, but answer came there none.
So, I set up the doublet, and called cq on 5.3985 for a couple of minutes. By now, it was an hour past my alerted time, and I couldn't really expect anyone to be still listening in case I popped up. I flicked through the channels and heard nothing but a few weak data transmissions, so maybe the sky wasn't playing anyway. Did I mention that I couldn't send a spot ?

When all else fails, 30m cw has never let me down - partly, perhaps, because chasers seem to monitor the few KHz around 10.118, and partly because RBNHole reaches the places that phone based spotting systems cannot reach!
Indeed I was quickly rewarded with 13 contacts in as many minutes before a couple of cq's went un-answered. Many familiar callsigns logged, thank you all.
I had been on the summit for an hour now, rather longer than intended, and it was time to head down.
Taking a slightly different route down got me back to the car at 13:00, and I decided that eating soup and a sandwich, plus driving over to Foel Goch, would not leave enough time to be off that hill before dark. This wouldn't bother me in warmer weather, but is less attractive in winter, especially on a solo expedition.
Now my phone decided to talk to the network again, so I was able to log in and Cancel the second alert.
Not quite as planned, but a very pleasant day out with thin high cloud, watery sunshine, little wind, and pretty ice crystals on lush green moss between the heather.
Many thanks to all who called me: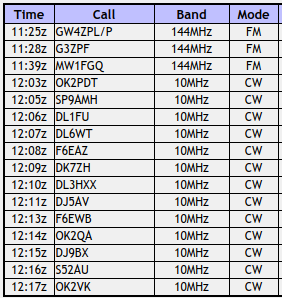 A rather dark image from my phone of the operating position, with Areng Fawr GW/NW-011 in the distance:
73s
Adrian
G4AZS