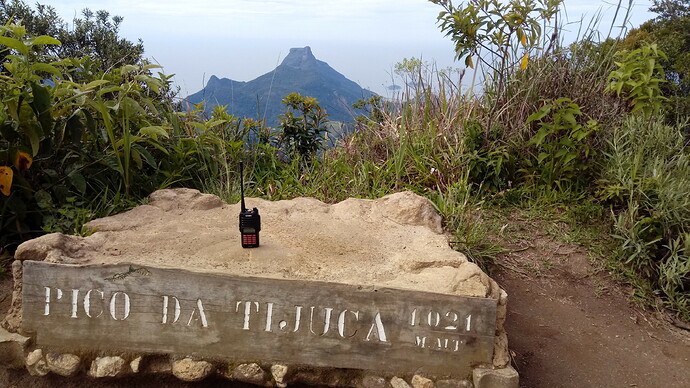 The activation of Pico da Tijuca (PY1/RJ-017) allowed me to experience again sensations that no radio amateur can forget: the first local QSO, the first DX, the first contest, the first QSL card received. It also allowed me to experience what is most important in our hobby: the presence of other radio amateurs!
After a few minutes of frustration with the poor reception of the UV9R rubber antenna, unable to hear most of the colleagues I knew were calling, I started to hear several other ham radio colleagues with whom I had never spoken before!
Colleagues who guided me and patiently persisted to make contact, in the purest spirit of amateur radio.
It was hard to hold back the joy and excitement after that!
Walking around the summit to escape the sight of the Sumaré broadcast antennas, following the guidance of the PY1TZ, was essential to make contacts with the following stations: PY1TZ, PU1KJA, PY1AA, PY1XP, PU1WTW, PY1PDF, PY1TP, PY1NP.
For climatic reasons, the activation was decided in a hurry, once the proper time and weather window was only known at dawn that day.
In the next activation, I'll try to publicize it more in advance, but in the end it's always the mountain that decides. I also intend to activate with a better station: base radio, directional antenna and battery, leaving the HT only for emergency.
In summary, it was a morning of great fun and learning.
Thanks once again to all SOTA enthusiasts, and also a special thanks to the following stations: PY1MNC, PU1KIT, PY1PDF and PY1II, for the teachings propagated in person, by radio and videos! Strong 73!
Tracklog: Wikiloc | Trilha SOTA - Ativação do Pico da Tijuca (PY1/RJ-017)