Please use this thread to post about your SOTA activities during 2018.
In 2018 I tested various antennas, trying to find one that is small enough to carry to a more difficult summit and set up in a small space but that would also still work "reasonably" OK at least on 40 and 20m. The dipole will always be a better solution but sometimes it's difficult to set up on a busy summit or one where there is no handy support for the fishing pole. I ended up with a working combination of a Komunica Power HF-PRO 2 and a modified camera tripod.
I also battled long and hard with my new rig. The Chinese XIEGU X108G, having 20w out rather than the 5w from the FT-817, negated the need to take an extra amp along to summits. It's biggest problem is it's OLED display, that is totally unreadable in any level of sunlight. My solution that I will be testing out this week is to remote control the rig from my Android Smart Phone using the PocketRxTx software from Dan YO3GGX.
I had disappointing outings for the two S2S events we had this year, while I can blame propagation for some of the problem, I think I could have chosen better locations as well. Next year …
All of my activations since I started in SOTA are reported on my blog at http://www.dd5lp.com where i also document the various antenna solutions I have tried out.
My Year rounded out yesterday with the unexpected honour of being awarded the SOTA Sherpa award 2018 for my work publicising SOTA and helping new members, when I can, on this reflector.
For me I would say, I have learnt a lot during the year and realised I am not as fit as I need to be.
A Merry Christmas to all and a healthy New Year.
73 Ed DD5LP.
At the end of 2017 I ended up with a large amount of unused vacation days from work. I decided to use these days on SOTA expeditions in 2018.
I'm lucky to have 2 cars and both decided to throw a succession of problems around Easter time onwards. Easily solved by the relentless application of money. It turns out that every single VAG group car owner at work has had to replace at least one rear disc caliper at some time. I needed 2 on a car that has done only 58kmiles. It's enough that when you have intermittent issues, going out on long drives for new SOTA summits drops down the priorities. This skewed my activation profile at the start of the year. However, the continuing 13cms activities means that it may be a near by frequently activated summit for me, it's still new to activate on the microwave bands. Also we seem to have had more wet weekends that I can ever recall. That means that because I've been using up extra vacation days, I have ended up activating more summits outside of Scotland than in Scotland, 32 in mainland Europe, 22 in Scotland and 2 in Africa.
I had said I wanted to activate a summit North of the Arctic Circle, I still do. I did a fair amount of planning locating easy summits in OH/LA and SM, flights to and from LA/OH, car hire options, hotels etc. I received offers of help from a few LA and OH SOTA hams too. In the end I decided that as it would not be a trivial cost (nor stupendous, but OH-land is not a cheap place), I want to go when the propagation is more likely to be good than bad and poor propagation was there in all my overseas activations this year, Conditions have been fairly dire here at only 56N so going beyond 66N at the sunspot minimum just didn't make sense. Postponed for 2 or 3 years but still a definite target. Instead I tried to activate some of the bigger summits up in Northern Scotland around Helsmdale. The WX was rubbish as was propagation. Morven evaded me again but I managed Beinn Griam Mor and a few others. When it wasn't misty or wet it was glorious in such unpopulated countryside. Still, seeing the sun would have been a plus! However, my newly repaired car (lots of minor bits and bobs plus 2x rear calipers and new front suspension bushing) was a delight to drive. You don't notice things which gradually degrade until suddenly your taught handling sports coupe seems to have bags of blancmange for suspension. The renewed bushing restored handling and I drove about the North like a man possessed. Even the dashboard worked for the whole trip!
I missed out on Friedrichshafen in 2017 as the changed dates were inconvenient. I've been traveling with or meeting up with the same people since 1992 and not seeing them for 2years meant it was well worth visiting this year. I extended the trip by wrapping a SOTA expedition to The Vosges on the French/German border around the rally along with a couple of German summits on the drive to and from Friedrichshafen. A lovely part of France with great food, beer, countryside and peoples. Definitely somewhere to have a holiday and SOTA expediton. Sadly conditions were rubbish and it was all a bit of struggle to work chasers, definitely a bit more power would have helped. The rally was good and thanks go to Paul HB9DST, Jurg HB9BIN and everyone else in the HB9SOTA group for organising another excellent session of talks. A delight to meet so many SOTA people as well.
After a wet start to the year, 2018 was one of the best Summers on record in the UK. In GM, it was the driest and warmest since the massive drought of 1976, yes 42 years. This made lots of the worst, most unpleasant boggy county easily accessible. It's the first time in my walking career I've had to take seriously the availability of water. Climbing hills in 26C (yes I know it's not that hot but it is for GM) means you need lots of water and I've ensured I've waymarked fast flowing streams to top up from on the return.
Continuing using up saved vacation, I had a week staying with my sister down near Nimes, France. This was great because the excellent Summer had ended in GM with deluges of rain but it was still hot in France. 35C on arrival and 26-28C most days there. I had huge fun activating seldom activated summits in F/PE and F/CR, activated the famous Tour De France Mont Ventoux and managed to find an easy yet unactivated summit. HF conditions were miserable to lousy again but with my sister and brother-in-law feeding me with stunning food and more wine and liqueurs than is good for any liver, I didn't mind that much.
I added an OK expedition onto a 4 day works training / future planning session in Dresden. Why OK if you are in Dresden? Well we flew from Prague for convenience so it was easier to base myself in OK rather than DM. OK is a wonderful place and once you leave Prague the prices stop being silly. I stayed in Nachod on the Czech / Polish border in a good hotel which has brilliant food and cost pennies. By heck the beer is good in OK. I did the classic horseshoe activation in The Eagle mountains along with their neighbours, a single summit in Poland and a few smaller OK summits on the way back to Prague. The WX was splendid and for once I was lucky as the week before it was torrential rain.
The annual pilgrimage to EA8 this year was to Feurteventura. I never grow tired of the Canary Islands. Lovely place, lovely people who make tourists feel so welcome. It's warm but not silly hot and there are plenty of summits to activate. Some are easy and some are very hard. For reasons I cannot explain, operating from a summit where you can see the sea appeals to me. When you do it and can see the Atlantic Ocean on all sides and you have a banging pileup of chasers, well it's special.
13cms activity continues. We've welcomed Andrew G4VFL to the fold. As he is based in the North Lakes, there's plenty of paths he can work up to the GM13 SOTA activators and chasers. I worked 1 new DXCC on 13cms SOTA with Andrew on 2 occasion in close succession. That takes me to 3 DXCC on SOTA 13cms. GM, GI and G with the best DX being about 220km. However, there was a big tropo opening in June and I did work OZ1FF on 13cms at 730km. Whilst I was out portable for this I couldn't get up my local SOTA summit or that would have entitled me to a the furthest SOTA microwave distance worked yet.
Gear used this year:
60m/40/30m dipole
17m/20m/30m dipole
Buddistick clone for 15m/17m/20m/30m
Hamshop.cz 40m/30m20m/ trapped EFHW
FT817 x2
25w HF PA (for use in EA8)
VX-170 handheld
SG Labs 13cm transverter
13cms Double double quad
A grand total of 979 QSOs from 56 activations, 7 associations and 10 regions
Of course all this would be nothing without other activators to work S2S and the worldwide band of SOTA chasers. So thanks to everyone who worked me by chance, but especially those who made some effort to chase me from alerts, published plans and spots. Without you etc. etc.
My 2018 SOTA year has been rather subdued.
I had a super mountain day on Helvellyn G/LD-003 in February in sunny winter conditions.
I did my usual birthday activation in May using my Rockmite reserved for use only on the special day each year. I managed to qualify G/NP-010 using the QRPp rig.
In June I headed up Scafell G/LD-001 and had a pretty good day, activating with my MTR-2B.
I suppose the icing on the cake for 2018 was working my Camb Hams friends on their VP2MUW dxpedition from Arnside Knott G/LD-058. I failed to score a QSO on 20m SSB but I managed QSOs on both 20m and 17m CW. I had specifically gone to G/LD-058 to try for a QSO with VP2MUW because of the take off to the (south) West. Using a 1/4 wave 20m vertical on a 7m pole with 4 radials, I qualified the summit with 4 transatlantic QSOs!
73 and HNY to all.
Colin
Hi Andy,
I have had a good SOTA year helped by retiring from my main day job in February 2018, that was despite all the cock-ups by our HR department.
Once all the loose ends were tidied we left the UK in early March. My own VAG encumbrance has had 3 new sets of rear discs, but I now ask the garage to test them on a rolling road test rig before agreeing that they need to be replaced. The discs have always passed the dynamic testing despite appearances! Last time was 4 days ago; 120K miles and counting. Front suspension bushes were done a few years ago to good effect and the best addition in 2018 was the set of snow tyres. As I bought them in March they were unwanted winter stock and reasonably priced, unlike the annual servicing!!!
The March departure allowed the first 12 activations in Switzerland for 2018. The new tyres helped. Driving back though the Black Forest in mid April was a lovely route home and well worth a visit. I also managed my only Dutch activation. PA/PA-003 (Observant (Sint Pietersberg)). A QSO with PA1EW, a nearby ham called Ed Warnier, led to a visit to Edinburgh by Ed and his wife Lilian in June.
Later in April we were lucky enough to be invited to the wedding of the daughter of a friend in Cork, hence all the MI and EI summits.
May, June and July was good weather in Scotland as Andy mentioned and we took advantage of the conditions bagging loads of higher Scottish summits. Highlights were a trip to tick the unactivated Isle of Scarba (GM/SI-087) and somewhere I have always wanted to visit; St Kilda (GM/SI-098, Conachair).
Late July we were down in the Lake District rock climbing but bagged a couple of SOTA activations as well.
August was sailing again with MM0DHY. Good access to some remote Island peaks.
Early September and it was out to Switzerland again for about a dozen activations. I also unknowingly did a joint activation of DM/RP-171 (Röster Kopf) with ON4UP (Peter from Belgium). We were at opposite ends of a large rough car park on the summit (snow tyres helped!) and a chaser told Peter I was on the same summit. It was great to meet him and I was impressed at his portable set-up, quite a lot more power than mine, and more weight of course.
One memorable day was on the 18th September on HB/VD-019 (Les Arpilles/ Tête à Josué). We arrived on the summit of the peak after a fine walk from the valley up the east face of the peak which was mainly steep grass, on another well marked Swiss footpath. The west face was hundreds of feet of intimidating vertical cliff which meant we kept away from the edge. As we ate lunch a golden eagle flew along the cliff only about 20 feet away. It either didn't see us or was not concerned we were sitting on the top. It then folded it's wings and plummeted straight down the cliff face. Extending those long wings it was carried back by the updraft and when level with us, folded wings and plummeted back down the cliff again. This continued 12 or 15 times only a few tens of feet from where we were sitting. We could clearly hear the rush of the wind as it plummeted down. Initially I thought it was just having fun, but after some research of this behaviour it was clearly trying to flush prey from the cliff face (other birds) or was searching for land based prey. A fantastic spectacle.
Later we also ticked Mont Ventoux (F/CR-007) around the time Andy was there. We were on the way across to Spain and the Island of Mallorca. We had a great trip and bagged another 17 Spanish SOTA peaks. I managed a QSO from Moncayo (EA2/ZG-001) with GM0AXY and GM4YMM (Ken and Christine) back at the home QTH of Edinburgh.
Since arriving back in the UK mid November we have bagged a few minor GM peaks with a visit to the Northern Pennines to up the number of English summits.
Currently we are out skiing in Italy. I have the radio gear with me so I might be able to add a couple of activations to the 2018 total if the weather improves, visibility rises and avalanche risk lowers.
So I have activated 119 summits in 2018 so far! A total of 59 in Scotland, second is 23 in Switzerland, 17 in Spain, 5 each in Germany, England and Northern Ireland, 3 in the Irish Republic and 1 each in France and The Netherlands.
I have an annual total score of 700 (625 points plus 75 winter bonus points, so that was 25 winter peaks). There were 27 ten pointers, 17 eight pointers, 13 six pointers, 20 four pointers, 20 two pointers, and the rest singles (22 in total with one failure).
The one failure in 2018 was GM/SI-196 (Carn a'Ghaill) on the 5th August 2018 with only two QSOs. This is on the island of Canna. I was sailing with Adrian (MM0DHY) and his son Thomas. MM0DHY went back and activated it a few days later after I jumped ship in Kyle of Lochalsh! Serves me right.
996 QSOs in total. Can I really thank all of the many chasers who make SOTA activations worthwhile, you know who you are. Please keep trying to get through. I try to get an SMS spot on the website from the summits and thanks to all of the chasers who have added their own spots and information. Also all of other activators I have worked S2S.
I do not usually post alerts about activity as I typically arrive somewhere with options for good weather, moderate weather and poor weather. Often the decision on which peak to climb is made immediately before we start walking and my own preference is a minor influence on the final decision; my XYL has the final veto! This approach has saved me from some very uncomfortable activations, but I do drink more coffee and eat more scones than I expect too. It is called retirement and long may it continue.
Have a very Merry Christmas and a Happy, Healthy and prosperous New Year.
Ciao
Colwyn
MM0YCJ
Not a lot of activity this year, Isle of Man and Shropshire due to continuing eye problems and only one driver but we still follow SOTA everyday and enjoy others activity reports. Chasing has been a bit difficult due to conditions , awkward skip and a lack of activity locally. We hope to remedy this in the New Year if all goes well at Manchester Eye Hospital. Mean while we would just like to wish everybody A Happy Christmas and a Good New Year, See you hopefully at Norbreck.
Best Wishes,
Rob and Audrey
G4RQJ.
Recovering from a 2017 stroke, I spent my recovery and second year of retirement chasing Activators in 2018. Thanks for the 500+ activations and the Activators who pulled my signal out of the mud. The chase was great fun.
Happy Holidays and Happy New Year to you all.
Dave AA1VX
Well the start was better than the finish with my first activation of 2018 starting just 9 hours into the new year, but I'm afraid that life got in the way and my rate slowed somewhat, so just 10 activations this year. I did manage to get to 100 activator points and 500 chaser points but the Goat might have to wait until there is a bit more in the pension fund! The most memorable activation was Hellvellyn in the heat wave which included a short swim in Red Tarn but I have really enjoyed all of them. My standard kit has settled a bit to an FT817 + 40w amp, linked dipole and some 4 and 5 AH LiPo batteries which seem to behave very well and I spend longest on 80/40/60m. Santa brought an FT270 so 2m FM is now a better possibility. Despite the relativly small number of activations I still manage to beat the foolproof systems and forget something. The best this year was to bring the LiPo charger and forget the LiPo battery…
Next Year - I still want to do Cross Fell ( G/NP-001 ) at the same time as one of the RSGB backpackers contests, Easter in the Peak District should get Kinder Scout (G/SP-001) done and I'm slowly working my way through the NP and the closest LD hills. I might try a CW activation, despite two years of listening I dont think I am yet back to my 1979 speed! (This could just be evidence that 40 years on my brain is not as good at re-learning) I am lucky enough(?) to own 2 cars which throw a vareity of faults and as the children have consumed copious quantities of my income I usually end up dealing with some of the issues myself. The Polo is usually more straightforward but the 1998 Land Rover Defender has much more imagination and more things fluids can leak from.but has the advantage that there are very few grass verges which are un-parkable! Blancmange suspension would probably be an improvement, but it does have the advantage that no driver aids are required to maintain the driver in an alert state, indeed it is a bit like chasing on 40m trying to identify any worrying rattles over the "normal" noises!
Hope to be out more in 2019, hope that the Sun starts to be a bit more active and hope everyone else also have a good 2019!
73 Paul
Thanks Andy for the spot on your Topic regards to everyone .
Link to my Blog is probably easiest if you can be bothered checking out my 2018 story.
Looking forward to New Years Morning to get my next year underway.
regards Ian vk5cz
A pretty good year, I reached the mountain goat at 25 April 2018. this year, I managed to activate a summit that I had long dreamed Pizzo Stella I/LO-025. Moreover this year I started to transmit in cw, with the first qso with ea2if guru, unforgettable activation.
2018 was also the year of my first qso in 80 meters and 60mt, in Italy the band of the 60 meters has just been granted.
This year I gave up some 10 points summits I used to activate, in favor of new referenced summits.
The use of cw allowed me to log dx stations, mainly NA. I skipped the 2 meters ssb for the 2 meters fm, few qso but I hope they will increase next year.
Do not forget that this year I performed activations in company of amateur radio friends.
A very fun year!!
Merry Christmas at all!!
73
Roby iw2obx
Hi all,
Sota wise this has been a year of highs and one big low.
In June I enjoyed an 8 day expedition to Shetland. I activated 18 Sotas. Great fun. My thanks to the chasers.
On the 11th of September I achieved my Mountain Goat.and went on to complete the activation the 3 highest Sotas in the UK,GM/WS-001 (Ben Nevis), GM/ES-001 (Ben Macdui) and on 13 September, while snow fell, GM/ES-002 (Braeriach).
On 6th November I activated G/LD-012 (High Stile), Then, early in my descent, while above Red Pike and without warning, I ruptured my quads tendon (Right Knee). The descent took 4 hours of hobbling! An operation and with a lot pf physio still in progres I am on the mend but with a long way to go.
So I have now taken up a bit of chasing and have added a third Sloths to the bag.
No, the activation gear is not for sale, as Arnie says "I will be back".
My thanks to the MT for pulling this complex programme together.
Merry Christmas and a great Sotering 2019.
David
G0EVV
Hello. Just 3 SOTA summits were activated this year in North Wales, 2 more in England and a few Wainwrights with Dad and my sons in August.
I'm fascinated by digital ATV and am in the second year of building and developing my TV station. The British Amateur Television Club is a cutting edge of the hobby especially in reduced bandwith DATV and an amazing bunch of people. Operating "portable" TV from the back of the car on the summit of Brown Clee Hill using 40 kg of gear did seem wrong from my SOTA background point of view! The need for Tx and Rx computers is a handicap which I hope the club geniuses will reduce to one small computer. I asked Dave G8GKQ club president for a single computer DATV transceiver no heavier than a FT857 which I promise to take to mountain tops in England and Wales. It'll be a few years yet.
All this workshop time means I'm getting fat so need to resume outdoor pursuits in 2019!
73 es sd
David M0YDH
My 2018 seemed to be a mixed bag. Not a lot of SOTA activating because most of my SOTA time was spent working on IT infrastructure, like the SSO and new sotadata, and helping Rob with the new SMP and non-SOTA time was largely work time or family time. For the first year since I started in SOTA, I activated no new associations.
I did however, get a few new uniques and finished off some unfinished business on Hawkins Hill and Rimutaka (ZL1/WL-101 and WL-054), and qualified a bunch more summits on 2m/70cm for a bit of added challenge, adding to my Mountain Explorer (VHF) tally as well.
2019 is going to involve activating at least one new association, and trying to avoid faffing about on low point summits. With a bit of work, half goat is achievable by this time next year

Hello all; it was a great 2018 and looking forward to keeping pace in 2019:
2018 was my biggest SOTA year yet… I achieved half goat during the year as well as did a half goat's worth of points during the span of the year (I basically got sucked into watching my call eek up the W6 activator board thru the year). I managed some international SOTA in both Germany and the UK including a lucky side trip that allowed me a run up Ben Nevis in perfect weather while on a three week family trip thru Europe (Thanks again to all the chasers as well as local activators who fed me information while I was travelling). CEPT was what prompted me to upgrade to Extra so I could have full HF while in EU.
Due to the slow start to winter in the Sierra I was able (more like determined) to keep activating as long as I could. I had activations using Snowshoes, BC Snowboard and on one I used a snowmobile to get near the AZ, and then hiked the rest of the summit.
This was me on top of W7N/WC-003 with WC-001 behind me:

In the spring I went thru the level one of CWops academy and started activating/chasing via CW which helped my QSO count per activation as well as saved my activation a few times (those late night WTF was I thinking activations

). It also opened me up to a whole new group of S2S/Activators out there! Finally got folks like WG0AT, KX0R etc in my log and even picked up JA/VK/ZL at different points during the Autumn ticking off a few other goals I have had all the while being QRP and portable.
This was the first year that I started activating with other SOTA-ers (I think that's a word??) as more of a regular thing. I met up with N6DNM a couple of times, KI4SVM for some W4C/W4T activating, AA6XA, KE6MT, K6ARK W6PZA, KK6YYD, and K1LB for the local Tahoe/Sierra Scene. Always fun to see other folks gear and methods to learn from. On top of that I have started some Tahoe/Northern NV SOTA meetups just to get more of us together. I had been flying solo the first few years as an activator, it was nice to meet local and visiting chasers/activators, and we have more meetups planned to come. I helped spread the SOTA "sermon of the mount" to one of my local clubs after another visiting SOTA activator had made many contacts with some local hams while up on W6/NS-061.
Thanks to some other communications back channel methods I've also gotten into building antennas and dabbling some in radios too. I now use antennas I've built myself, and one day will head out with a QCX or some other self built radio to do an activation.
About half way thru the year I realized that over the couple of years of S2S my activator and chaser points were about even, so I set a new goal of managing my points to hopefully activate MG and chase SS on the same activation. So on that note with just a few days left of the year I still have a couple more activations I am going to do, but I am now looking forward to 2019. I am meeting @N0MAP in January in Charlotte for my MG activation, as well as hopefully picking up one of the VK associations in February. After that we'll see what happens, but I am looking deeper into the NV/W7N mountains trying to find those hard to reach not yet activated peaks.
Hope to keep adding more and more of you to the log, and picking up associations and regions as I go along, but for now I'll just say 73, de N6JFD Happy New Years!
My 2018 SOTA year.
I started slowly with only one ON summit in February.
In March I did my usual winter tour, with 7 summits in ON/ON and one in DM/NW.
High point of this trip was of course the presentation about SOTA I gave at the Bergheimer Funkflohmarkt, in GERMAN , which is only my fourth language … all went well and nobody left the room screaming

Next came my biggest adventure … 3 weeks on Gran Canaria (April/May), activating 9 summits there, with my "high(est) point" of the year … Pico de las Nieves EA8/GC-001.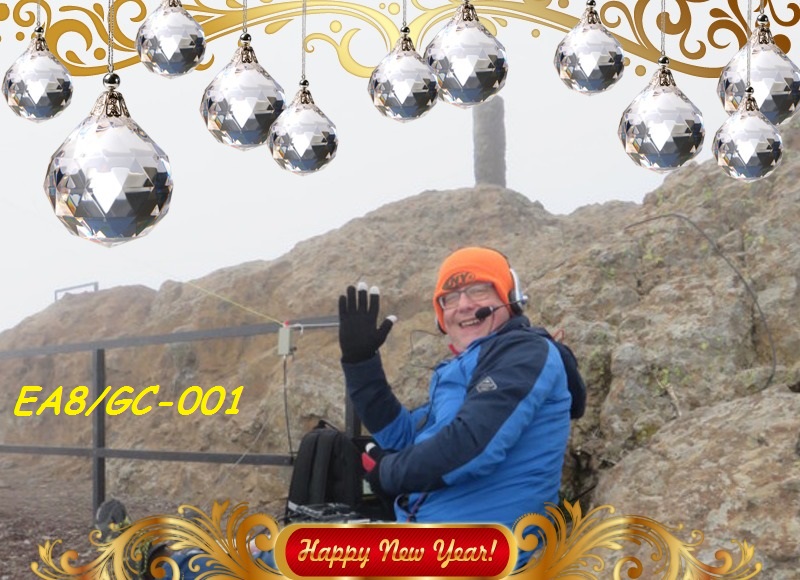 Back home, I had a short weekend with friends in Trier, but also could smuggle in 2 summits in DM/RP.
Then followed another 10 days on the road in May/June … going to Friedrichshafen.
Along the road, I activated another 25 summits, in 5 different countries.
I had a great time at the Hamradio fair,and of course met a lot of SOTA friends, both at the fair, and at the SOTA dinner.
And in September I went back for a long weekend in the Hochsauerland region in Germany, where I started with SOTA in 2014.
My first two summits have been deleted in the meantime, but I was able to go to three others that I did in 2015, and got two new ones too.
All info on my activations can be found on my blog
https://on7dq.blogspot.com/
So yes, 2018 was a great SOTA year for me … but wait !
2019 should be even better.
In my March winter tour I will get to the magical 1000 activator points and become MG.
I'm also less than 300 points away from the 10000 chaser points mark.
Still figuring out if I could get both marks on the same day, in the same activation … wouldn't that be great ?
Other plans for 2019 are 3 weeks to EA7 and again the tour to Friedrichshafen. Should keep me busy enough …
Cu all on the bands !
73 - Luc ON7DQ
Hi All,
2018 has been my busiest year for SOTA for a few reasons. Firstly, because I've actually been able to go out consistently and secondly, because I've made it part of my Duke of Edinburgh Gold. I've been quite fortunate too, as SOTA allows me to tick off 2 areas of the award (Hillwalking - Physical; Amateur Radio - Skill).
With my new QTH in Sutton Coldfield, away from the LDs in Cumbria, I've been able to explore new regions and, as a result, hit 100 SOTA Completes. I've activated all summits in the Welsh Border and South Pennine regions, climbed all but 3 of the hills in South Wales and made good progress in North and Mid Wales. I'm now very much in the hunt for Mountain Goat, achieving 500 points at the end of July, as well as 100 Activator Uniques in May.
I thought it might be fun to sum up my year in "Award Show" format, so here goes…
Stupidest Moment:
Few contenders for this one, including the many times I had to run back to get the antenna that I'd forgotten to take with me, AGAIN! The winner by far, though, has to be the the circular walk I did, taking in Glasgwm (GW/NW-015) and Aran Fawddwy (GW/NW-007) at the end of September. A beautiful 7 hour walk was thoroughly enjoyed (tough start, but otherwise very pleasant, highly recommended), only to realise when I got back at the car that I had left the damned thing unlocked! Nothing was taken and, to be fair, the car park wasn't overly busy, but lessons were learnt that day! Kudos to the people of Wales who allow idiots like myself to be able to do such silly things…
Daredevil Award:
2 contenders for this one, one being sat on Great Coum (G/NP-011) at the end of July with lightning incoming (eek!), but the winner was doing the Snowdon Horseshoe (Yr Aran GW/NW-019, Snowdon GW/NW-001 and Y Lliwedd GW/NW-008) in 60/70mph gusts at the start of this month. The weather wasn't as bad on the first 2, but I was very much in the open on Y Lliwedd. I don't mind challenging weather; I embrace it, but the cliff face on the North side of the summit, combined with the wind pushing me from the South, made for a very shaky activation. Needless to say, I wasn't up there for long!
Longest activation:
For those who don't know me, I don't have an SSB setup - I purely work on 2m FM, so activating can be difficult at times. None more so than Y Golfa (GW/NW-061), done on a Sunday in Mid-August. It took 2 and a half hours to activate the summit (QSO 1 13:21, QSO 4 15:40) but, as it's set in the middle of a golf course near Welshpool, the weather was glorious and I was on a relaxed schedule, I was in no rush anyway.
Favourite summit:
I don't know why - maybe it's the lack of people, maybe it's the picturesque views - but, for me, Bredon Hill (G/CE-003) is the place to go to relax. I went up there with a friend at the end of last month and, upon seeing the views to the North West, she said, "If you were to draw a typical countryside scene, this is what you'd draw. A river meandering across the page, small villages scattering the paper and, right at the back, a line of mountain peaks with a sprinkling of snow on top." The place is so peaceful and it's just a lovely place to sit and do a little bit of radio - a lesser known summit hidden in the Cotswolds.
Favourite picture:
Easily Red Screes (G/LD-017). It's 45 minutes of never-ending steps, but the views at the top are why I love and miss the Lake District.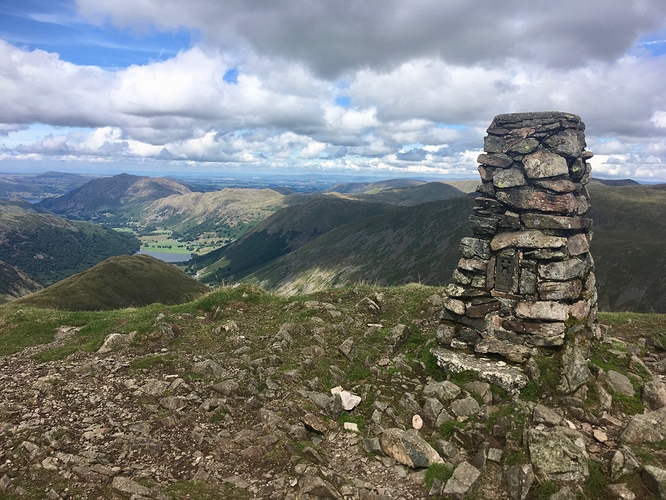 Best Moment:
Mid-May, I was in the throws of my South Wales blitz and, on a little summit (Allt Yr Esgair GW/SW-023), with obvious clearance only really to the North West, I worked my first EI station from a SOTA summit. For others, continental stations are no biggie, but to me, this was a huge deal, as I only have a small 2m setup, which does surprise me from time to time. Conditions had been perfect and it was the last hill of the day, so I had a beaming smile all the way back home.
Stat attack:
Total summits = 104 (2 x 10 pointers, 9 x 8 pointers, 11 x 6, 12 x 4, 23 x 2, 47 x 1)
Total points = 365 (inc. 60 Winter Bonus)
Total QSOs = 811
Equipment:
Yaesu VX-170 Handheld
Original 3 element SOTABeam
It'll take me a few more years to get to MG, but that's my next main target, as well as continuing to tick of uniques as I go. Thanks to all the chasers and other activators who do this crazy thing called SOTA; it's a joy to be a part of it and my thanks go to the MT who maintain, promote and expand this wonderful hobby.
Enjoy the festivities and have a cracking New Year!
Jordan M3TMX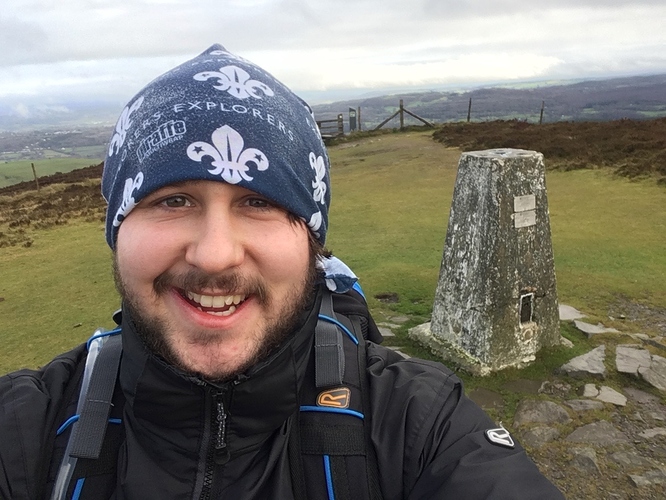 Hi, Jordan.
I think you (have) had two hills mixed up here

G/CE-003 is Bredon Hill - Tewkesbury area - pleasant rural views
Bardon Hill is G/CE-004 - Leicestershire - huge quarry hole on W side.
Merry SOTA for 2019
73,
Rod
Edited after correction above.
Whoops… Now corrected - thanks for spotting it!
Cheers, Jordan!
Could hear EYP s2s with you but no-one else at all.
Have a good day.
73,
Rod
For 2018 I set myself a goal, I wanted to have one activation per week on average, which allowed me to take a few extras when WX were good and vice versa. Today I reached my 52nd activation (there are more in the list, but they are overnight stays which I only count as one). In total I visited 40 unique summits all over Southern Norway, and one in Sweden. There was a total of 1193 QSO's, mostly on HF with my Xiegu X108g.
I activated with both my own callsign and special event callsigns like LM10SOTA and LM90NRRL, which always brings a bit of extra fun.
Thanks to all chasers and other activators, and happy new year!