Due to family related reasons, I have started moving to a new QTH in Pamplona, which is a 7th floor flat in a building near my kids college.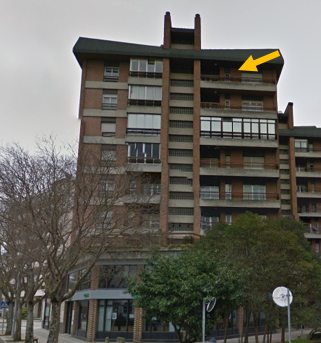 We are not permanently living there yet but we have started setting things up in preparation for the move.
One of the "important" things that I have started with is an antenna for SOTA chasing.
I've homebuilt this multiband endfed antenna, which is the same I currently use when activating SOTA:
http://www.earchi.org/92011endfedfiles/Endfed6_40.pdf
I provisionally installed my newly built antenna yesterday in the balcony looking to the NorthWest. The QRM on 40m is very high, as expected for such urban environment, but the first SOTA chase has come today on 20m SSB with my FT-817 at 5 watts.
Thanks to Andy @GM8OEG for this 1st SOTA QSO from my new QTH.
Let me show you some few pictures of the new home built antenna:
The recycled plastic cage is for the 9:1 un-un and it formerly was a domestic water turtles food pot.
The thin black copper wire coming out from the plastic pot goes out of the balcony to the end of an old recycled UHF TV yagi antenna boom.
And it goes horizontally along the nearly 8m long balcony to the end of another recycled UHF TV yagi antenna boom I have installed at each end of the balcony in order to keep the copper wire separated from the bulding.
I'll still keep my current house and antennas but this will be my SOTA chasing antenna for quite several times. Next time you hear me chasing with a very tiny signal, this will be why.
Please keep your ears wide open for my tiny signals calling you.
73,
Guru