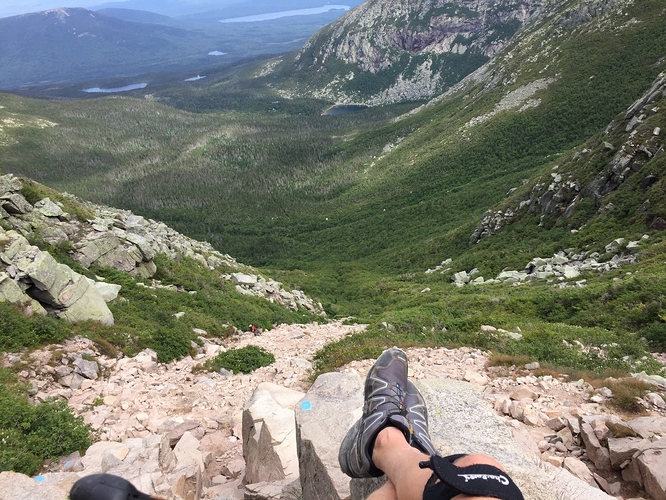 de KB1HQS:
The dog days of summer are here. My wife and I are heading up to the family summer house in downeast Maine for the next three weeks to escape the Mid Atlantic heat and humidity.
On the way, I'm stopping in New Hampshire (and Maine) to activate several SOTA, POTA, US Islands, Lighthouses, etc.
If the weather holds out, I am looking to activate the following:
August 1st, 2018 / New Hampshire
Mt Washington: 6289ft SOTA: W1/HA-001 POTA: K-2667
Mt Jefferson: 5712ft SOTA: W1/HA-120 POTA: K-4556
Mt Adams: 5774ft SOTA:W1/HA-093 POTA: K-4556
August 2nd, 2018/ New Hampshire
This hike is questionable due to the strict camping regulations in the White Mountains. My goal is to hike and camp out overnight.
Wildcat: 4423ft SOTA: W1/HA-060 POTA: K-4556
Carter Dome 4833ft SOTA: W1/HA-004 POTA: K-4556
Middle Carter 4610ft SOTA: W1/HA-126 POTA: K-4556
August 3rd, 2018 / Maine
After hiking the White Mountains, I will head over to NW Maine to hit a few of my favorite hiking spots.
Old Speck: 4710ft SOTA: W1/AM-004 POTA: K-2390
Bald Plate: 3789ft SOTA: W1/AM-011 POTA: K-2390
Bigelow 4144 ft SOTA: W1/AM-003 POTA: K-4556
Sugarloaf 4249 ft SOTA: W1/AM-002
Spaulding 3999ft SOTA: W1/AM-290 POTA: K-4556
Abraham 4049ft SOTA: W1/AM-116 POTA: K-4556
Mt Blue 3179ft SOTA: W1/AM-019 POTA: K-2397
Around the weekend of the August 5th, I will be in Mount Desert Island (aka Bar Harbor, Maine) and will be attempting to hike all the SOTA summits on the island. I will also be hiking Mt Katahdin again in Baxter State Park since I failed to make my SOTA points (10) last summer.
Mount Katahdin (Maine) Failed SOTA Activation
Freq: HF (SSB/CW/Digital) and VHF (2M)
I am super excited to activate some summits and parks and am looking forward to getting everyone in my log.
Equipment:
HF: Elecraft KX3 & LNR Precision MTR-5B
VHF: Yaesu FT1DR & Yaesu VX2 (thanks to my good friend George, KJ6VU who gifted it to me)
Antennas: Packtenna dipole(s); Packtenna Endfed & Random wire; 20m Delta loop; Alexloop; Multiband Doublet; Wolf River Coil Vertical
Arrow Antenna *I will also be attempting my first satellite QSO which should be entertaining.
Website: http://bit.ly/2LLIpvA