The targetted summit for today was a 2 pointer located about 25Km from my QTH.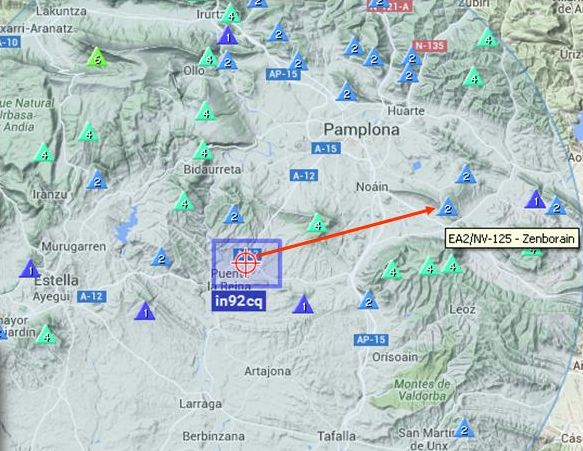 This is the picture I took of it on my way back home, as it was much darker at my arrival with the sun just about to start rising and without time to take pictures because I wanted to be ready by 8 utc in order to try a S2S QSO with our Australian colleague Andrew VK1NAM.

I told my GPS to drive me to the little village of Elorz through the shortest way instead of the fastest and I, deliveredly, answered NO to the question "do you want to avoid unpaved roads?"
Thanks to this answer, the GPS showed me a nice shortcut through a dirt road and this nice mid age bridge I had to cross:

From the village of Elortz, I drove on a dirt road to the place you'll see in the map called Andricain.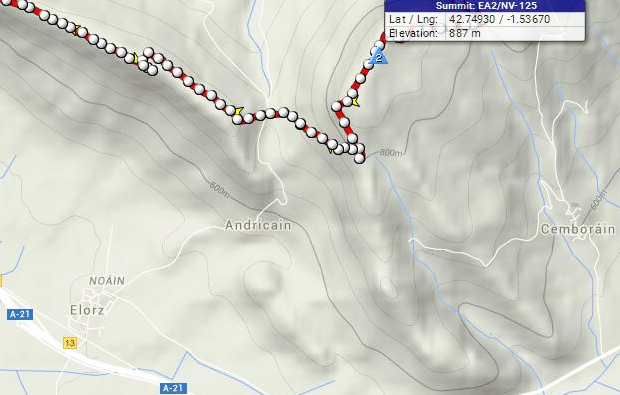 I parked the car in this place of Andricain and walked the way you'll see on the map until I joined the GPS track and then I followed it to the right until I reached the summit.
Since I'm little by little working on activating SOTAs to become a Mountain Goat, what I found when arriving to this place of Andricain made me feel good. See the mountain goat

(again, this picture was taken on my way back home)

The hike was quite comfortable being the worse section one of about 150-200m of steep and muddy path. The rest was easy to hike and follow, as well as nice while being in the middle of the forest most of the time, including the very summit.
This picture of the begining of the hike was taken on my descent.

The summit is in a flat area inside the forest and this is the cairn indicating it.

I set up my 7m fishing pole with the wire inside it to a thin tree in a way that its base was a bit more than 1m above the ground. So I installed 4 wire radials pointing to the 4 cardinal points.

The top end of the fishing pole wasn't yet higher than the trees top:

First of all my schedule with Andrew VK1NAM, so I looked into Sotawatch, saw a spot for him on 14.320 and I went there right away.
I didn't hear anything and I decided to give him a call just in case he was QRV on the frequency awaiting. But nothing was heard. I gave a second call and again nothing from Australia, but this time Ignacio EA2BD showed up and we made the first QSO of this activation.
After Ignacio I got the call from Pedro EA2CKX and this was the second QSO of the day.
Without any hope to copy Australia, I decided to QSY to 30m and have fun with CW, which is what I enjoy most.
Firstly I called and had S2S QSO with Clemens HB9EWO/P who was activating HB/SG-011.
Then I QSYed up and the resulting pile up produced 24 QSOs in 21 minutes, among which the highlight was the S2S QSO with Mirko 9A/S52CU/P activating 9A/PH-029, as this became my first ever 9A SOTA QSO.
The 30m CW run finished when one station started CQing right on my frequency and after telling him QRL with not any good results, I decided to QSY to 20m SSB instead of trying to fight with my 5w the already lost battle of trying to keep my frequency.
20m SSB produced 21 QSOs in 18 minutes, being one of them a S2S with Pom DG7ACF/P activating DM/NS-121. Thanks!
When the pile up dried up, I QSYed to 12m, selfspotted and called CQ a number of times with zero calls back. I feared it was a bit too early for 12m (9h30 utc) and conditions were not good for such high frequency. Without any QSO logged on 12m, I decided to QSY back to 30m CW again.
This second run on 30m produced 31 QSOs in 44 minutes, 3 of which were S2S, one with the station of Radioclub Škofja Loka S5100ISONZO activating S5/JA-053, another with Hans HB9/PB2T/P activating HB/VD-020 and the third one with Marcial EA2WX/P activating EA1/BU-088. Thank you all three for calling and the S2S QSO.
Once 30m CW dried up I QSYed to 40m for a scheduled QSO with my good friend Alf EA4CWN.
Alf offered me to raise a spot for me on 7.030 and I agreed but in that very same moment another station started CQing there, so I QSYed to 20m and sent a selfspot announcing that I would be on 20m SSB until the batteries die.
This last run produced 5 QSOs, one of which was a S2S with Robert DL4ROB activating DL/AM-001.
After some more calls without response on 20m SSB, I was feeling tired of being sat on the groung with my back against the stony cairn, so I went QRT and the batteries seemed to still keep some charge. I was amazing about this after more than 2 hous of continuous operation today. These 2 x 6 volt connected in series SLABs seem to be lasting more and more after 2 years of SOTA use. I remember they were barely lasting about an hour in the begining.
Before leaving I took a picture of the forest I was seeing from the operating position:

On my descent I stopped by a small panoramic balcony in the only hole available through the forest and these are a few nice pictures I took:
The SOTA mountain seen in this piture is Alaitz EA2/NV-064:

This other picture shows far in the center Mt. Erreniega EA2/NV-092, behind which I have my QTH

Here you can see the city of Pamplona with Mt. San Cristobal EA2/NV-119 right close to it:

Finally this picture taken at the end of my descent shows 3 SOTAs I've already activated before, Mt. Alaitz EA2/NV-064 (right), Mt. Txanburu EA2/NV-071 (center, with the windmills) and Mt. Elomendi EA2/NV-037 (left, with the big telecommunications tower on top)

When I got to the car, the temperature was 23° C. What an ammazing warm weather we've got this weekend. We use to call these classic warm days at the begining of November "el veranillo de San Martin", which means, the little summer of Saint Martin (November 11th).
It's going to be hard when San Martin will go giving way to Mr. Winter…

All in all, 84 QSOs and 7 S2S.
Thank you very much dear chasers for another glorious day on the air and in the mountains, in nature. I'll be looking forward to copying you again soon from another summit.
Have a nice week and best 73 de Guru