WX this week is still wonderful and I want to take advantage of it before in gets cloudy/rainy or too hot. After my post-chemo lowish days, I activated a drive-up summit on Monday, another one on Tuesday and I really felt in good shape today as to try a real hiking SOTA.
>El WX esta semana está todavía maravilloso y quiero aprovecharlo antes de que se vuelva nublado/lluvioso o demasiado cálido. Después de mis días bajos post-quimio, activé una cima accesible en coche el lunes, otra el martes y hoy me sentía en verdadera buena forma como para intentar una verdadera ascensión SOTA.
I chose this summit for today because it's under 25Km drive from my QTH, I had never activated it before and I did chase it last year for the first time, so this activation would serve to 3 different purposes:
1- It would let me check my strengh, fitness or physical condition.
2- It would give me a couple of Activator points.
3- It would give me a new Complete.
So I raised an alert and left home shortly after our late Spanish lunch.
This was today's target:
>Elegí esta cima para hoy porque está a menos de 25Km en coche de mi QTH, nunca la había activado antes y la cacé el año pasado por primera vez, así que esta activación me serviría para 3 propósitos diferentes:
1- Me permitiría comprobar mis fuerzas y forma fisica.
2- Me daría un par de puntos de Activador.
3- Me daría una nueva Completa.
Así que puse una alerta y salí de casa poco después de nuestra tardía comida española.
Este era el objetivo de hoy: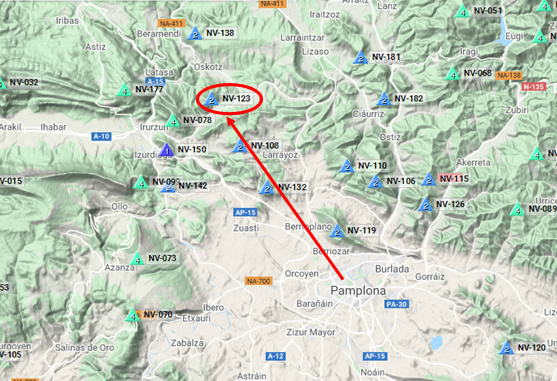 The Tomtom GPS of my car guided me to the very small village of Zarrantz, where I had never been before.
Here you can see the small village of Zarrantz and the SOTA of today:
El GPS Tomtom de mi coche me guió hasta el pequeño pueblo de Zarrantz, donde nunca había estado antes.
Aquí pueden ver el pequeño pueblo de Zarrantz y la SOTA de hoy:

I found a nice parking spot in the shade, took our dog Lucho, my rucksack, fishing rode and foldable seat and there we started the hike by 15h41z.
You can see here the track I followed and its elevation profile:
>Encontré un bonito sitio para aparcar a la sombra, cogí a nuestro perro Lucho, mi mochila, caña de pescar y silla plegable y allí empezamos la subida a las 15h41z.
Pueden ver aquí la ruta que seguí y su perfil de elevación:
The track went through the forest along a clear path:
>El track discurría a través del bosque por un camino claro.
So it continued:
>Así siguió:
Even further too:
>Incluso más adelante también:
With all these months of not hiking for health and lockdown reasons, I had lost the habit of charging my GPS batteries the night before a SOTA to an unknown mountain and soon after having started the hike, my GPS ran out of battery and switched off. I took my couple of spare AA rechargeable batteries, which had not been rechaged for months and a few minutes after having resumed our hike, the GPS batteries went flat again and I got in the middle of the forest without a GPS. Since the track looked easy to follow and I more or less could remember that the track would make a right at one point and then all straight up to the summit, I decided to go ahead.
>Con todos estos meses de no subir monte por razones de salud y de confinamiento, había perdido el hábito de cargar las pilas de mi GPS la noche anterior a una SOTA en una montaña desconocida y pronto después de haber empezado la subida, mi GPS se quedó sin baterías y se apagó. Cogí mi par de pilas recargables AA de repuesto, que no había recargado en meses, y pocos minutos después de haber retomado la ascensión, las baterías del GPS nuevamente se agotaron y me encontré en medio del bosque sin GPS. Dado que el track parecía fácil de seguir y más o menos podía recordar que el track haría un giro a la derecha a un punto y entonces todo recto hasta la cima, decidí seguir adelante.
Well, the easy to follow track I was hiking on soon ended and I guessed that was the point where I should make a right and take the steeper slope without any visible path and covered with bleech trees.
>Bueno, el track fácil de seguir por el que estaba ascendiendo pronto terminó y supuse que ese era el punto donde debería hacer el giro a la derecha y tomar la pendiente más empinada sin una senda visible y cubierta de hayas.

When I took this following picture, the summit was already pretty close:
>Cuando tomé esta foto siguiente, la cima estaba ya bastante cerca:
And finally, the summit was reached at 16h13z, after 32 minutes and 205m elevation gain of a pleasant hike. There's no vertice or trig point, just a rusty metal mushroom with a plate:
>Y finalmente, alcancé la cima a las 16h13z, tras 32 minutos y 205m de elevación en una agradable subida. No hay vértice, solo una seta de metal oxidado con una placa:
The summit is in the middle of the forest, so there are no views at all.
I setup by tieing my fishing rod to a young bleech tree trunk:
>La cima está en medio del bosque, así que no hay ninguna vista.
Instalé atando mi caña de pescar al tronco de una joven haya.
I operated by the tree at the right side of the pic, so I could rest my back against its trunk:
>Operé al lado del árbol a la derecha en la foto, así pude apoyar mi espalda contra su tronco.
The biggest problem of the day became evident as soon as I sat and prepared things to be on air: there were many, many mosquitoes avid of blood, our blood. Luckily, I was wearing a long sleeved cotton shirt and trousers, but even though the mosquitoes kept trying and often biting through the clothing. You can imagine how easy it was for them on my bare neck, hands and fingers. Insects trying to bite me is something highly stressful to me and my CW was sometimes not good because I was having to be slaping on biting mosquitoes or waving my hands to get rid of the landing attackers.
>El mayor problema del día se hizo evidente en cuanto me senté y preparé las cosas para salir al aire: había muchos, muchos mosquitos ávidos de sangre, nuestra sangre. Afortnadamente, llevaba puestos una camiseta de algodón y un pantalón de manga larga, pero incluso así, los mosquitos seguían intentando y a menudo picando a través de la ropa. Pueden imaginar qué fácl era para ellos mi cuello desnudo, manos y dedos. Tener insectos intentando picarme es algo que me resulta altamente estresante y mi CW no era bueno a veces porque tenía que estar palmeando a los mosquitos que me picaban o moviendo mis manos para espantar y librarme de los atacantes que aterrizaban.
I had already noticed, while chasing this morning, how awful propagation conditions were today on HF and obviously this was corroborated during my evening activation.
The activation went like this:
20m CW: 6 QSOs in 13 minutes. Twice I was called by @K3TCU but after sending his callsign and signal report, he never came back, so NIL.

30m CW: 3 QSOs in 12 minutes.

40m CW: 9 QSOs in 16 minutes.

40m SSB: 19 QSOs in 21 minutes.
>Ya había notado, mientras cazaba esta mañana, lo horrible de las condiciones de propagación hoy en HF y obviamente esto fue corroborado durante mi activación de la tarde.
La activación fue así:
20m CW: 6 QSOs en 13 minutos. Fui llamado dos veces por @K3TCU, pero después de enviar su indicativo y reporte de señal, él nunca volvió, así que No En Log.

30m CW: 3 QSOs en 12 minutos.

40m CW: 9 QSOs en 16 minutos.

40m SSB: 19 QSOs en 21 minutos.
This is the full log with 37 QSOs:
>Este es el log completo con 37 QSOs:

You can see it on the map:
>Pueden verlo en el mapa: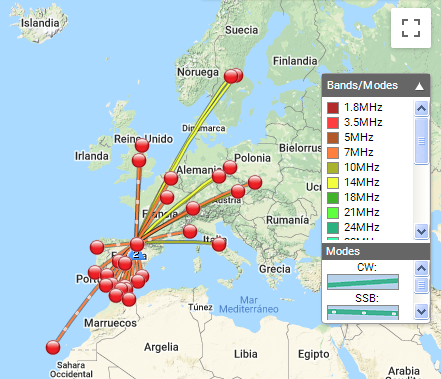 After packing up, we started our descent, but having ascended through the forest without a track, it was clear that it would be difficult or impossible to descend exactly through the same way of my ascent and this is the reason why it was impossible for me to find a reference I had spotted and memorized at the point where the path ended and I made a right to start ascending through the forest. This made me get a little bit out of control for a while and I had to improvise a return way. The problem was that I soon got into a too steep slope which made me loose balance unable to stand on my feet and after slippering on my bottom for a few meters and seeing that the terrain ahead of me was looking really steep, I decided to withdraw and turned back upwards that steep slope, which required not only strength but also skill and the use of my hands to grab and hold to the trunks of any little tree I could reach. After solving this complicated moment, I decided to walk further in the opposite direction to the one I knew I had to go, just in the hope of finding a less steep terrain for me to descend safely and try to find the track of my ascent. This finally happenned and once the track was found, it was very straightforward to descend down to the village and my car.
>Después de recoger, empezamos nuestro descenso, pero habiendo ascendido por el bosque sin un sendero, estaba claro que sería difícil o imposible descender exactamente por el mismo sitio de mi ascenso y esta es la razón por la que me fue imposible encontrar una referencia que había identificado y memorizado en el punto en que el camino acabó e hice el giro a la derecha para empezar a subir a través del bosque. Esto me puso un poco fuera de control por un momento y tuve que improvisar un camino de regreso. El problema fue que pronto me metí en una pendiente demasiado empinada que me hizo perder el equilibrio incapaz de mantenerme de pie y después de resbalar unos pocos metros sobre mi culo y de ver que el terreno más adelante parecía realmente empinado, decidí la retirada y me di la vuelta hacia arriba por esa empinada ladera, lo que requirió no solo fuerza, sino también habilidad y el uso de mis manos para agarrarme a los troncos que cualquier pequeño árbol que pude alcanzar. Después de resolver este momento complicado, decidí caminar más allá en la dirección opuesta a la que sabía que debía ir, solo con la esperanza de encontrar un terreno menos empinado por el que poder descender con seguridad y encontrar el camino de mi ascenso. Estoes lo que finalmente ocurrió y una vez encontrado el camino, fue muy fácil descender hasta el pueblo y mi coche.
Not having had any views from this forested summit, I didn't want to leave without at least one landscape image of this very beautiful area for you to see and enjoy it, so I stopped my car upon leaving the village of Zarrantz to take this pic. The small village far in the distance must be Echalecu/Etxaleku:
>No habiendo tenido ninguna vista desde esta boscosa cima, no quería marcharme sin al menos una imagen panorámica de esta preciosa zona para que la vean y disfruten, así que paré mi coche al salir del pueblo de Zarrantz para tomar esta foto. El pequeño pueblo a lo lejos debe de ser Echalecu/Etxaleku:

As always, thanks dear chasers for your calls and QSOs.
I'll be looking forward to copying you all again very soon from a summit.
>Como siempre, gracias estimados cazadores por sus llamadas y QSOs.
Estaré esperando copiarles pronto a todos ustedes de nuevo desde una cima.
73,
Guru