[editted on 28/05/2017 to add some more pictures of myself in different moments along the activation expedition. These pictures were taken by my companion JAP and I've just got them today. I hope you'll like them]
On Saturday afternoon I agreed with my new SOTA mate, JAP, that we would go activate a new one in the evergreen beautiful Roncal valley, area at the outskirts of the Pyrenees.
I had a coffee in Pamplona that Saturday afternoon and it turned out to be the perfect place for someone like us:

La SOTA = The SOTA
JAP lives in Pamplona city and I live 18 Km Southwest of the town, with a 4 points SOTA summit in between (Mt. Erreniega EA2/NV-092), so we agreed to meet in a convenient equidistant point on our way to today's final destination, in order to continue together in a single car.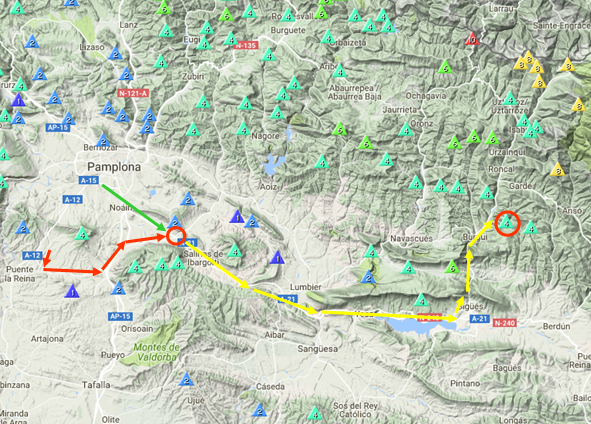 The drive to the hike start point is nearly 100 Km from my QTH.
We parked at the side of the road and prepared to start the hike at the point of the GPS track marked with a red arrow on the image below. But we found the river between us and the targeted mountain with no bridge or any means to cross it, other than walking. The river had not a huge current but quite a considerable one and crossing on naked feet with the water level well above our knees at some points, struck me as too risky given that I had my SOTA kit in the rucksack and the river bed rocks would surely be very slippery.
So we returned to the car, drove the road along the river and parked again at this other point marked by the green arrow on the following image.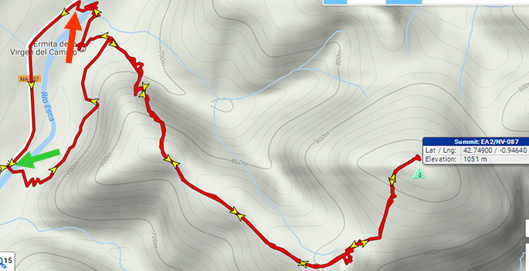 We finally crossed the river at this later point through this oscillating and not too solidly well maintained Tibet style bridge seen in this picture.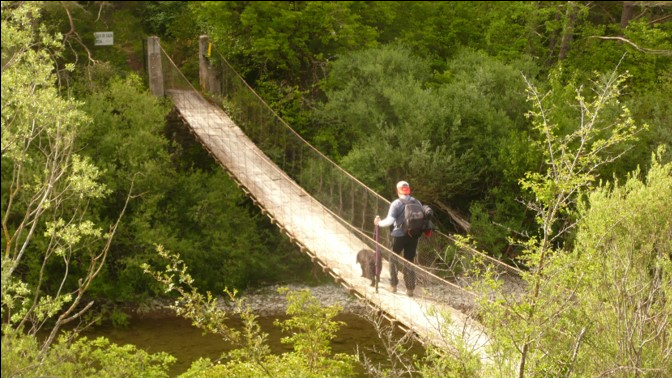 We started the hike at 7h04 utc and got to the summit at 09h10. Two hours in which we had to hike up and descend more than once, as well as snake our bodies on the ground to pass underneath a barbed wire fence we found at the beginning of the hike.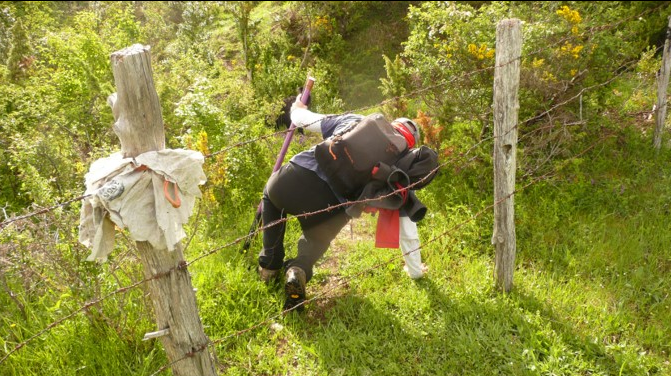 The weather was very nice with warm temperature, no wind at all and the sky mainly blue with just some few very high and light, thin, white clouds.
During the ascent, we enjoyed with some nice views of the nearby mountains and valleys as well as unexpectedly finding some old cattle shelter ruins like this one.
The following picture shows the summit as it looked when we were just about to get there. It was a nice flat but a bit too small platform with beautiful views of dozens, even hundreds of mountains and valleys around, all of them covered in green forests. Just beautiful.
Right in the center you can see the summit platform.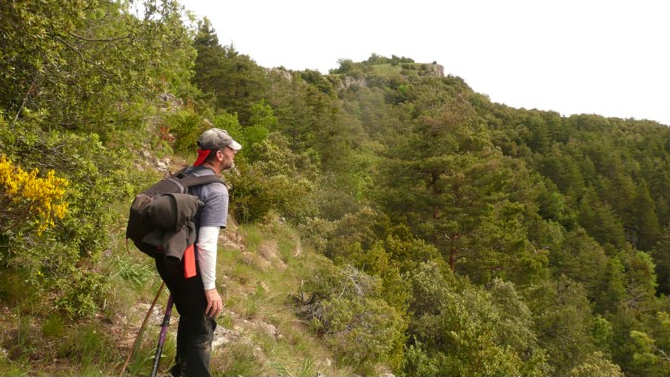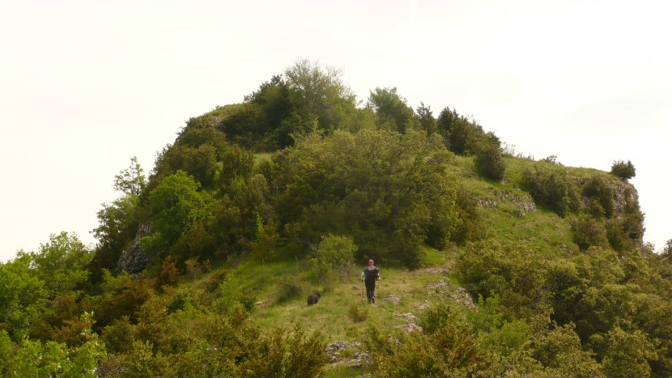 After nearly 2 hours hike, we reached the summit:

These are some of the great views we enjoyed:
The road where we came from can be seen down there.
I installed my endfed wire antenna as a sloper with the 7m telescopic fishing pole tied to a bush thin trunk and one of another close bush branches. Since there was not any wind, I considered this would be solid enough to hold the fishing pole in vertical position.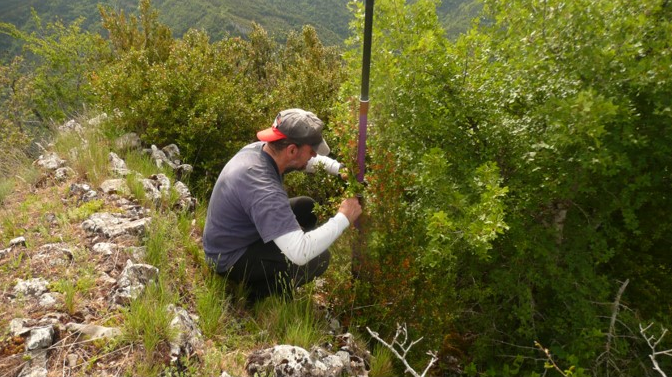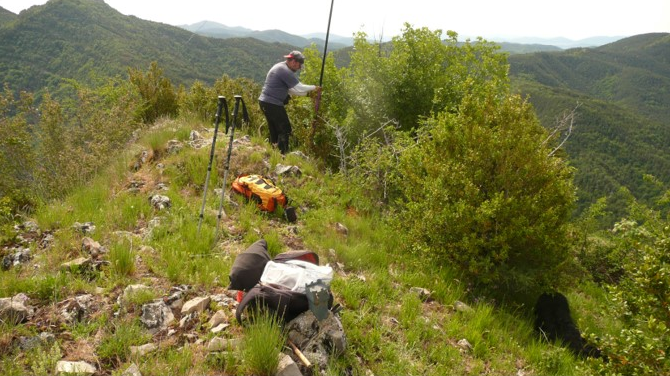 The random (about 6m long) counterpoise wire was extended and kept slightly elevated with the help of some bushes.
Setting up and preparing a second set of headphones for JAP, my new SOTA companion, plus arranging the necessary stuff to record the activation, took me nearly half an hour.
I finally started CQing on 30m CW by about 9h45 utc, which was about 45 minutes behind schedule.
It took a couple of minutes to the skimmers and RBNHole to pick up my signals, produce a spot on SOTAwatch and bring the chasers pile up on my frequency.
I only recorded the 30m band operation with my smartphone, which is where the activation started and the pile-up was more intense. I will upload the audio file into YouTube in case any of you want to listen to it and I'll let you know. It's a nearly 21 minutes recording and the fun nice pile-up stuff starts from the second minute onwards.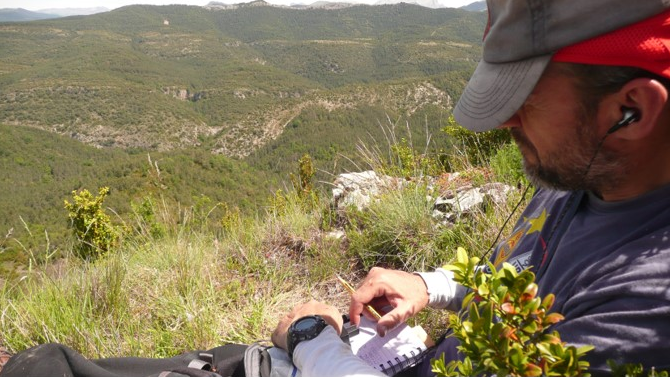 After having logged 12 contacts, 2 of which were S2S, the 30m pile-up dried up and I QSYed to 20m SSB together with a selfspot, which almost immediately brought the first chasers to my frequency.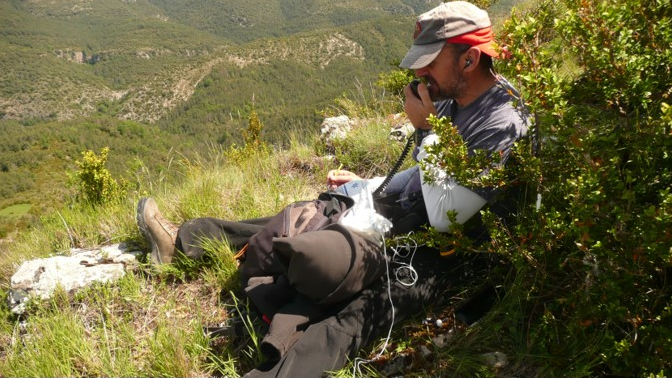 20m SSB produced 23 contacts on the log and once the pile-up dried up, I QSYed to 20m CW. A new selfspot was sent before starting to CQ and Bob, AC1Z seemed to have been there waiting for some SOTA activator to call on the frequency, as he chased me right after my very first CQ call.
He was the only DX of the day and his signals were very solid, unlike my QRP 5watts ones, as he gave me a 339 signal report. Good ears though.
Despite having been previously active on 30m CW and 20m SSB, this third run of the day on 20m CW produced a good number of chasers and again a nice pile-up. 16 more QSOs on the log, some of which were S2S I chased at the end of my CQing after having seen them spotted on SOTAwatch.
By the time 20m CW dried up, the sun was high and strong above us, my back was tired of being sitting on the ground and I was feeling like switching off and preparing for descent, as I was supposed to be arriving home in time for lunch with my family and a couple of guests friends of my wife.
However, before doing so, I decided to give 40m a little try for some possible chasers not reaching me on 30 or 20m. I knew there was the King Of Spain Contest running on CW, so I didn't go to 40m CW as I thought it would be full of strong signals from Spain. I sent a selfspot for 40m SSB and a couple of chasers, one from EA2 (José Luis, EB2JU) another from England (Terry, G0VWP) chased me. After these two QSOs and a short number of unresponded CQ calls, I decided to call it a day, switched off, took some more pictures, packed up and we descended.
Descent took us about the same time as the ascent: 2 hours, as we still took some time to take some more pictures.
By this time you have probably figured out that I got home too late for lunch with the family and my wife's guests ? I hope this won't be a problem for future SOTA outings…

On our way home I stopped to take a picture of the nearby nice little village of Burgi:
and the 'almadías', which were log made rafts used as they were boats, to transport wood along the rivers between the valleys of Navarre until the mid 20th century.
Yet I couldn't help stopping my car to take a picture of this impressive wall of rock by the river on our way home.
All in all, a great day in the mountains and on the air with a total of 53 QSOs in the log, 5 of which were S2S.
This is the full log:

And this is the S2S log:


As always, thank you very much, dear chasers, for your calls, QSOs and nice company.
I'll be looking forward to copying you all again soon from another summit.
Best regards,
Guru & JAP