Mt Seanbe is a four pointer I had never activated before but I had chased once, so it was a good target for today in order to get my complete.
It's a 60Km drive from my QTH and you can see the GPS track I downloaded from Wikiloc on the top left corner of this image, which gives you a good idea of its location with respect to Pamplona, down at the bottom of the map in this image:

The closer look to the GPS track on this map shows how it starts at the little village of Beruete. However, taking advantage of my AWD car with a very helpful shorter set of gears, I decided to drive the montain dirt road going from Beruete to Arrarats and I finally parked where the red arrow points:

The hike was pretty short and fairly easy, but being most of it through a pine trees forest first and a beech trees one later and being all the ground (mud) covered with very wet sleeves, I found again essential having a GPS track to follow the right way because no obvious path was visible on those forests.
After a final steeper section, see this picture where we were almost reaching the summit:

We got to the summit and after a picture of the plaque showing a similar but slightly different name for this mountain…

…I unpacked everything I needed and my 7m fishing pole got tied to this dead tree trunk:

Here's a closer look to the coax cable connections to vertical wire and the four wire radials. Simple but effective:

The wire radials were extended and laid on the ground pointing to the 4 quardinal points.

There was a not very strong, constant, cold wind blowing all the time, but I managed to find a good sheltered spot between some rocks right on the edge between the summit flat area and the steep downhill slope you'll see in the following picture:

Not great views today, as the summit was in the forest and the day was extremely misty.
Notice how wet the protective plastic bag where I have my rigs was. The paper log was a bit wet too making the writing with a pencil a bit difficult.

Regarding the operation, let me tell you that I had one of the most memorable pile-ups I can remember since I started activating. It was a lot of fun dealing with the very respectful and well disciplined pile-up.
I started on 30m CW, then 10m SSB, followed by 20m SSB. Unexpectedly, I also worked a few chasers on 40m CW and I finally gave 15m CW a try. Only one S2S QSO today and not any DX, but I logged 77 QSOs, which is a lot and I want to thank all of you for your calls and QSOs.
This is the full log of the activation.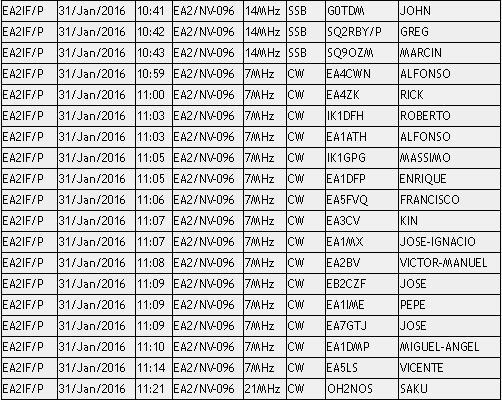 The fog was releasing several minidrops of water and sometimes they were so many that it felt like real rain, so I finally announced QRT, packed up and headed down.
Descent was straightforward and I soon was back in the car; a bit wet on the outside but dry and warm inside, safe and sound.
On the way home I took from my car this picture of the little village of Beruete for you to have an idea of how the weather was like here today. It's like this most of the time here…

I hope you'll enjoy this report as much as I enjoyed this morning out in the mountain and on the air.
Thanks again for your calls and QSOs.
Have a nice week.
Best 73 de Guru