One more
Saturday morning I hiked to Mt. San Cristóbal on a very cloudy morning with fresh but nice enough temperature.
It took me 33 minutes to get to the summit today. I started hike at 10h01 u.t.c. and arrived to the summit at 10h34 in the company of my loyal dog Lucho.
There was just a little wind so I put my SOTA hat on and a warmer clothing in order to
keep my sweaty body warm during the activation, as I always do.
I quickly installed the 20m ECO VEHICOLARE mobile whip antenna on top of a PVC tube with
a single wire radial sloping down towards the North, as usual.
I started CQing on 14.062 a few minutes before my Alert announced start time, so RBN couldn't pick up my CQ call and raise a spot yet. However, Roy G4SSH was ready and pickd me up after the very first CQ call. He kindly offered to raise a spot for me and a huge pile of chaser built up immediately.
I enjoyed it very, very, very much. It's so fun dealing with these big pile ups… One feels for a short while like being in Spratly Is. or so…

I managed to log 28 QSOs in just a 20 minutes operation. This is the log: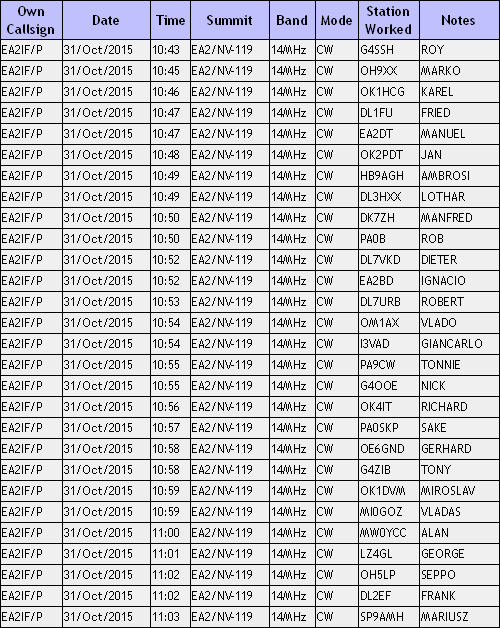 Thank you very much, dear chasers, for your calls.
I'll be looking forward to copying you soon again from another summit.
Best 73 de Guru