With a very good weather I hiked again Mt. San Cristóbal while listening on 2m FM to Ignacio EA2BD, who was activating Mt. Bizkai and saying the propagation conditions on 20m were very poor.
As soon as I got to the summit, I made 3 S2S contacts on 2m FM, with Ignacio EA2BD, Santi EA2BSB and Juan-Carlos EA2EEB, who were activating 3 different summits in EA2 area.
After 2m FM, I QSYed to 20m SSB and raised a spot myself for 14.280.
The band didn't seem to be too busy but I could hear some strong signals.
I got calls from a couple EA2 chaser stations and one EA1, all of them located at a distance of about 150km from my location. I also was chased by 2 distant stations, a SV2 (about 2000Km distance) and a S5 (about 1400Km distance). They were putting very good signal on my mobile whip antenna and they told me my signal was pretty good too.
So it looks like conditions were good for very short distance (150Km) and also for, at least, East to West longer distance. But nothing was heard from G, DL, F, PA, ON, OE, HB…
It's true that I was very shortly activating from the summit, as usual on my Saturday morning activations but it looks like the poor propagation conditions we've been facing lately may have taken many hams out of their shacks.
Please, keep on being QRV and ready to chase activators. They need you dear chasers, we need you.
This is the log of today's activation: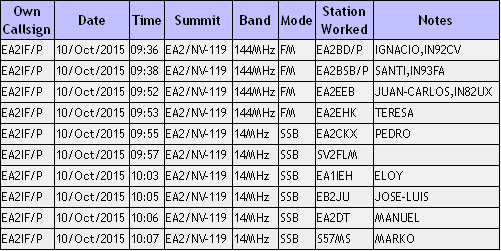 And this is the S2S log.


Best 73 de Guru