The sky was clear, the wind was blowing and the temperature was 3° C this morning.
I dropped my daughters at the rock climbing training place about 15 minutes earlier than usual, which would give me a bit more time to complete my always rushy ascent-activation-descent of Mt. San Cristobal.
The ascent took me 33 minutes today. I installed the 20m monoband mobile whip with a single wire radial towards the North, as usual and I sent my first CQ on 14.062 at 10h35, just 5 minutes earlier than my announced start time.
Ignacio EA2BD seemed to be QRV as he immediately answered my call. He was followed by Roy G4SSH. When I was about to answer the third chaser Michel F6EQN, Ignacio told me that a SPOT had been raised for me on SOTAWATCH and a big number of chasers arrived.
The pile-up produced a huge wall of morse signals from which it was almost impossible to understand anything and pick up any full callsign.
Sometimes I managed to pick up parts of the callsign, either, preffixes or suffixes, some other times I managed to pick up tail ender's full callsigns.
One by one, little by little I worked chasers at a pretty good pace and the pile-up was gradually getting smaller.
Despite comments on other threads about chasers not behaving well in the pile-up, I must say that again today's pile-up was very respectful and disciplined. Thank you all!
At 11h01 I worked the last chaser and after a few more unresponded CQ calls, I announced QRT and prepared for descent.
All in all, 29 QSOs in the log, including a S2S with Kurt HB9AFI/P in HB/FR-033.
This is the full log: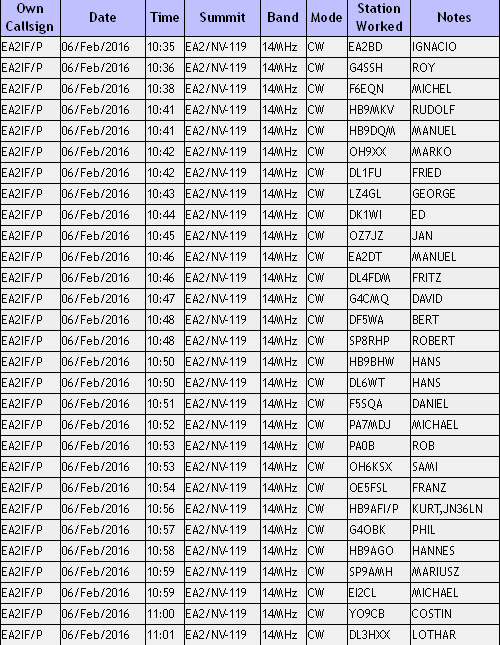 I had a lot of fun dealing with you all in the pile-up and I'm looking forward to working you again in the next one soon.
Best 73 de Guru