I had never activated this summit, but given the coming visit of Andrew VK1DA to walk the Camino de Santiago, we had been talking about possibly activating that one jointly. Unfortunately, Andrew will be walking by this summit on Wednesday the 28th and that's exactly the day I'll have to be at the hospital for my 5th chemotherapy session, so I won't be able to join him on that one. On the other hand, it looks like Ignacio EA2BD will be available and he'll try a joint activation with Andrew that day.
>Nunca había activado esta cima, pero dada la próxima visita de Andrew VK1DA para recorrer el Camino de Santiago, habíamos estado hablando sobre posiblemente activar conjuntamente esa.
Desgraciadamente, Andrew estará caminando por esta cima el miércoles 28 y ese es exactamente el día en que estaré en el hospital para mi 5ª sesión de quimioterapia, así que no podré unirme a él en esa. Por otro lado, parece que Ignacio EA2BD estará disponible e intentará una activación conjunta con Andrew ese día.
It seemed to us on the SMP that there is a road up to the very summit, which I found perfect for me while I'm not currently able to hike in the mountains due to different constrains related to my cancer treatments. So I decided to go there by myself today in order to:
checking how the road was so I can inform Ignacio EA2BD and Andrew VK1DA.
activating it in order to have another complete.
>Nos pareció en el SMP que hay una carretera hasta la misma cima, lo que me pareció perfecto mientras no sea capaz de subir montañas debido a diferentes limitaciones relacionadas con los tratamientos para mi cáncer. Así que decidí ir allí yo solo hoy para:
– comprobar cómo estaba la carretera para poder informar a Ignacio EA2BD y Andrew VK1DA.
– activarla para tener otra completa.
This summit is 56 Km North-East from my QTH in Pamplona right on the Way of St. James or Camino de Santiago.
>Ésta cima está a 56 Km al NordEste de mi QTH en Pamplona, justo en el Camino de Santiago.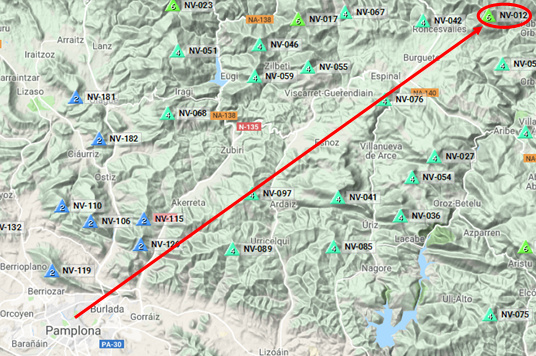 This is the route calculated by Tomtom in my car. It's a very mountaneous and curvy road:
>Esta es la ruta calculada por el Tomtom de mi coche. Es una carretera muy motañosa con muchas curvas: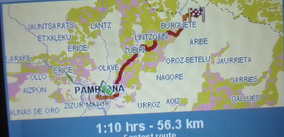 As I had guessed by looking at the maps on SMP, I was able to drive up to the very summit with my AWD car. The road is an asphalted one in a not too broken condition, just a bit. With more difficulties, but I believe a regular 4x2 car will also be able to make it in a dry day.
>Tal como había imaginado tras mirar los mapas en SMP, pude conducir hasta la misma cima con mi coche AWD con tracción a todas las ruedas. La carretera es de asfalto en una condición no demasiado rota, solo un poco. Con más dificultades, pero creo que una coche normal con tracción a un solo eje podrá también hacerlo en un día seco.
The day was sunny with a very nice temperature and just a gentle breeze. Perfect for a SOTA activation but, as soon as I got to the summit and got out of the car, I realised that this was going to be a highly uncomfortable activation because there were thousands of winged ants flying everywhere, as well as some sort of big, fat wasps or bees or something like that. Fortunately the fat wasps/bees didn't bother me too much and they were not biting me at any time. On the other hand, the winged ants were constantly over my clothing, my fleece, my trousers, my notebook, my rig, my rucksac… everywhere. Despite I was wearing long sleeves at arms and legs as well as a hat and the hood of my fleece, it was highly stressing and that's the reason why my CW was sometimes not at the optimum level. When working SSB, the insects were trying to enter in my mouth!
>El día era soleado con temperatura muy agradable y solo una ligera brisa. Perfecto para una activación SOTA pero, tan pronto como llegué a la cima y salí del coche, me di cuenta de que ésta iba a ser una activación altamente incómoda porque había miles de hormigas aladas volando por todas partes, así como una clase de avispas, abejas o algo así grandes y gordas. Por suerte, las avispas/abejas no me molestaron demasiado y no me picaron en ningún momento. En cambio, las hormigas aladas estaban constantemente sobre mi ropa, mi forro, mis pantalones, mi cuaderno, mi equipo, mi mochila… por todas partes. A pesar de que llevaba mangas largas en mis brazos y piernas, así como una gorra y la capucha de mi forro, fue altamente estresante y esa es la razón por la que mi CW no estuvo algunas veces al nivel óptimo. Cuando trabajaba SSB, los insectos intentaban meterse en mi boca!
The trig point was full of insects upon my arrival,
>El vértice geodésico estaba lleno de insectos a mi llegada,

so I decided to setup a few meters to the North at the start of the slope down, which would give me a good take-off.
>así que decidí instalar unos pocos metros hacia el Norte al comienzo de la pendiente hacia abajo, lo que me daría un buen despegue.
I carried out my activation without phone signal and thus unable to selfspot or checking SOTAwatch at all, so OK on CW thanks to RBNHole but not so good on SSB due to not being spotted on SOTAwatch.
The activation went as follows:
10m CW: 6 QSOs in 5 minutes.
10m SSB: 3 QSOs in 7 minutes.
40m CW: 12 QSOs in 13 minutes, one of which was S2S with Juerg HB9BIN/P at HB/FR-019. Thanks Juerg!
20m CW: 10 QSOs in 14 minutes, one of which was S2S with Gyula HA2VR/P at HA/KD-038. Thanks Gyula!
20m SSB: null. Zero QSOs after CQing on 14.305
Some more CQs without response and my patience very close to my limit due to the winged ants being so many and so tedious just gave me the excuse to call it a day and go QRT.
>Llevé a cabo mi activación sin señal de teléfono y por tanto incapaz de autoanunciarme o mirar SOTAwatch en ningún momento, así que OK en CW gracias a RBNHole pero no tan bien en SSB por no estar anunciado en SOTAwatch.
La activación fue como sigue:
- 10m CW: 6 QSOs en 5 minutos.
- 10m SSB: 3 QSOs en 7 minutos.
- 40m CW: 12 QSOs en 13 minutos, uno de los cuales fue SaS con Juerg HB9BIN/P en HB/FR-019. Gracias Juerg!
- 20m CW: 10 QSOs en 14 minutos, uno de los cuales fue SaS con Gyula HA2VR/P en HA/KD-038. Gracias Gyula!
- 20m SSB: nulo. Cero QSOs después de llamar en 14.305
Algunas llamadas CQ más sin respuesta y mi paciencia muy cerca del límite debido a que las hormigas aladas fueran tantas y tan tediosas, me dieron justo la excusa para dar el día por terminado y hacer QRT.
All in all 31 QSOs, 2 of which were S2S.
This is the full log:
>En total 31 QSOs, 2 de los cuales fueron SaS.
Éste es el log completo:


This is the S2S log:
>Éste es el log SaS:


You can see it on the map:
>Pueden verlo en el mapa:

Before leaving the summit, I took a few more pictures to share with you all:
>Antes de marcharme de la cima, tomé algunas pocas fotos más para compartir con todos ustedes:

When descending, I took this picture for you to see the road and also to show the SOTA Mt. Girizu EA2/NV-042, which Andrew VK1DA might wish to activate as well.
>Cuando descendía, tomé esta foto para que vean la carretera y también para mostrar la SOTA Mt. Girizu EA2/NV-142, que Andrew VK1DA podría querer activar también.

Thanks dear chasers for your calls and QSOs.
I'll be looking forward to copying you all again soon from a summit.
>Gracias estimados cazadores por sus llamadas y QSOs.
Estaré esperando copiarles a todos pronto de nuevo desde una cima.
73,
Guru