As I announced in a preplanning post, I was going to drive from my QTH in Navarra to Madrid on Saturday and back home on Sunday so I identified this summit, which seemed to be a drive on one, at about half way.
This is a picture of it that I've got on Mendikat's web page: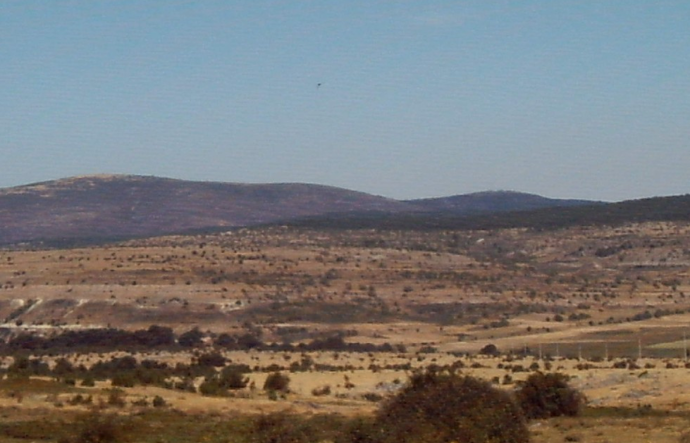 I can confirm now that the summit is a drive on one, as it seemed to me after studying satellite images. I told my Tomtom car GPS to take me to this spot in the little village of Esteras de Medinaceli, from which all I had to do is driving a dirt road called calle Real in the sens indicated by the red arrows.
The dirt road took me to a very helpful bridge to cross to the other side of the E-90 highway.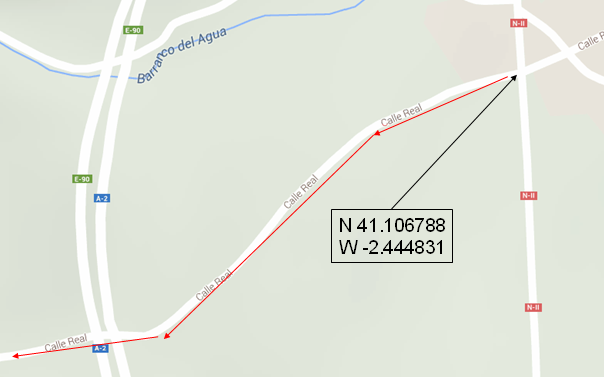 Soon after having passed the E-90 highway, the dirt road became gravier and slightly steeper.
Maybe it wasn't 100% necessary but anyway I engaged the full AWD and the shorter set of gears in my car.
After driving all the way indicated by the red arrows in the following image, I got right beside the trig point, which I found to the left side of the road. I parked there leaving my dear wife in the car waiting for me with the car engine running in order to have the heating system working (it was about 7° C and windy)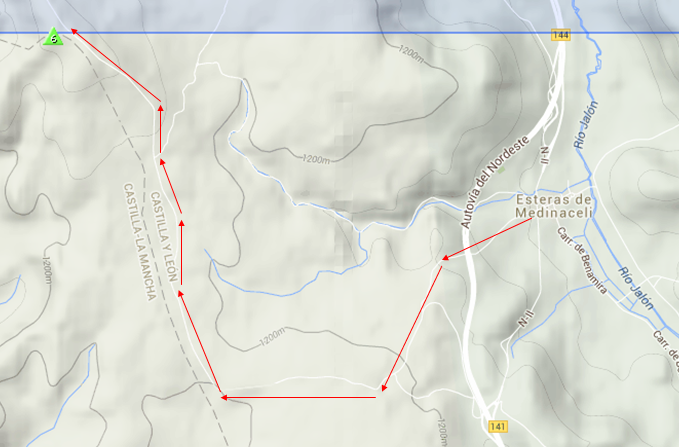 I quickly set up the 7m pole with a vertical wire inside attached to the trig point cylinder with 4 wire radials layed on ground pointing to the 4 cardinal points. I sat down close to the NorthEast side of the big trig point base in order to get shelter from the cold wind blowing from the SouthWest.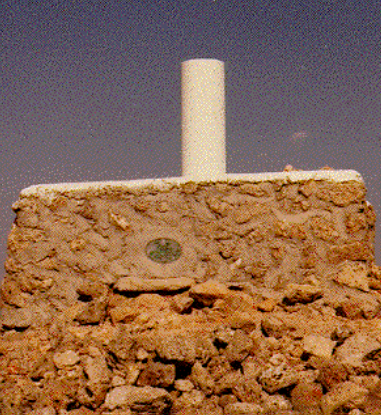 Picture taken from the web ftp://ftp.geodesia.ign.es/Red_Geodesica/Hoja0462/046207.pdf
I selfspotted and the party started almost immediately.
A nice pile up on 30m CW produced 20 QSOs in 18 minutes, 2 of which were S2S, one and the very first QSO of today's activation with Alexandru YO2BP/P at YO/MC-075 and the second one with Stephan DM1LE/P at DL/MF-030.
When the pile up dried up and without spending much time calling CQ for some latecomers because I was in a rush with my wife waiting in the car just 60 m away of me but having me at sight, I QSYed to 10m SSB.
The band seemed to be very busy and I was expecting a good number of chasers with even some DX from North America, but this wasn't the case. After a selfspot and several CQ calls, I only got the call from Jorge EA2LU several times, to whom I responded and gave him signal report everytime he called, but, unfortunately, he didn't copy me so I couldn't log a QSO with my friend. At 13h33 utc I was called by Mike 2E0YYY and we completed our QSO without any problems. I initially though this was going to be a S2S QSO but Mike told me he was working from his base station.
Well, this proved that conditions with the UK on 10m were good, but, amazingly, Mike was the only QSO I could log on 10m SSB.
After a number of unresponded CQ calls and being in a rush for the above mentionned reasons, I quickly QSYed to 20m SSB.
As soon as I raised a selfspot I called on the spotted frequency and several chasers called me in.
I logged 24 QSOs in 15 minutes, 2 of which were S2S, one with Peter DL/HB9DQM/P at DM/BW-176 and the other with Thomas OE9TKH/P at OE/VB-534.
I logged the last 3 QSOs of today's with my wife having come out of the car and walking towards my position while asking/urging me to close down and pack up to continue our journey back home, so I had to announce QRT at 13h53 utc while leaving some chasers still calling me.
I'm really sorry for that and I want to apologize.
A very quick pack up and a smooth drive took us back home safe and sound after a very pleasant Saturday evening-night in Madrid and a great SOTA activation in a new Association for me on Sunday. Just a very nice weekend.
This is the full log of today's. 45 QSOs.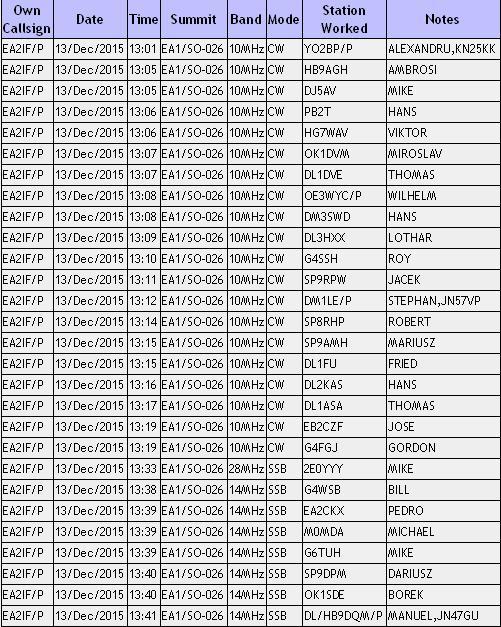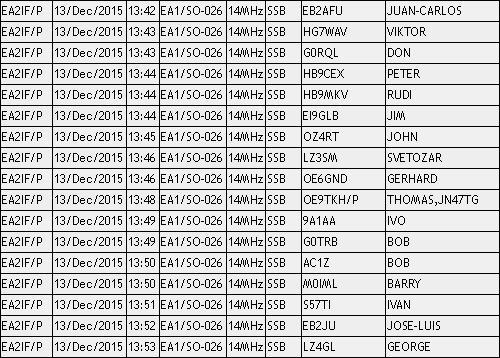 These are the 4 S2S QSOs:


Thank you all chasers, spotters and apologies to those calling whose I couldn't make QSO with.
Sorry for not having had the time to take any pictures today.
Best 73 de Guru.