It rained yesterday when I activated Mt San Cristobal, but the forecast for today was a mostly clear sky, so I decided to go out to activate a mountain called Mendurro, which I had never heard about before finding it on the SOTA summits list, despite it being near my birth town Pamplona.
I found a GPS track on Wikiloc and here you can see it's location on the map with respect to the city of Pamplona.

And this is a nice picture of the mountain that I found on Mendikat web page.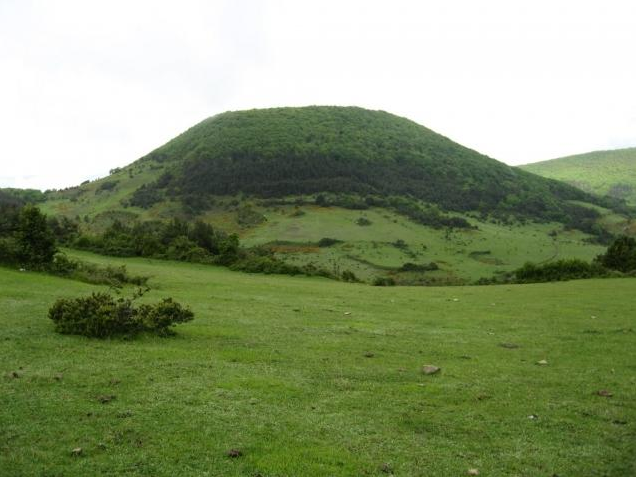 The GPS track that I got started at the little village of Navaz/Nabatz, where I parked the car and started hiking the track you'll see in this following image:

When I started hiking it was 9h15 utc and the temperature was 5° C with a cloudy sky.
This is a picture taken soon after having started hiking:

The track was clear and easy to follow:

The ground was very, very muddy and the track was a bit slippery and difficult to hike on some specific sections like this one:

As I was approaching the summit, the clouds seemed to vanish and the sky was getting clear, as it was forecasted:

This is the point where the track splits and you can choose whether you want to approach the summit to the right or to the left. I took the right:

This picture was taken on my descent and that's why the sun is much higher and more present.
I got to the summit by 10h45 utc and I started setting up. I also switched on my HH and found Alberto EA2DYS/P CQing while activating EA2/VI-003, so we had our S2S QSO while starting to set up my HF GP antenna.
When we signed off, I continued setting up and attaching my 7m telescopic fishing pole to one of the posts of a barbed wire fence running along the summit. The four wire radials I always have with this antenna were extended along the barbed wire of the fence in two sets of 2 wires each, one to the East and the other to the West.
I sat by the cairn with a wooden stick indicating the summit that you'll see in the following picture and started CQing on 30m CW, where I got a run of 14 QSOs in 15 minutes. The last caller was SP9AMH and I got back to him twice giving him a 559 signal report, but, unfortunately, due to QSB (I guess), he never came back to me, so NIL.
Then I switched to 20m SSB looking for S2S with some of the other EA2 activators present in the band at that time.
I found and was delighted to QSO with Iratxe EA2DNO/P and Alberto EA2DCA/P at EA2/VI-008, as well as Antonio EC2AG/P at EA2/SS-059.
Here you can see me while operating 20m SSB:

20m SSB produced a total of 19 QSOs in 30 minutes, so you'll see that the pace was quite slow.
The last QSO on 20m SSB was with S57MS/P who called me for a S2S QSOas he was activating S5/CP-018. Thank you!
After 20m, I QSYed to 12m, where I only got a single call from Sergey R3IS.
Here you can see my "shack":

When I QSYed to 10m CW, 2 stations managed to chase me.
Finally I went to 28.450 SSB and started CQing. One Radio Club station from Russia seemed to work me but a bit later the QSB made audible for me the signal of an EA4 station calling CQ on my very same frequency. I heard some other stations calling him and making QSO with him, so now I fear that the Russian radio club station might have not worked me but the EA4 station instead, who surely was much stronger than me. I will keep the Russian station in the log just in case.
A few minutes after 12h30 utc I went QRT packed up and started my descent with special care in order to avoid falling down on the slippery muddier sections. Everything went fine and I finally didn't have any falls.
The summit was in the middle of the forest so no views at all from there, however I enjoyed some beautiful views with a 13°C temperature under the warmth of the afternoon sunshine on my descent:
It was again a very pleasant day out in the mountain with an amazingly nice weather for a November 29th.
Not many, many QSOs in the log, but today's contacts were extremely nice and I'm very grateful to you all for your nice words and company.
This is the full log of today's: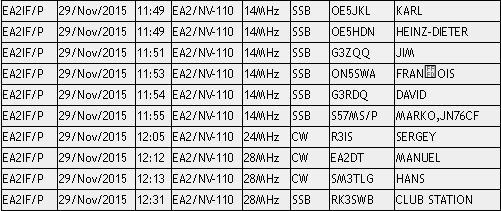 I'll be looking forward to hearing you all again soon.
Have a nice week and best 73 de Guru