Once again, being on my own with my family out away and having a very good weather forecast, was the perfect excuse for me to plan an outing to the mountains.
I chose this mountain because I failed to reach the summit and do the activation on my first attemp back in May 2014, when I didn't even have a GPS. This is the report:

Then I naïvely tried it again in June 2014 with a newly borrowed GPS into which I had not even loaded any GPS track and I only had the coordinates of the summit. With very big difficuties, I managed to reach some point very near to the actual summit, although it was not exactly where the trig point is. I got to a point where I was stuck on top of a group of rocks unable to progress any further towards the actual summit despite my GPS was telling me that the summit was only 100m away, I stood up, looked around and I didn't see any point 25 or more meters higher than the place where I was stuck, so I decided that I was inside the AZ and carried out a quick activation on 2m FM only, This is the report I published then:

With all this background, I was very eager about putting this summit on the air on HF with a long activation on different bands and modes. This time I had a track loaded into my GPS for an ascent from the very small village of Urdirotz (officially, there are only 7 people dweling there).
Urdirotz is 54 Km to the North East from my QTH: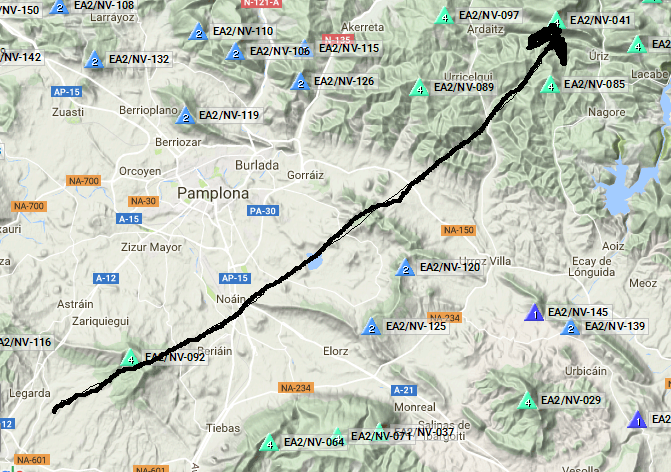 This is the way my target looked when I was about to arrive to the village of Urdirotz:

The rocks on the right hand side look higher but they aren't. That's Peña de Aintzioa and today's target is the rocky wall on the center-left of the picture.
I parked the car close to a building intentionally chosen in order to have the car in the shade most of the time and particularly by the time I would be back in the afternoon.
I started the hike at 8 o'clock utc although I had to come back a couple or three hundred meters because I realised I had forgotten my water bottle in the car and it was going to be warm and sunny all day.
This is the track I followed, which I downloaded from Wikiloc web site: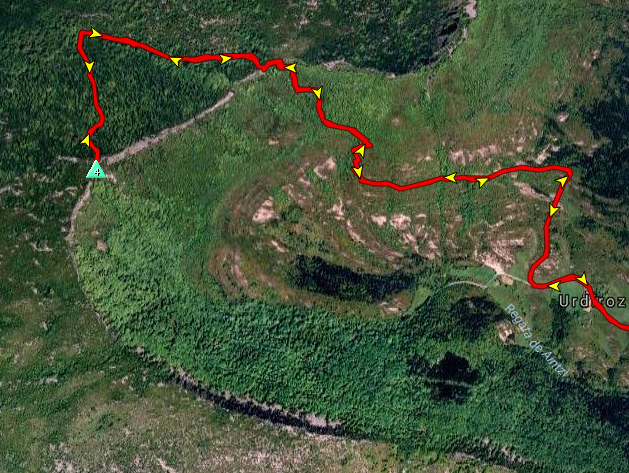 The ascent was easy to follow with many orange marks on rocks and trees every now and then.

These 3 pictures were taken on my descent.
At some sections, the ascent became seriously steep and my right leg twin muscles gave me a couple warnings in the form of mild contractions, so I decided to slow down a bit, take some rest from time to time and put my feet in a more protective position while hiking up.
This is how my target was looking during the ascent as I was getting a bit closer:

But there was still a long way to go…
When I finished the steep part to reach the ridge, although it was clearly marked with orange color on the rocks, I decided to build a small cairn in order to help me remember the exact point to take the way down on my descent, as well as to contribute on helping other future mountaineers coming this way. This is what I built:

Despite having had to go back to the car for the water bottle and the few resting pauses to take pictures and give my twin muscles a rest, plus the little cairn building and a nice chat with other mountaneers that I met at some point going to my same destination, it took me exactly an hour and 33 minutes to reach the trig point.
From there I felt like in a privileged balcony with great, beautiful views like these:

The prominent mountain looking like a cone on the left hand side is Mt. Elomendi EA2/NV-037, close to Mt. Txanburu, the one I activated yesterday, which can't be easily distinguished. Pamplona city is located over the right hand side far end but it can't be seen due to being behind other closer mountains.
The Pyrenees wall still having some snow. It won't last long I think it we keep having so little precipitations as we are lately seeing…
Notice that not a single little trace of clouds can be seen. Wall to wall blue sky.
Today I didn't use the antenna wire inside the fishing pole for an inverted L configuration, as I did last March 11th for the EU<>VK-ZL S2S event and also yesterday in Mt. Txanburu. Instead, I set it up as a sloper to the West with the fishing pole tied to the trig point cylinder:

I sat here on this apparenlty comfortable 'king's seat' but after nearly 2 hours sitting on it, it ended up feeling like bl…y hell to my back and bottom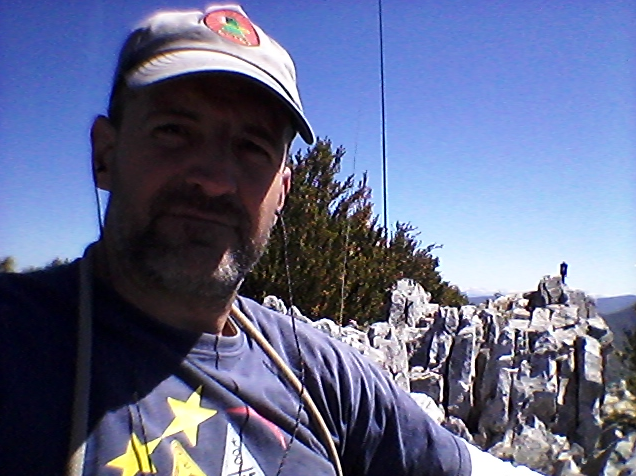 The activation went fine, starting on 20m CW where I logged 15 QSOs one of which was a S2S.
Having got quiet the pile up on 20m, I QSYed to 30m, where I logged 2 QSOs. No more chasers were heard in the following 14 minutes, so I QSYed to 20m SSB, where I logged 12 QSOs.
Once the pile up dried up, I QSYed back to 30m and 5 more QSOs were logged, one of which was a S2S.
I finally QSYed to 40m CW and 4 more QSOs were logged.
I was thinking on going QRT when I looked at SOTAWATCH on my smartphone and saw there was an activation spotted on 20m SSB for GI0AZA/P.
There I went and I was delighted with a couple S2S QSOs, one with Esther GI0AZA/P and the other with Ian GI0AZB/P.
All in all, 42 QSOs in my log after a pleasant hour and 50 minutes on air.
This is the full log: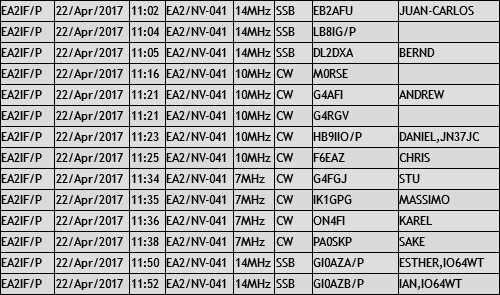 And here are the S2S contacts:


After about an hour and a half descent, including a wrong track down taken due to not looking at the GPS screen often enough, thus forcing me to hike it back up again, I got back to the car safe and sound and I found it fresh in the shade as expected

Thanks a lot to all the chasers for your calls and QSOs.
I hope you'll enjoy this report.
Best 73,
Guru