It was raining all the morning today in Ferrol and it even rained sometimes in the afternoon. However, I decided to go up to Mt. Lagoa in the evening just in time for sunset not having even looked at the weather forecast.
I wanted to be on air at sunset because I wanted to see how many DX QSOs I would be able to log.
As I most of the times do, I started on CW and logged 15 QSOs in 54 minutes, 3 of which were DX, 2 from USA and 1 from Canada.
After CW, I QSYed to 10m and did CQ for some minutes without a single call back.
So I finally QSY to 20m SSB, where I managed to log 7 QSOs in 12 minutes, but none of them was a DX.
This is the full log of this activation.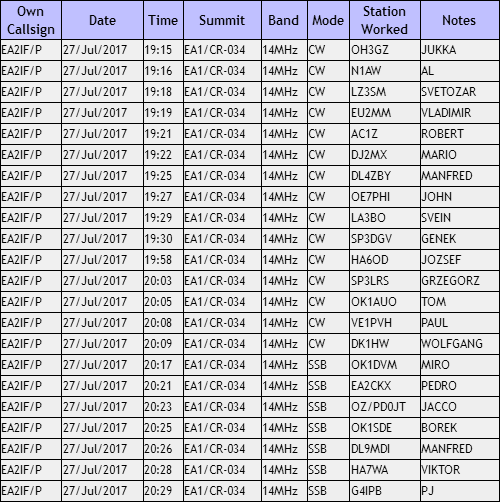 The equipment was the usual FT-817ND at 5 watts out and an endfed wire as a sloper with the top end about 9m above the ground. A counterpoise wire about 6 meter long laid partly on ground and partly on top of some bushes.
Thanks again dear chasers for your calls and for being there always ready to make a QSO with me.
Best 73,
Guru