I initially was going to have to spend this Sunday morning taking care of my partly handicapped mother but my sister asked me to change shift with her and I suddenly found myself thinking on whether I should go out to activate SOTA this morning. But I was seeing clouds and rainbows in the distance from my QTH window this morning and I finally decided not to activate and stay home chasing SOTA from time to time while doing other things.
But the wish to go out and activate SOTA was so strong that after our Spanish late lunch, I couldn't resist and decided to go out to activate a nearby 2 pointer, which is just 16Km North-West from my QTH.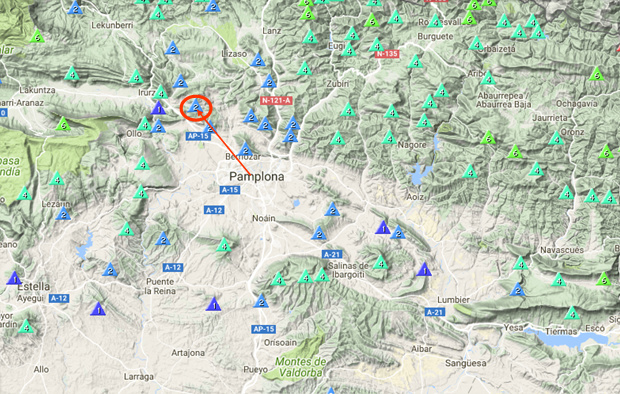 I had activated this summit once and I had identified a possible easier way to hike it which I wanted to try today. My first activation started at the village of Osinaga, but today I went to the village of Osacar and drove up a concrete road to a hill with commercial communication antennas. I parked the car on the way, a few hundred meters before reaching the antennas at the top and hiked to the summit following this way marked with the red arrows in the following picture.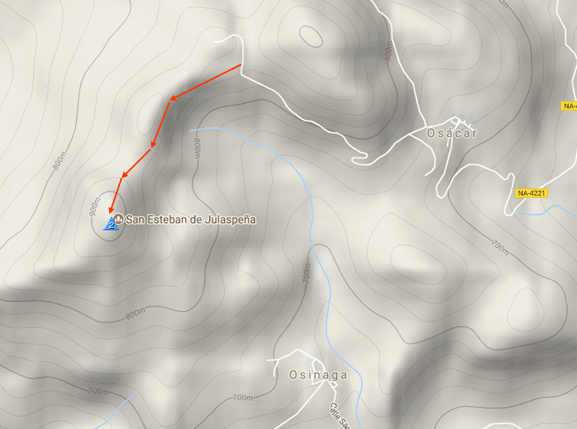 This is the way the target looked like from the point where I parked and started the hike.

The about 20-25 minutes hike was nice, enjoyable and pretty easy. I started my activation about 45 minutes earlier than the alerted start time.

The final attack was through a nice bleech trees forest:

I didn't have a GPS track but it was very easy to follow the existing track of other mountaneers through the bleech trees forest to the summit.
In this view taken from the very summit, you can see where the hike started.

From this summit, the views are just beautiful,

At the summit, there have recently been found the ruins on an ancient romanic monastry built in the X and XI centuries and the ermitage of St. Esteban de Juslapeña.

The ancient stone wall served me well to protect me from the present wind. Even my dog Lucho got stuck to the stone wall to get out of the wind.

As soon as I started setting up, a few drops of rain started to pour.
I started CQing on 20m CW and immediately got the first caller. I have seen now that RBNHole spotted me, as well as Sake PA0SKP and Mariusz SP9AMH.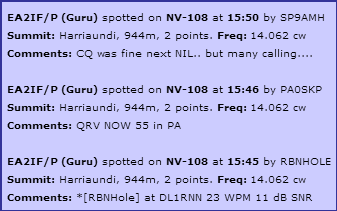 Thanks to the spots, other chasers arrived and called me right away.
The rain quickly got heavier and I started having strong static noise in my receiver. I felt the need to open my umbrella in order to protect myself, the rigs and the log, but the wind was blowing strong by that time and it was practically impossible for me to hold the umbrella in place while transmitting CW with my paddle and logging contacts on paper. I needed 2 other hands or someone else with me. My sixth QSO with EA2DT was so difficult for me to log, that right after this one I, unfortunately, had to send VY SRI BUT QRT RAIN WIND STATIC QRT.
I'm very sorry for such extremely short activation. Only 6 QSOs in my log this time with just under 5 minutes on air.


4 out of my 5 last activation trials have been cancelled, 3 of them before start and 1 right after the start, as it happened today, due to rain. I really hope our WX will settle a bit and we will soon start having better conditions for SOTA activating comfortably.
After a quick pack up, when I left the summit, the wind and the rain decreased, which let me do the hike back not too wet and I even could take some pics.
Here you can see my car far in the distance by the road to the antennas.

Thanks dear chasers for your calls and QSOs and sorry again to all those who I couldn't have QSO with. I'm sure there will be another better one soon.
73,
Guru