It's a Bank Holiday today here, as it's the Day of Navarra (EA2/NV), so I proposed to my son and the family of his 2 friends to join me for a SOTA in the morning. The three kids accepted and the mother of my son's friends too.
I chose this summit, which I already had activated this year, because it's near Pamplona and the hike is short and easy, perfect for going with the kids.
This is a picture of myself and the 10 years old kids trio at the start of the final ascent through the bleech trees forest.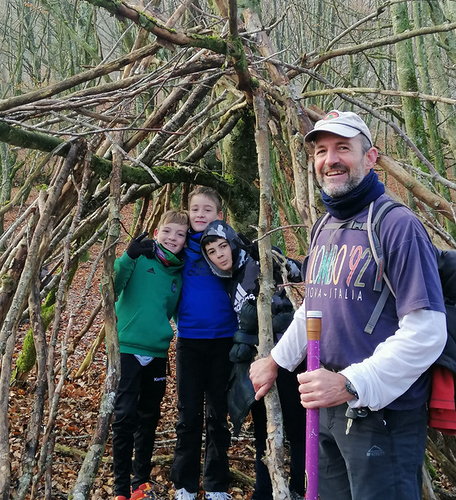 When we got to the summit, the cloud was wrapping it completely so we had no views at all, which is a shame because this summit usually offers great views over the valleys around.
I set up with my 10m long endfed wire as a sloper from the top of my telescopic 7m long fishing rod and the counterpoise wire was extended on the ground.
As soon as I switched my FT-817ND and QSYed from 40m (where I had been activating the day before) to 20m, I found Jorge EA2LU/P activating on 14.062 and a quick S2S made him get back to me, so I logged a S2S with my friend Jorge (the Boss). Hum, not a bad start.
I left Jorge on 14.062 and I QSYed 2 Kc up to start CQing on 14.064. I had alerted this activation and RBNHole spotted me right away, which brought the pile of chasers to me. The first chaser was a big nice surprise and his signal from the opposite side of the globe was simply amazing: Andrei ZL1TM was the first QSO after I started CQing and his signal was outstanding, strong and steady with no QSB at all.
A S2S with my old friend Jorge EA2LU and a QSO with Andrei ZL1TM: difficult to have a better start for an activation.
Since it was cold and foggy at the summit, I wanted to make it short to avoid my company a long time waiting, but the stream of chasers calling in was continuous and I didn't want to leave without having worked everyone.
My first S2S QSO with Jorge was at 10h52 on 14.062
Then I QSYed to 14.064 and started CQing. The QSO with Andrei ZL1TM was logged at 10h55 and the last one with Elly EA1XN at 11h19. This meant a run of 28 QSO (2 of them were S2S with Jarek SP9MA and Ignacio EA2BD) in 24 minutes and I assure you it was a lot of fun, which I enjoyed very much.
After QRT and pack up, I ate a small sandwich I had and after this final picture, we left the summit and descended.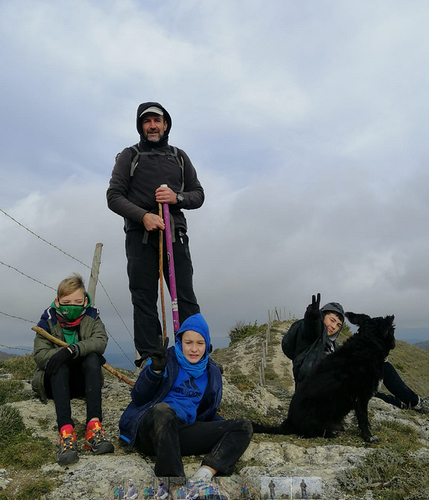 It was a short but very nice activation and we all had a great time out in the mountain.
Thanks dear chasers for your calls and QSOs. I'll be looking forward to chasing you all again from a summit soon.
73,
Guru