Gorramakil is the summit to the left of the one in the center with the tower on top.
>Gorramakil es la cima a la izquierda de la del centro con la torreta en lo alto.
After having recovered from my 5th chemo session (which took me a number of days), I decided that I would activate this drive-up beautiful summit today, before I get my 6th and hopefully last chemo session next wednesday, so I programmed the summit coordinates to the Tomtom GPS in my car and I drove it while enjoying the beautiful landscapes during the ascent and stopping from time to time to take some pictures like these:
>Tras haberme recuperado de mi 5ª sesión de quimio (que me llevó unos días), decidí que hoy activaría esta preciosa cima accesible en coche, antes de que reciba mi 6ª y espero que última sesión de quimio el miércoles próximo, así que programé las coordenadas de la cima al GPS Tomtom de mi coche y lo conduje mientras disfrutaba de los preciosos paisajes durante el ascenso y parando de vez en cuando para tomar algunas fotos como éstas:

Above, SOTA Mt. Autza (EA2/NV-035), activated by André
@F5UKL
just a few days ago.
>Encima la SOTA Mt. Autza (EA2/NV-035), activada por André F5UKL hace solo unos pocos días.
The road to the summit is in quite a broken condition on certain sections. Never a problem for my 185 mm ground clearance AWD Ssangyong RODIUS with its permanent 4x4 and the short set of gears engaged:
>La carretera a la cima está en una condición bastante rota en ciertas partes. Ningún problema para mi Ssangyong RODIUS AWD de 185mm de altura de bajos con su tracción permanente 4x4 y la reductora conectadas:
The summit was finally reached. The peak seen at its left in the distance is SOTA Mt. Larrun (EA2/NV-118), activated by Eric
@HB9IAB
yesterday.
>La cima fue finalmente alcanzada. El pico visto a su izquierda en la distancia es la SOTA Mt. Larrun (EA2/NV-118), activada por Eric HB9IAB ayer.
There's no trig point here but there are plenty of cairns and I made good use of two of them to help keep my fishing rod upright and also to hold in vertical a piece of metal to which I tied the cord at the end of my endfed antenna wire. My setup looked like this:
>No hay vértice geodésico aquí pero hay cantidad de apilamientos de piedras e hice buen uso de dos de ellos para ayudar a mantener mi caña de pescar hacia arriba y también para mantener en vertical un trozo de metal al que até la cuerda al final del cable de mi antena alimentada en el extremo. Mi instalación se veía así:
21m long endfed wire as an inverted vee hanging from the top end of my 7m fishing rod.
The rig was my usual FT-817ND at 5 watts plus the MFJ-941B antenna tunner always preconnected in a purposedly customized wooden box inside my rucksack.
>Un cable alimentado en el extremo de 21m de largo como una V invertida colgada del extremo de mi caña de pescar de 7m. El equipo fue el habitual FT-817ND a 5 vatios más el acoplador de antenas MFJ-941B, siempre preconectado en una caja de madera adaptada para este propósito dentro de mi mochila.
The temperature was not too warm but OK with a bit of wind that after some time made me feel just a bit cold… but nothing unbearable fortunately.
>La temperatura era no demasiado cálida pero OK con un poco de viento que tras algún tiempo me hizo sentir un poco frío… pero nada insoportable afortunadamente.
The operation went like this:
20m CW: 10 QSOs in 14 minutes, one was S2S with Juerg HB9BIN/P at HB/BE-087.

40m CW: 12 QSOs in 16 minutes.

30m CW: 4 QSOs in 5 minutes.

20m CW: 2 QSOs in 4 minutes.
I went to 20m SSB but found contest activity so I QSYed to 15m CW, where I called CQ for some few minutes which resulted in zero QSOs.
>La operación fue así:
20m CW: 10 QSOs en 14 minutos, uno fue S2S con Juerg HB9BIN/P en HB/BE-087.

40m CW: 12 QSOs en 16 minutos.

30m CW: 4 QSOs en 5 minutos.

20m CW: 2 QSOs en 4 minutos.
Fui a 20m SSB pero encontré actividad de concurso, asía que hice QSY a 15m CW, donde llamé CQ por unos pocos minutos que resultaron en cero QSOs.
All in all, 28 QSOs, one of which was S2S.
This is the full log, which I uploaded through the new SOTA database site for the first time:
>En total, 28 QSOs, uno de los cuales fue S2S.
Éste es el log completo, que cargué por primera vez a través de la nueva base de datos SOTA:

You can see it on the map:
>Pueden verlo en el mapa: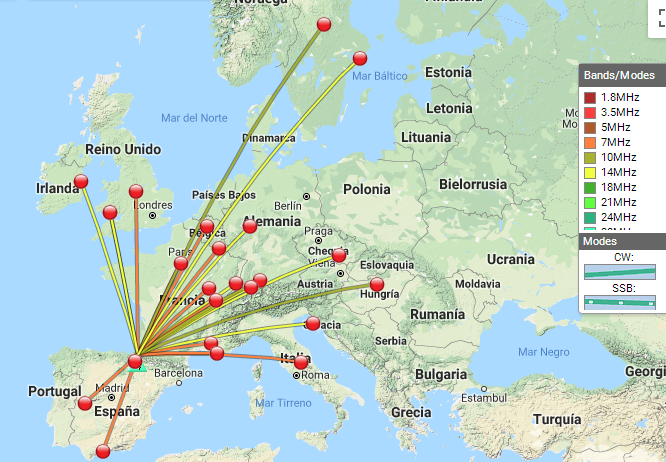 Let me share with you some of the views from the summit:
>Déjenme compartir con ustedes algunas de las vistas desde la cima:
Big and high, far in the distance, the SOTA Orhi peak (EA2/NV-003) can barely be seen. As one goes Eastbound, starting from the ocean in the West, this is the first Pyrenean peak with its summit over 2000m above sea level.
>Grande y alto, lejos en la distancia, el Pico Ori (EA2/NV-003) apenas puede verse. Según va uno hacia el Este, empezando desde el océano en el Oeste, éste es el primer pico de los Pirineos con su cima por encima de los 2000m sobre el nivel del mar.

Mt. Larrun EA2/NV-118 (left) and the coast of Biarritz (France).
>El Mt. Larrun EA2(NV-118 (a la izquierda) y la costa de Biarritz (Francia).
In the distance, the French SW coast.
>En la distancia, la costa Suroeste francesa.
Thank you very much for your calls and QSOs. I hope you'll enjoy this report as much as I enjoyed this SOTA activation. Best 73 from Guru EA2IF/P,
>Muchas gracias por sus llamadas y QSOs. Espero que disfrutarán este reportaje tanto como yo disfruté ésta activación SOTA. Los mejores 73 de Guru EA2IF/P,