I finally managed to find the chance for a SOTA activation today, before my 3rd chemotherapy session tomorrow. Given my early QRT yesterday due to the rain threat, I wanted to have a longer activation using again my IC-706MKII-G.
>Finalmente conseguí encontrar la oportunidad para una activación SOTA hoy, antes de mi tercera sesión de quimioterapia mañana. Dado mi temprano QRT ayer deido a la amenaza de lluvia, quería tener una activación más larga usando de nuevo mi IC-706MKII-G.
This mountain is a small one just over 700m a.s.l. near the small village of my ancestors, Cirauqui, where the most ancient ancestor I know about from my father side was born in about the year 1650.
>Esta montaña es una pequeña a algo más de 700m sobre el nivel del mar cerca del pequeño pueblo de mis antepasados, Cirauqui, donde el más lejano antepasado que conozco del lado de mi padre nació alrededor del año 1650.

This is a drive-up summit to which one can get to after driving about 5 Km on a dirt road starting from the very village of Cirauqui.
At the summit there are an ermitage devoted to Saint Cristóbal, some nice picnic tables and benches and one of those tall trig points that we all find so convenient to attach our fishing rods to in order to get our aerials as high as possible. You can see following my set-up:
>Esta es una cima a la que se puede llegar en coche después de conducir unos 5Km por una pista de tierra y piedras que empieza en el mismo pueblo de Cirauqui.
En la cima hay una ermita dedicada a San Cristóbal, algunas agradables mesas con bancos para picnic y uno de esos altos vértices geodésicos que todos nosotros encontramos tan convenientes para poner nuestras antenas tan altas como sea posible. Pueden ver a continuación mi instalación:

I operated comfortably sitting on that concrete bench with my rigs on the table.
>Operé confortablemente sentado en ese banco de cemento con mis equipos sobre la mesa.
This picture was taken from the top of the tall trig point after dismantlying the fishing rod at the end of the activation.
>Esta foto fue tomada desde lo alto del vértice geodésico tras desmontar la caña de pescar al final de la activación.
I started on 20m CW with the power of my IC-706MKII-G set to level 5 and after a few CQ calls, I was spotted by RBNHole and the chasers quickly arrived. However, after just 7 QSOs in the log, there were no more calls. Power at level 5 must be around 50W and with just a 4200mAh LiFePo battery, I knew I would not have power for too long so I quickly went QSY to 40m CW.
>Empecé en 20m CW con la potencia de mi IC-706MKII-G ajustada al nivel 5 y tras unos pocos CQ, fui anunciado por RBNHole y los cazadores llegaron enseguida. No obstante, tras solo 7 QSOs en el log, ya no hubo más llamadas. La potencia al nivel 5 debe de ser alrededor de 50W y con solo una batería LiFePo de 4200mAh, sabía que no tendría potencia por mucho tiempo, así que rápidamente hice QSY a 40m CW.
On 40m CW I first found Mario DJ2MX/P CQing, so I gave him a call and he picked me up right away for a nice QSO and my only S2S of the day.
After this S2S I moved a few KHz up and started CQing. I only logged 13 more QSOs before my battery died.
>En 40m CW encontré primero a Mario DJ2MX/P llamando CQ, así que le llamé y me copió inmediatamente para un agradable QSO y mi único SaS del día.
Tras este SaS me desplacé unos pocos KHz arriba y empecé a llamar CQ. Sólo anoté 13 QSOs más antes de que mi batería muriese.
It was really short and the battery died after about just half hour operating. I need to explain that I also transmitted at full power for a while on 20m when I asked Jorge EA2LU for a report, as I wanted to know how the morse tone sounded at full power fearing possible voltage decay or RF issues. He didn't report any wrong morse tone or anything wrong.
>Fue realmente corto y la batería murió tras aproximadamente media hora operando. Necesito explicar que también transmití a plena potencia por un momento cuando pedí a Jorge EA2LU que me pasase un reporte, pues quería saber cómo sonaba el tono morse a plena potencia temiendo alguna posible caída de voltaje of problemas de RF. Él no reportó ningún feo tono de morse ni nada mal.
I apologise to all the many chasers calling me on 40m CW to whom I was unable to respond because my rig started to repeatedly switch off whenever I tried to transmit and soon even on RX.
>Pido disculpas a todos los muchos cazadores que me llamaban en 40m CW y a quienes fui incapaz de responder porque mi equipo empezó a apagarse repetidamente cada vez que trataba de transmitir y pronto incluso en RX.
Well, this QRO experience has shown me that using 50W is a battery killer and QRP is often enough. My FT-817 will keep being my SOTA rig for a long time, as I prefer longer activations rather than putting great strong signals on the chasers S-meters at the cost of having to QRT within few minutes.
All in all 21 QSOs in the log, 7 of them on 20m CW and 14 on 40m CW, with one S2S.
>Bueno, esta experiencia QRO me ha enseñado que usar 50W es un chupabaterías y el QRP es a menudo suficiente. Mi FT-817 seguirá siendo mi equipo SOTA por un largo tiempo, pues prefiero activaciones más largas en vez de poner fantásticas señales fuertes en los S-meter de los cazadores a costa de tener que QRT en pocos minutos.
En total, 21 QSOs en el log, 7 de ellos en 20m CW y 14 en 40m CW, con un SaS.
This is the log:
>Este es el log: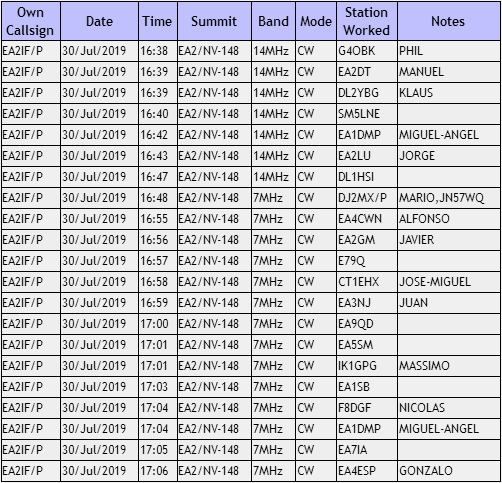 This is the S2S log:
>Éste es el log SaS:


You can see it on the map:
>Pueden verlo en el mapa:

At the end of the activation, I took some few pictures of the views while standing on top of the table.
>Al final de la activación, tomé algunas pocas fotos de las vistas mientras estaba de pie encima de la mesa.

When descending I stopped the car to take this picture of the village of Cirauqui:
>Cuando descendía, detuve el coche para tomar esta foto del pueblo de Cirauqui:

It's been a bit too short in time but it was, as always, nice to be on a summit having QSOs with you all. Thank you for your calls and QSOs.
I'll be looking forward to copying you all again from a summit very soon.
>Ha sido un poco demasiado breve pero fue, como siempre, agradable estar en una cima manteniendo QSOs con todos ustedes. Gracias por sus llamadas y QSOs.
Estaré deseando copiarles a todos ustedes muy pronto de nuevo desde una cima.
73,
Guru