My 6 years old son was a bit sick yesterday with some fever, so we decided that we wouldn't go to the rock climbing place this Saturday morning.
Immediately, I saw that I would be free to activate some other mountain different to the Mt. San Cristóbal I always do on Saturdays because it's the only activation I can fit in the available time.
I thought of several options and finally decided to do a 4 pointer not far from my QTH which I hadn't activated since 2014 and its name, Etxauri, is the name of the birth village of my mother, his father (my grandfather) and several other ancestors of her family.
Today I was planning an ascent through a different track I found on Wikiloc from the village of Muniain de Guesalaz.
Here you can see the location of this mountain with respect to Pamplona and my QTH.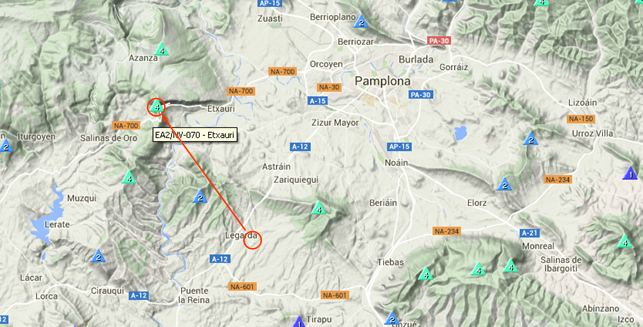 This is the Etxauri range. A very attractive place for rock climbers.

The drive took me longer than expected because I found a cyclist race on my way but it was nice to drive the mountain road along with the amateur cyclists. It's hard to calculate, but I would estimate there were nearly 700 to 1000 participants. Amazing!

Well, I parked my car by a dirt road near the little village of Muniain de Guesalaz and started the hike through a not too steep and very easy to follow path which soon entered into a delicious beautiful forest.
Did I ever tell you that I love the bleech trees forests?

At one point inside the bleech trees forest, the track turned sharply to the left and the track changed into this:

After 36 minutes hike, with just a couple of very brief pauses to take the previously shown pictures, we got to the summit.

The ermitage provided good shelter against the wind blowing from the NorthEast. I attached the fishing pole to the trig point and kept the endfed wire elevated by tieing the extension nylon cord to the barbed wire on the roof of the ermitage.
A couple of mountaneers kindly accepted my request to take me the following pictures while I was operating 20m CW.

This is the log of today's operation: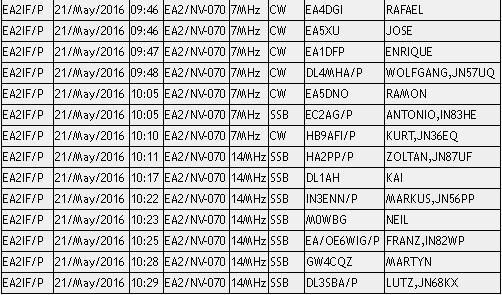 And this is the S2S log: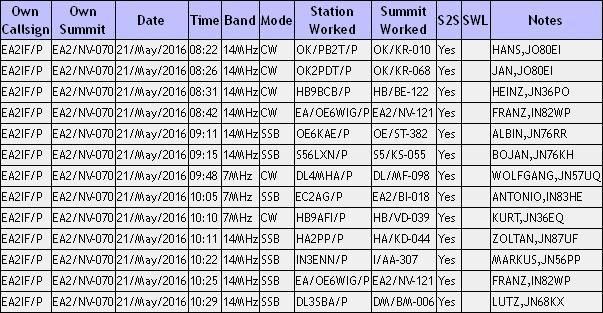 A total of 72 QSOs and 13 S2S. Great!
When I finished the operation and I had packed everything up, I took a few pictures before leaving the summit:

This is a different view of Mt. Etxauri summit from a different point of view seen on my drive back home.

I enjoyed very much this activation with so many S2S QSOs.
Thank you very much for your calls and QSOs and I'll be looking forward to copying you again soon.
Best 73 from Guru.