Although I yesterday wrote in my activation report of Mt. Alaitz that I would try to activate Mt. Itzaga today, I changed my mind last night and decided to go for a closer 4 pointer one, as I knew my wife and children would be back by about lunch time and I wanted to be home by that time.
So I chose Mt. Esparatz, which is at sight from the village where I live and I had not activated since 2014.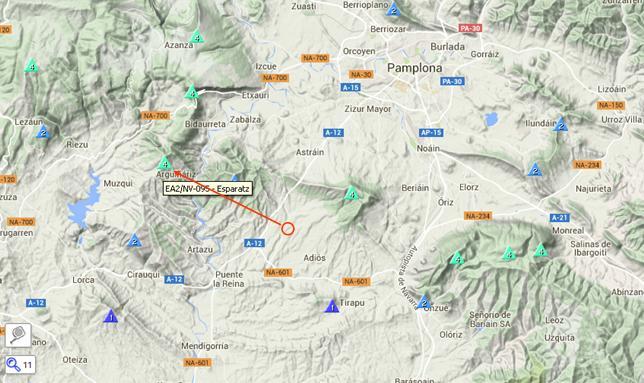 I drove the 25Km from my QTH to the little village of Argiñariz and this is the GPS track I followed.
However, I didn't notice when I was hiking but I have realised now that I did the long tour at the right hand side contouring the mountain instead of the short direct one. Honestly I didn't see where I missed the track to the short route. Well, it was a good walk which gave me great views and nice pics.

This is the montain seen from the village where I have my QTH:

After parking the car in the village of Argiñariz, first thing to do if you want to hike Mt. Esparatz is going to church:

Just kidding…
You just have to enter and exit through the gate at the opposite end:

This is a view of the very little village of Argiñariz taken during the ascent:

One of the nice views I enjoyed during the ascent:

Once in the wide and comfortable summit, I enjoyed beautiful views like these:

I set-up the endfed antenna with my 7m pole attached to the trig point concrete cilinder.
Today I started the activation on 40m CW for a change and it produced a good number of QSOs, although the frequency I found initially clear became pretty noisy with RTTY after some minutes.
After 40m, I QSYed to 30m, then 20m SSB and finally 20m CW.
I had a lot of fun and after 1 hour and 40 minutes of non stop activity, I collected nearly 70 QSOs and an unusual big number of S2S. Several SV2 were in the mountains today and they all called me on 20m SSB. Thanks guys!
This is the full log of today's activation: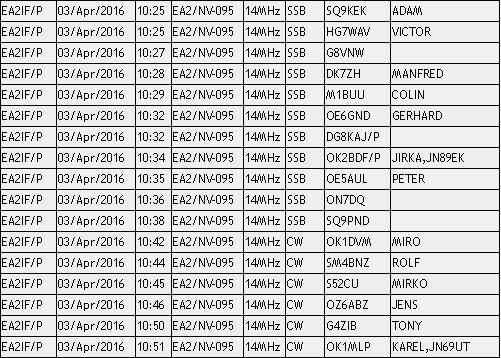 And here is the S2S log:


By the time I ended my activation, a big group of people (men, women, children and a dog) had got to the summit and they all were wondering about my fishing


While I was packing up, I briefly explained a bit of what I was doing there with my fishing pole.
On my descent I took this picture where you can see the city of Pamplona far in the distance.

It's been a great weekend with 3 successful activations, 12 points gathered and a lot of fun.
Thank you very much for your calls and QSOs.
I'll be looking forward to hearing you again soon.
Have a nice week and best 73 de Guru