I ended Friday too tired and busy as to be able to prepare a SOTA expedition to some unique I had never activated, so I layed in bed a bit longer on saturday and spent the morning at home chasing some activations in between some other things I also did. But I was feeling bad for not going out to activate SOTA with the nice sunny day we were having, so I finally agreed with my xyl to skip lunch and go out to a near by summit.
>Acabé demasiado ocupado y cansado el viernes como para poder preparar una expedición SOTA a alguna cima nueva que nunca hubiera activado, así que me levanté un poco más tarde el sábado y pasé la mañana en casa cazando algunas activaciones entre otras cosas que tambié hice. Pero me sentía mal por no salir a activar SOTA con el agradable y soleado día que estábamos teniendo, así que finalmente acordé con mi xyl saltarme la comida y salir a una cima cercana.
My target was a well known drive on 4 pointer summit, as it would allow me to get 3 extra points for the winter bonus.
The day was sunny and nicely warm down in the city, but the summit at 1037m above sea level was a different thing, with a constant medium strength cold wind.
I decided to setup with my 21m long wire as an inverted vee, at which I was particularly clumsy today, having to do and redo some various things more than once.
I finally started. Phone signal was excellent so I raised and alert from my smartphone in order to be automatically spotted by RBNHole.
>Mi objetivo fue una conocida de 4 puntos a la que se puede subir en coche, pues me me permitiría 3 puntos extra por el bonus de invierno.
El día estaba soleado y agradablemente templado abajo en la ciudad, pero la cima a 1037 m sobre el nivel del mar era diferente, con un frío viento constante de fuerza media.
Decidí montar mi hilo de 21m de largo como una V invertida, en lo que estuve algo torpe hoy, teniendo que rehacer algunas cosas más de una vez.
Finalmente empecé. La señal de teléfono móvil era excelente, así que puse una alerta desde mi smartphone para poder ser anunciado por RBNHole.
After a number of CQs on 20m CW, I wasn't seeing my spot from RBNHole, so I decided to selfspot, which produced a run of 11 QSOs in 10 minutes, 3 of which were DX with the USA (AC1Z, N4EX and K3TCU) and 1 from Africa (EA8/PA7ZEE).
On 20m SSB, 3 QSOs were logged.
>Tras un número de CQs en 20m CW, no me veía anunciado por RBNHole, así que decidí autoanunciarme, lo que me produjo 11 QSOs en 10 minutos, 3 de los cuales fueron DX con los EE.UU. (AC1Z, N4EX y K3TCU) y 1 con África (EA8/PA7ZEE).
En 20m SSB anoté 3 QSOs.
30m CW produced 14 QSOs in 31 minutes, including 2 QRX stops to put back in place one of the ends of the antenna wire which, with the kind help of the wind, had got out of where I had tied it in. After my second stop to tie the wire end back in place, my frequency was in use when I got back, so I had to QSY up. My apologies if someone remained there waiting for me.
>30m CW produjo 14 QSOs en 31 minutos, incuyendo 2 pausas QRX para poner de nuevo en su sitio uno de los extremos del cable de antena que, con la amable ayuda del viento, se había salido de donde la había atado. Tras mi segunda pausa para atar el extremo del cable en su sitio, mi frecuencia estaba ocupada cuando volví, así que tuve que QSY hacia arriba. Mis excusas si alguien se quedó allí esperándome.
After 30m I QSYed to 40m CW but found contest traffic, so I decided to go to 60m, where I logged 3 QSOs.
After a number of unresponded CQ calls on 60m, I decided to go back to 20m CW looking for some possible DX with NA or even some S2S. I was about to start CQing when I saw Ignacio EA2BD/P spotted on SOTAwatch, so I immediately QSYed to 14.062 for my S2S of the day. I was totally unaware that Ignacio was activating today, so it was a very nice and unexpected surprise. Thanks buddy for the S2S!
>Tras 30m, hice QSY a 40m CW pero encontré tráfico de contest, así que decidí ir a 60m, donde anoté 3 QSOs. Después de un número de llamadas CQ sin respuesta en 60m, decidí volver a 20m CW buscando algún posible DX con Norte-América o incluso algún contacto de SOTA a SOTA. Estaba a punto de empezar a llamar CQ cuando ví a Ignacio EA2BD anunciado en SOTAwatch, así que inmediatamente hice QSY a 14.062 para mi contacto cumbre a cumbre del día. No sabía nada de que Ignacio activaba hoy, así que fue una bonita e inesperada sorpresa. Gracias tío por el SOTA a SOTA.
After this S2S QSO, I saw K2JB from a W4C summit spotted on 14.050 and I QSYed there looking for a trans-Atlantic S2S, but I wasn't copying a trace from him, only his chasers.
I had skipped lunch and after nearly 2 hours in the wind at 1037m a.s.l. I was starting to feel pretty cold, so I decided to switch off and get back home.
>Tras este QSO de SOTA a SOTA, vi a K2JB, que estaba en una cima en W4C, anunciado en 14.050 e hice QSY hasta allí buscando un contacto SOTA a SOTA transatlántico, pero no copiaba ni rastro de él, solo a sus cazadores.
Me había saltado la comida y después de casi 2 horas en el viento a 1037m sobre el nivel del mar, estaba empezando a senti bastante frío, así que decidí apagar y volver a casa.
This is the full log with 32 QSOs and 1 S2S.
>Este es el log completo con 32 QSOs y un SaS.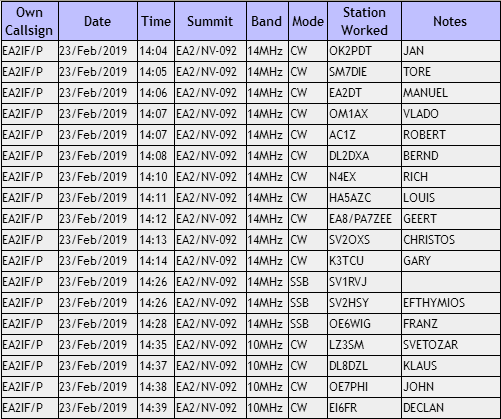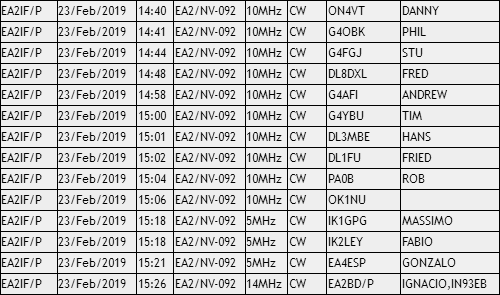 And this is the S2S log:
>Y este es el log de SaS:


Thanks dear chasers for your calls and QSOs.
I'll be looking forward to copying you all again soon from another summit.
>Gracias estimados cazadores por sus llamadas y QSOs.
Estaré esperando copiarles a todos de nuevo pronto desde otra cima.
73,
Guru