I had been willing to go out and activate SOTA for testing my 2 power banks connected in series to supply power to my vintage Yaesu FT-23R HH, but several duties kept me home until about 18h30 local. The good thing is I populated a good chasing log with more than 30 QSOs, including some transatlantic ones.
I finally could leave home at about 18h30 local (16h30z) for a quick visit to the hospital, as they wanted to extract some blood off me for a regular analisys. This usually takes just a few minutes, so I took all my SOTA stuff and Lucho, the dog, into the car. As soon as I left the hospital, I headed to the top of Mt. Erreniega EA2/NV-092 for an activation.
Today we had quite a warm day in Pamplona with temps of about 30º C and it was really nice getting to the summit at 1037m a.s.l. and a much cooler temperature with the nearly ever present wind (from the North today).
In the following picture, you can see my FT-23R still ON on my desk while still being powered by the 2 power banks connected in series.

In this picture, the FT-23R has the rubber duck antenna, but, at the summit, I used my Diamond 2m/70cm mobile whip antenna with one single wire radial like this: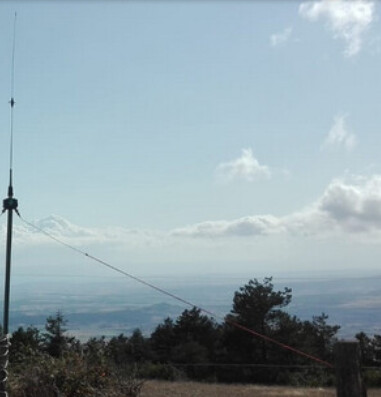 The refurbished 3 ways coax switch seen in the above picture wasn't used today and this is what I used instead, which is much lighter. The RG213 coax inside the blue PVC tube was connected at the bottom, the wire radial was connected at the side and the antenna at the top of this T-connector.

As soon as I called my first CQ on 145.525, Fernando EA1AAP responded and we had a nice chat. My transmission seemed to be OK, although my signal (< 5W, as I was powering the HH with 10,2V) was not as strong at Fernando's place (51Km to the SouthWest) as his was (he was running 50W). After some minutes chatting, I decided to also install my HF endfed wire and power on my FT-817ND for some CW fun on 20m.
I selfspotted twice, one for being QRV on 145.525 FM, in case some chaser wanted to call me, and the other for being CQing on 20m CW. It took some few minutes CQing for the first chaser to show up. He was Rick @M0LEP with pretty weak signals, but highly welcome this first call on 20m.
Sergiy @SO9TA followed and we had a difficult QSO thanks to a LID tunning on top of him. I wrongly called him Jarek, as I confused him with SP9MA. Excuse me Sergiy!
Next chaser calling in was Phil @G4OBK and we exchanged not only reports but also pleasanteries and good wishes.
Then it came Chris @KQ2RP/1, the DX of the day, with very, very weak signals and QSB. He had to repeat several times his callsign because I was missing all or parts of the suffix in the rapid QSB.
The following chaser was Lars @SA4BLM with whom I have a special connection after the nice chats we had on Peanut during the lockdown period in 2020. His signal was good as it's most of the times and he gave me a pretty good report too.
My following and last chaser today was Mike @DJ5AV, probably one of the most loyal chasers for most of the activators, at least in Europe. Thank you!
After some more unresponded CQ calls I decided to call it a day, given the cooler temperature of 17º C and the dense fog which had invaded the summit.
During my operation on 20m CW, when there were no chasers responding, I also kept calling CQ SOTA on 2m FM from time to time, but nobody else responded to me.
After about 1 hour on air, this is the full log with only 7 QSOs, 1 of which was DX with the U.S.A.:

The test with the 2 power banks was successfull and after my Baofenf HH got dead, I'll now be able to be back again QRV on 2m FM during my hikes and also during my HF activations. Since these 2 power banks have a 1A output each and a capacity of 5000mAh, I think they may also be a good back-up to power my FT-817ND in case my LiFePo4 4S2P fails one day.
Thanks dear chasers for your calls and QSOs.
I'll be looking forward to copying you all again from a SOTA soon.

73,
Guru