I had a day off today, and decided to activate the Mt. Erreniega I couldn't activate yesterday due to the snow covering the road.
The machines had finally opened a single line on the mountain road to the summit. This is how I found it today: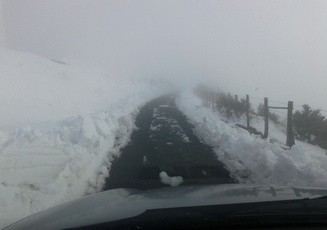 At the end of the road, when I reached the top, I found the guys who did the road cleanning just finishing the work for today: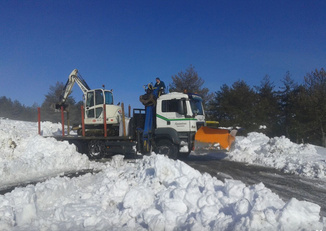 I waited for the truck to leave and then I could park a few tens of meters ahead at the side of the road: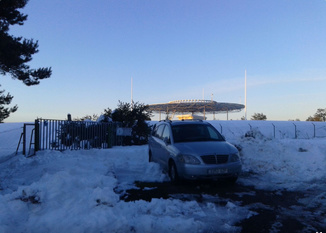 Picture taken on my return.
I quickly set up by the road because there was about 40-50cm of snow everywhere around the trig point and the mountaineers mailbox: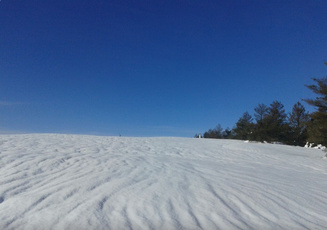 And it resulted much easier like this: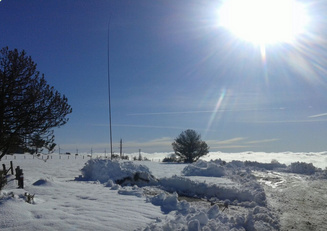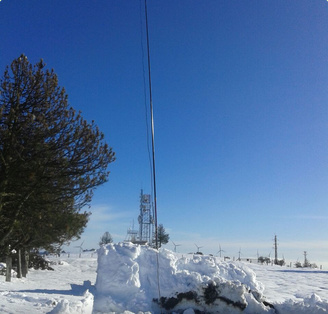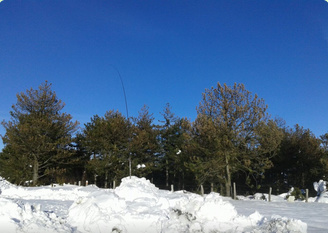 I started by 13h26 utc on 20m CW and logged 9 QSOs in 10 minutes, 2 of which were DX from North America: N1GB and VE2JCW.
Then I switched to 30m CW and I logged 27 QSOs, all of them with Europe being 3 of them S2S.
Following, I returned to 20m but SSB this time, where I logged 5 QSOs in 7 minutes, the last of which was a DX with North America: W1OW.
After a number of calls without response, I QSYed to 40m CW, where I could log 11 QSOs in 20 minutes.
After a number of unresponded CQ calls, I was about to QRT a few minutes after 15h utc, when I realized there was an alerted activation by TF/W1DMH at 15h30.
There was a so beautiful sunshine in the summit with no wind, that I decided to linger on site waiting for the potential DX S2S QSO with TF/W1DMH.
I waited alternating between CQing and making QSOs on 20m CW, QSYing to 14.285 where TF/W1DMH had alerted to start his activation and looking at SOTAwatch in case of possible SPOTS on any other frequency.
This strategy produced a total of 11 QSOs on 20m CW, 7 of which were DX with North America (KG3W, N4EX, K4QS, N2ESE and AB4PP), plus 2 exceptionally long DX, which were K0RS and K6HPX. His signal had a strong multipath fluttering which made difficult for me to copy the P of his suffix. I needed 2 repeats to get the P. I was also called by @NG6R who was putting a very good signal, but I gave him signal report a couple of times and he never came back to me, so NIL, unfortunately.
This is me while being chased by the Northamericans.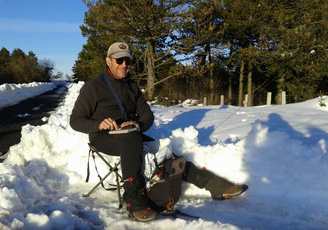 Since I was often looking at SOTAwatch while waiting for TF/W1DMH, I saw a spot for HB9FKP/P on 20m SSB, but I went there and I could hear nothing of him. Later a new spot for HB9FKP/P on 40m SSB was raised and I finally managed to complete a S2S QSO with him


It was 16h25 utc, the sun was already low, I had not eaten my lunch with so much work on the bands and I had started shivering when I finally saw on SOTAwatch the longly expected spot for TF/W1DMH.
I immediately QSYed there and called S2S. Soon I was picked up and we completed a very rewarding S2S QSO.
The time to QRT arrived and I quickly packed up and descended.
All in all, 65 QSOs in the log, 10 DX with North America, 5 S2S, one of which was a DX with TF.
This is the full log: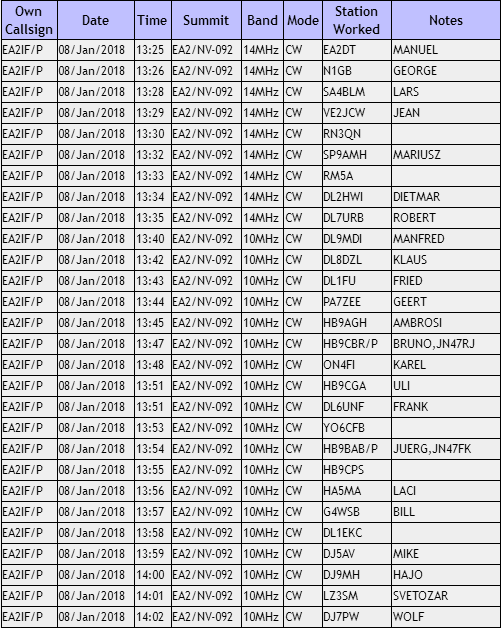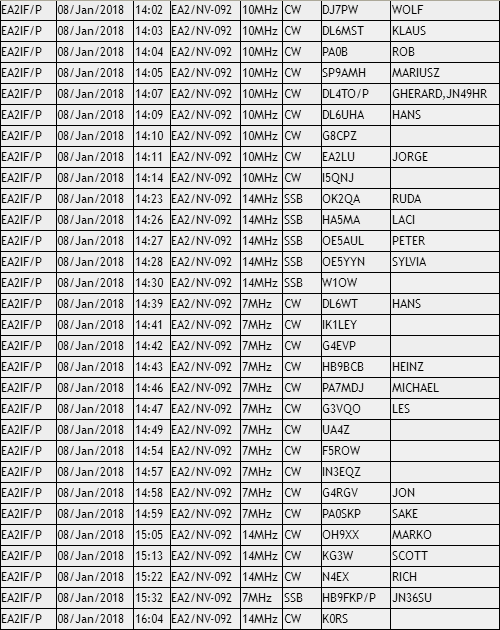 This is the S2S log:


Let me share a few pictures taken during my nice time in the summit.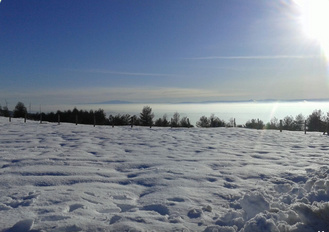 Looking South, the 10 pointer Mt. Moncayo (EA2/ZG-001) far in the distance.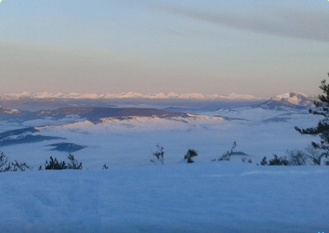 Looking North East Mt. Itzaga (EA2/NV-029) at the right foreground and the Pyrenees range far in the distance
Thanks dear chasers for your calls and QSOs.
I enjoyed very much today and I'm glad to be back activating again.
I look forward to doing it again soon.
Best 73,
Guru