Javier EA2GM and I became very good friends shortly after we met each other in our very beginnings in this ham radio hobby. It was back 1981-82 when we started playing radio on CB 27MHZ. We were both high school students and still living in Pamplona with our parents and siblings at that time. In 1984, we passed our first exams for our novice EC license and not too much later we passed successfully our first class exams for the EA license.
>Javier EA2GM y yo nos hicimos muy buenos amigos poco después de conocernos en nuestros comienzos en este hobby de la radio. Era allá por 1981-82 cuando empezamos jugando en la radio CB 27MHz. Ambos éramos estudiantes de instituto y todavía vivíamos en Pamplona con nuestros padres y hermanos en aquel tiempo. En 1984 pasamos nuestros primeros exámenes para la licencia EC de principiante y no demasiado después pasamos con éxito nuestros exámenes para la licencia EA de primera clase.
We started our University studies, myself in Pamplona and Javier went to Oviedo, about 500Km West of Pamplona, where he finally stayed, got married, found a job and he still lives in. I also left Pamplona some time later for some years, so we can say that life kept us physically far away from each other over the years, but our strong friendship and common ham radio hobby kept us in touch and in frequent contact by e-means, as well as on the air from time to time, mainly on CW.
>Empezamos nuestros estudios universitarios, yo en Pamplona y Javier fue a Oviedo, a unos 500Km al Oeste de Pamplona, donde él se quedó finalmente, se casó, encontró trabajo y donde todavía sigue viviendo. Yo también dejé Pamplona algún tiempo después por unos años, así que podemos decir que la vida nos mantuvo físicamente alejados a lo largo de los años, pero nuestra fuerte amistad y el hobby común de la radio nos mantuvo en contacto frecuente por medios electrónicos, así como en el aire de vez en cuando, principalmente en CW.
With my help (

) Javier was bitten by the SOTA bug. He first started chasing and has recently started activating too. He's been spending some holidays in France and he's been activating some SOTAs over there. On his way back to his QTH in Oviedo, he has stopped by Pamplona to see his mother, brother and some friends, so we agreed for a joint SOTA activation yesterday. Since I just ended my second chemotherapy session the day before (Friday), it would just be an easy drive-up summit. However, this would be a first ever unique for Javier.
>Con mi ayuda (

) Javier fue picado por la fiebre de SOTA. Primero empezó cazando y recientemente ha empezado a activar también. Él ha estado pasando unos días de vacaciones en Francia y ha estado activando algunas SOTAs por allí. En su camino de vuelta a su QTH de Oviedo, ha parado por Pamplona para ver a su madre, hermano y algunos amigos, así que ayer quedamos para una activación SOTA conjunta. Dado que yo justo terminé mi segunda sesión de quimioterapia el día anterior (viernes), sería solo una cima fácil a la que se pueda subir en coche. No obstante, ésta sería una cima nunca activada antes para Javier.
Once in the summit, we set-up our respective stations as you'll see in the following picture:
>Una vez en la cima, instalamos nuestras respectivas estaciones tal como verán en la foto siguiente: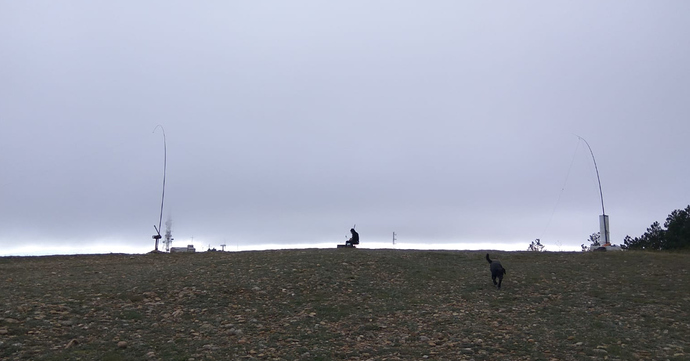 We knew that being a Saturday afternoon-evening activation, we wouldn't get too many contacts in our logs, but we were hoping for some DX QSO.
>Sabíamos que siendo una activación en sábado por la tarde-noche, no conseguiríamos demasiados contactos en nuestros logs, pero teníamos esperanza de algún QSO DX.
We worked in different bands/modes trying to minimize the QRM from each other. Javier started on 40m and I did it on 10m CW, where I soon got 4 QSOs.
>Trabajamos en diferentes bandas/modos intentando minimizar el QRM mutuo. Javier empezó en 40m y yo lo hice en 10m CW, donde pronto conseguí 4 QSOs.
Both of us ended our activations with 16 QSOs in our log. All my activity took place on CW and the QSOs logged per band were as follows:
10m: 4
12m: 1
30m: 2
20m: 7
40m: 2
CQing on 60m produced not a single QSO.
>Los dos terminamos nuestras activaciones con 16 QSOs en el log. Toda mi actividad se llevó a cabo en CW y los QSOs anotados por banda fueron los siguientes:
- 10m: 4
- 12m: 1
- 30m: 2
- 20m: 7
- 40m: 2
Mis CQs en 60m no produjeron un solo QSO.
Here you can see a closer picture of my set-up. 21m long endfed wire as an inverted vee. Counterpoise wire of about 6m long on the ground. Rig FT-817ND at 5W. Antenna tuner MFJ-941B. Lucho, the dog, patiently sitting next to me during the operation.
>Aquí pueden ver una foto más cerca de mi instalación. Un hilo de 21m de largo alimentado en el extremo como una V invertida. Contraantena de 6m de largo sobre la tierra. Equipo FT-817ND a 5W. Acoplador de antena MFJ-941B. Lucho, el perro, sentado pacientemente a mi lado durante la operación.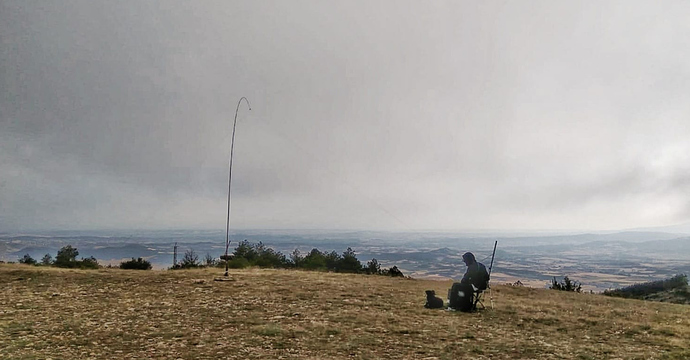 I managed to copy @VE2PID on 20m CW activating VE2/ES-020 and I called him for a S2S QSO, but he never seemed to copy me. Shame…
>Conseguí copiar a @VE2PID en 20m CW activando VE2/ES-020 y le llamé para un QSO SaS, pero él no pareció copiarme. Lástima…
While I was making QSO with EI5HJ, a SV2 station seemed to believe that I was making QSO with him and he sent his report on top of the QSO I was having with EI5HJ. With difficulties due to such QRM, I managed to complete my QSO with EI5HJ and afterwards I called SV2??? in order to give him a chance to make the QSO, but he never came back, so I couldn't log him. It's important to listen and be sure of who is the station the activator is having QSO with. Otherwise, all we'll have is QRM and a waste of time.
>Mientras estaba haciendo QSO con EI5HJ, una estación SV2 pareció creer que yo estaba haciendo QSO con él y envió su reporte por encima del QSO que estaba teniendo con EI5HJ. Con dificultades debido a ese QRM, conseguí completar mi QSO con EI5HJ y después llamé SV2??? para darle oportunidad de hacer el QSO, pero él ya nunca volvió para mí, así que no pude anotarle en mi log. Es importante escuchar y estar seguro de quién es la estación con quien el activador está teniendo QSO. De lo contrario, todo lo que tendremos es QRM y una pérdida de tiempo.
This is my full log:
Éste es mi log completo: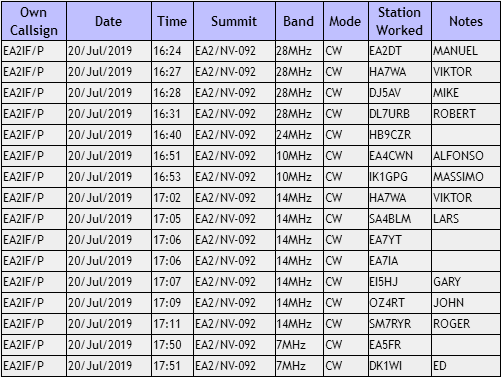 As always, thanks dear chasers for your calls and QSOs. I'll be looking forward to copying you all again very soon from another summit.
Special mention and thanks to my friend Javier EA2GM for giving me the chance to have our first ever joint SOTA activation.
>Como siempre, gracias estimados cazadores por sus llamadas y QSOs. Estaré esperando copiarles a todos de nuevo muy pronto desde otra cima.
Mención especial y agradecimiento a mi amigo Javier EA2GM por darme la oportunidad de tener nuestra primera activación SOTA conjunta.
73,
Guru