I had not activated this 2 points summit since 2015 IIRC and after an attempt before summer that I had to cancel due to rain, I have finally made it today with very good WX.
>No había activado esta cima de 2 puntos desde 2015, si no recuerdo mal, y tras un intento antes del verano que tuve que cancelar por lluvia, lo he hecho finalmente hoy con muy buen tiempo.
The hike took me 45 minutes and I measured 340m elevation difference from the parking spot at the village of Oteiza to the summit.
>La subida me llevó 45 minutos y medí un desnivel de 340m desde el aparcamiento en el pueblo de Oteiza hasta la cima.
When I was about 5 minutes before reaching the summit, I looked back and took this picture with the Mt. San Cristóbal EA2/NV-119 seen in the center of the picture surrounded by some fog in the valley and the city of Pamplona barely visible at the right hand side.
>Cuando estaba unos 5 minutos antes de alcanzar la cima, miré hacia atrás y tomé esta foto del monte San Cristóbal EA2/NV-119 visto en el centro de la foto rodeado por algunas nieblas en el valle y la ciudad de Pamplona apenas visible a la derecha.

Once in the summit I set up like this:
>Una vez en la cima monté así:

Antenna: endfed wire to a 9:1 unun and a counterpoise wire partly elevated and partly on the ground.
Rigs: FT-817ND @ 5 watts and MFJ-941B antenna tuner.
Battery: 4S2P LiFePo4
>Antena: cable alimentado en el extremo hasta transformador relación 9:1 y un cable contraantena parte elevado y parte sobre el suelo.
Equipos: FT-817ND a 5 vatios y acoplador de antena MFJ-941B.
Batería: 4S2P LiFePo4
My activation started on 40m CW, on 7.032 where I was spotted by RBNHole
>Mi activación empezó en 40m CW, en 7.032 donde fui anunciado por RBNHole.

but I had to change frequency a couple of times. First time because other SOTA activator started to CQ very close to my frequency
>pero tuve que cambiar de frecuencia un par de veces. La primera vez porque otro activador SOTA empezó a CQ muy cerca de mi frecuencia

when I had only logged 3 QSOs and was QRX trying to copy my 4th chaser of the day, who would have been an S2S, but I couldn't make the QSO due to QRM.
>cuando solo había anotado 3 QSOs y estaba en QRX intentando copiar a mi 4º cazador del día, quien habría sido un S2S, pero no pude hacer el QSO por el QRM.
I QSYed to 7.031 but even before managing to log any QSO on this new frequency, I had to QSY again because despite having asked QRL? a couple of times and not having heard anything from anybody, the frequency got suddenly occupied.
>Hice QSY a 7.031 pero incluso antes de conseguir anotar un QSO en esta nueva frecuencia, tuve que hacer QSY otra vez porque, a pesar de haber preguntado QRL? un par de veces y no haber oído nada de nadie, la frecuencia se vio de pronto ocupada.
I finally settled on 7.034, where I got again spotted by RBNHole.
>Finalmente me asenté en 7.034, donde fuí de nuevo anunciado por RBNHole.

and I managed to log 17 more QSOs, which made a total of 20 QSOs on 40m CW in 34 minutes, 2 of which were S2S.
>y conseguí anotar 17 QSOs más, que hicieron un total de 20 QSOs en 40m CW en 34 minutos, 2 de los cuales fueron S2S.
Then I QSYed to 30m CW where I got again spotted by RBNHole
>Entonces hice QSY a 30m donde fui de nuevo aunciado por RBNHole

and I logged 9 QSOs in 9 minutes, one of which was a S2S.
>y anoté 9 QSOs en 9 minutos, uno de los cuales fue un S2S.
When 30m dried up, I QSYed to 20m SSB, but I found contest activity there and I escaped down to CW because I was running out of time and I didn't want to waste my little time available trying to fight with my QRP to be heard by the chasers between the contest stations splatters.
>Cuando 30m se secó, hice QSY a 20m SSB, pero encontré actividad concursera allí y me escapé hacia abajo a CW porque me estaba quedando sin tiempo y no quería desperdiciar mi poco tiempo disponible intentando luchar para hacer mi QRP audible por los cazadores entre las salpicaduras de las estaciones en concurso.
On 20m CW I called CQ and got again spotted by RBNHole:
>En 20m CW llamé CQ y de nuevo fui anunciado por RBNHole:

There I logged 4 QSOs, one of which was the DX of the day.
After some few unresponded CQ calls, I announced QRT, packed up quickly and descended.
>Allí anoté 4 QSOs, uno de los cuales fue el DX del día.
Tras unos pocos CQ sin respuesta, anuncié QRT, recogí rápidamente y descendí.
This is the log:
>Este es el log: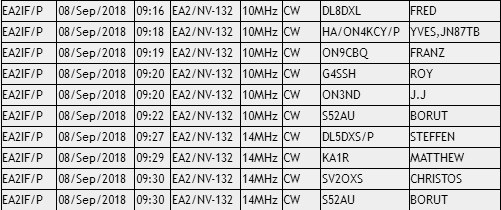 This is the S2S log:
>Este es el log cumbre a cumbre S2S


Here some views I took from the summit after packing up:
>Aquí algunas vistas que tomé desde la cima después de recoger:
Nothing was left behind from me after a brief presence of about 1 hour in the summit.
>No quedó nada de mí tras una breve presencia de alrededor de 1 hora en la cima.
Thanks dear chasers for your calls and QSOs.
A public word of gratefulness and recognition to Andrew @VK3ARR for the big help we always get from RBNHole.
>Gracias estimados cazadores por sus llamadas y QSOs.
Unas palabras públicas de agradecimiento y reconocimiento para Andrew VK3ARR por la gran ayuda que siempre recibimos de RBNHole.
73,
Guru