I had alerted last night for my regular Saturday morning activation of Mt San Cristóbal while my 7 year old son is on his rock climbing training session, but he told me that he didn't feel like going today and I decided to change plans and go activate Mt. Elomendi, which is not too far to the East of my QTH: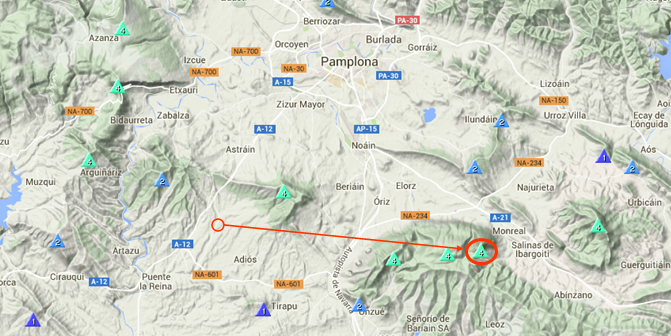 I changed my alert to the new targetted summit but I made a mistake estimating ETA by 9h30z. When I was about to reach the summit, I editted the alert and changed ETA to 10h30z,
I drove to the village of Monreal, which can't be seen in the following picture. but it's placed at the very base of the mountain, in the bottom left corner of the picture.

This picture was taken on my way home after the activation.
Given the late time I was leaving home, I would never have the time to do the complete ascent from the very village of Monreal, do the SOTA activation, and descend to be home in time for lunch with my family, so I drove the dirt road with my loyal AWD Ssanyong Rodius up to a point where I parked at the side of one of the dirt road bends and hiked to the top with my dog Lucho in about 30 minutes.
Once in the summit, I found a quite strong wind from the South-East, so I moved and set up on the North-West side of the summit very close to the big telecommunications tower. I don't want to think about the huge amounts of RF Kw's I had to bear this morning, plus the 5w from my FT-817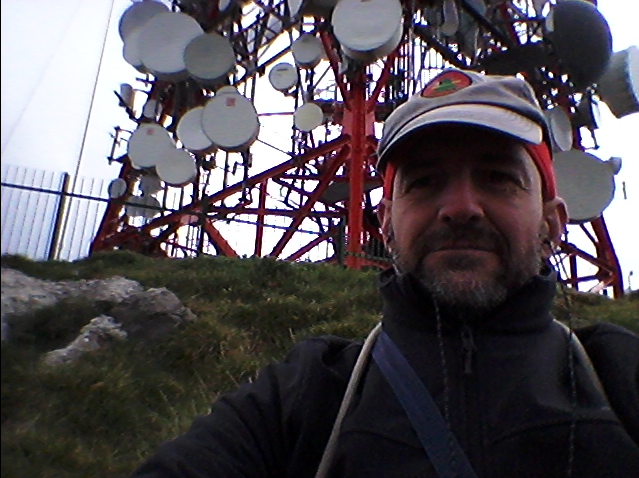 This is the picture of Mt. Elomendi I took from Mt. Txanburu last week…

and this is the reciprocal picture of Mt. Txanburu taken from Mt. Elomendi's summit today:

I started the activation on 20m CW, which produced a very good run of 27 QSOs in 26 minutes.
Then I QSYed to SSB on which I logged 16 more stations in 13 minutes.
30m CW produced 6 more QSOs in 10 minutes and 40m CW gave me 4 more QSOs in 8 minutes.

During the activation I received some few drops of rain from time to time which made think that I may have to quickly go QRT and dismantle everything for a quick descent, but it finally wasn't the case and it held on without properly raining.
All in all, 53 QSOs in the log and a good fun on the air and also in the mountain.
These are some of the pctures I took at the end of my activation:
The city of Pamplona can be seen down there far in the distance.
This is Mt. Itzaga EA2/NV-029.
As always, thanks very much to all the chasers for your calls and QSOs.
Best 73,
Guru