I hadn't initially foreseen a chance to do a SOTA activation this day, as the plan was to do some touring with family and friends towards the North of Ferrol city.
We enjoyed visiting Cedeira and San Andrés de Teixido.
These are some of the pics I took when visiting these places.

As the day went by I understood we were very likely going to visit a SOTA summit, as it's said to be the highest cliffs in the Continental Europe.
Here you can see the targetted SOTA summit in this map of the NorthWestmost corner of Spain:

A closer zoom here:

It's very close to the road and purely a drive on summit. and while having a cup of coffee in San Andrés de Teixido, I raised and alert on Sotawatch with my smartphone, just in case we finally visited the SOTA summit and I found a chance for a quick activation.
Should that be the case, it would only be a quick one, but we were almost 70Km North of Ferrol and it would be a big shame not to activate if we finally stopped there.
We finally arrived there very close to the estimated start time in my alert and I had the green card from the group to proceed with a quick activation.
It's very good to always have the SOTA kit in the car, just in case, and so it was this time.
With the limited time I had, it would only be a single band and possibly a single mode: CW
I quickly installed my ECO vehicolare mobile whip on my tripod with a single wire radial sloping down to ground towards the Atlantic Ocean near this shelter.
Here you'll see the cars parked by the road.
This one was taken from inside the shelter. The trig point can be seen on the ridge line towards the left hand side.
Concentrated while dealing with the pile up.
The activation started with Rob PA0B at 15h14 and then the whole pile-up. I logged 19 QSOs in 18 minutes, 1 of which was a S2S with Sergiy SO9TA/P activating SP/BZ-027 and 2 were DX with the USA, one with Matt KA1R and the other with Bob AC1Z.
I think I was called by a ZL2 station but couldn't copy the suffix and after asking for a repeat, he never came back. Shame…
The pile up ended and Andrew G4AFI was the last QSO closing my log. Then I called CQ a coupe of times without response and this told me it was time for QRT without even trying SSB, as the group had already told me that they were down in the car waiting for me.
A few pictures taken from that privileged location:

This is the full log: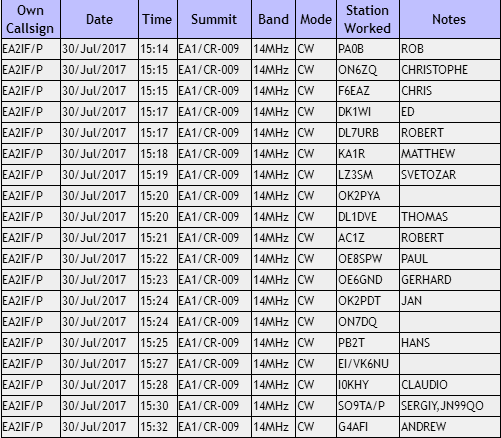 And this is the S2S log:


I'm sorry for being so brief but it had to be like this this time. At least, I managed to qualify.
I don't know now, but I hope to have a chance to get back there and activate this drive on summit for a longer time with a better antenna before I finish this year summer holiday in EA1/CR area.
After the activation we visited Cape Ortegal, which is where Geographists agreed to establish the split line between Atlantic Ocean and Cantabric Sea, along the Northern Coast on Spain.

This is the Cape Ortegal and the Lighthouse there:

Thanks dear chasers for your calls and QSOs.
I'll be looking forward to copying you again soon from another summit.
Best 73,
Guru