First of all, let me apologize for having announced the activation of 3 summits for Sunday, June 5th 2016 and having only done one.
I planned a multiple activation of 3 summits, two of which had never been activated, because weather forecast was good without any risk of rain for the first time in several weeks and also to maximize the cost and effort of getting up very early and driving more than 100 Km from my QTH to get to that area of the Pyrenees.
My plan was driving to the small village of Isaba, activating Mt Belabartsaitsa EA2/NV-044 first, then going to Mt. San Zolo, which had already been activated once and seemed pretty close, therefore affordable in terms of time and effort, plus a tempting chance to bag another four points, then return back to Isaba, have my lunch and then drive around 11Km Southbound to the starting point of the hike to Mt. Txitxirimuria, another never-activated-before summit.
Here you'll see the planned summits location with respect to my QTH and the city of Pamplona.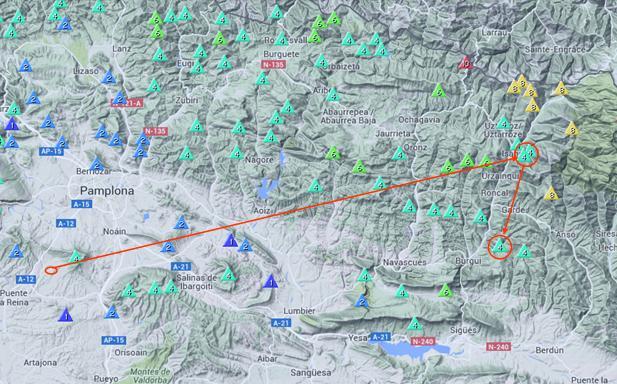 With such long drive (almost 1h30) and the plan to activate 3 summits, I set the alarm to wake up at 3h30 utc (5h30 local). Due to kids reasons at home I couldn't get more than 2 or 3 hours of sleep, but I was really excited about this SOTA day and I didn't even feel tired or sleepy.
This is the GPS track I got from wikiloc, as it seemed to fit perfectly my plans of getting me to both summits.

Reality was unfortunately different and even from the very begining in the village of Isaba, I was unable to find the actual track I was supposed to follow.
After some minutes wandering about without finding the actual GPS track start point, I started walking on the only path I found which was not far from the actual GPS track and followed its same direction. But after a few hundreds of meters, the path wasn't gaining almost any elevation and started to take me to my right, away of the GPS track.
Since I had already unsuccessfully explored the begining without having found the actual GPS track start point, I rulled out the posibility of getting back and I decided, at one point, to turn 90 degrees to my left following what it seemed to be a small animals track into a deep, almost impenetrable forest with the hope of finding the actual GPS track.
Progressing was very slow and difficult on a steep slope in this dense forest.
Sometimes I found animals tracks, which I followed, but these soon vanished into the forest, and I was again forced to improvise upwards thought the dense forest. At the end, after a long, slow and exhausting hike, when I was pretty high and near the summit, I found what it seemed to be the actual GPS track, I followed it and it took me to the summit.
There was fog in the valleys when I drove there in the early morning with a temperature of about 7-9° C but the temperature was warm, the sky wall to wall blue and the sunshine really nice and warming when I got to the summit.
The views were beautiful and I took pictures before and after my activation. These are some of them on which I have pointed out for you some of the highest SOTA summits in EA2/NV area.

In this following picture you'll see Mt. San Zolo, which I had announced as my second activation of the day.

After the exhausting hike through the dense forest, I felt tired. Fearing that descend may even be worse than ascent and also that the GPS track to Mt. San Zolo may well be more of wild dense forest traversing, I decided to cancel my second activation and descend to try to do just the other new unique (Mt. Txitxirimuria)
I set up as you'll see in this following picture and started the operation on 30m (CW) because I had heard some contest activity the day before on 20m CW.

Soon I got a good pile-up and I logged 19 QSOs in 14 minutes. When 30m CW dried up, I QSYed to 20m SSB and selfspotted. This new band/mode gave me a good run of 23 QSOs in 18 minutes.
Here is the log: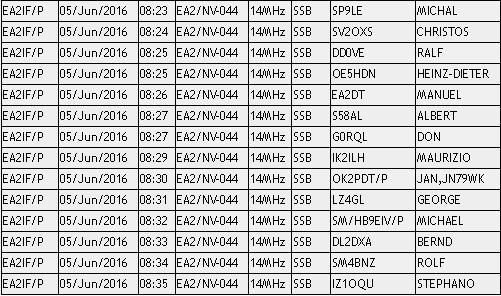 Again, Jan OK2PDT chased me from an OK summit. Thanks a lot!
This is the S2S log:


When the activation finished I packed up and started descent with the hope of being able to follow the GPS track I couldn't find and follow during the ascent. Unfortunately this was not the case and I soon lost the track, having to descend improvising again through the deep forest.
I won't describe descent in detail but I can tell you it was even harder than the ascent.
By the time I got down to the village of Isaba, I was very dirty, tired, hungry and thirsty.
I shared a big sandwich with my companion dog Lucho and after having eaten it and drank delicious fresh water from an old nice fountain in Isaba, I took the car towards home.
After the rest I got while driving the 11 Km to the start point of the hike to Mt.Txitxirimuria, I felt like giving it a try in order to check whether the track was clear and easier to follow than the previous one, but unfortunately I wasn't able to select the new GPS track in my Garmin GPS as it got frozen several times at each time I tried to select the new GPS track.
It got such frozen that I was even unable to ESCAPE from the screen/menu I was in or switch the GPS off, having to remove the batteries at each time I wanted to try again.
After several unsuccessfull trials, I had to give up and go home.
Sorry again for not having been able to activate all the announced summits, but you now know and understand why.
I have already informed my local SOTA friends of the problems I had to find and follow the GPS track used on this first activation of Mt. Belabartsaitsa for them to be aware and I warn you all about the same thing. The mountain seems to be a not very frequented one and it doesn't seem to have a clear and oftenly walked track as several other mountains do.
I think it will take me a long time to activate this mountain again, but I enjoyed very much the activation in the warm sunshine and the great views from the top. Not so much the ascent and the descent…

Thanks dear chasers for your calls and QSOs and I'll be looking forward to copying you again soon from another summit.
Best 73 from Guru