Any SOTA tomorrow?, I asked yesterday on our ham friends Whatsapp group.
>Alguna SOTA mañana?, pregunté ayer en nuestro grupo whatsapp de amigos radioaficionados.
Ignacio EA2BD responded that he would do something not too long on Saturday morning with the idea of being back home by before 14h local (13h utc).
>Ignacio EA2BD respondió que él haría algo no demasiado largo el sábado por la mañana con idea de volver a casa para antes de las 14h local (13h utc).
This suited me well and we quickly agreed on a joint activation of Mt. Baratxueta EA2/NV-068, which is a 4 pointer not far from Pamplona to the North,
>Esto me encajó bien y enseguida acordamos una activación conjunta del Mt. Baratxueta EA2/NV-068, que es una de 4 puntos no lejos de Pamplona hacia el Norte.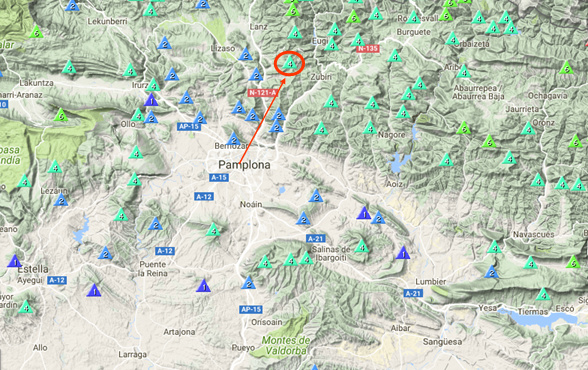 I had never activated this summit before, although I had so far chased it 3 times, so it would be a perfect chance for me to knowing this mountain and adding another Complete to my list.
>Nunca había activado esta cima antes, aunque la había cazado hasta ahora 3 veces, así que sería una ocasión perfecta para mí de conocer esta montaña y añadir otra Completa a mi lista.
It was quite a long, long time since we last activated jointly, so we enjoyed very much the chance to chat and catch up with each other.
>Hacía bastante, bastante tiempo desde que activamos conjuntamente por última vez, así que disfrutamos mucho la oportunidad de charlar y ponernos al día mutuamente.
We parked at the col of Egozkue by the road NA-2520,
>Aparcamos en el alto de Egozkue al lado de la carretera NA-2520.

and we started the hike…
>y empezamos la subida…

on a clear and easy to follow track on which I took a couple of pictures for you to see:
>por una clara ruta fácil de seguir en la que tomé un par de fotos para que vean.

The final part gets notably steeper:
>La parte final se pone notablemente más empinado:

This is me at work…
>Este soy yo trabajando…

And we finally got to the summit where the sun was shining and the views were really beautiful:
>Y finalmente llegamos a la cima donde el Sol estaba brillando y las vistas eran realmente bellas:

We agreed on the bands/modes to work and also on the time to QRT, then we splitted well appart to avoid interfering to each other.
>Nos pusimos de acuerdo sobre las bandas y modos a trabajar y también en la hora de QRT, entonces nos separamos bastante para evitar interferirnos mutuamente.
This is Ignacio EA2BD's setup:
>Esta es la instalación de Ignacio:

And there you'll see me with my setup seen from Ignacio EA2BD's position:
>Y allí me verán con mi instalación vista desde la posición de Ignacio EA2BD:

This is a closer view of my setup:
>Esta es una vista más cercana de mi instalación:

Although I had agreed with Ignacio that I would start on 30m, since he would do it on 40m and I had setup my sloper looking to the East, I decided to start on 20m just in case there was a little chance to be heard and chased by some VK via short path.
>Aunque había acordado con Ignacio que empezaría en 30m, dado que él empezaría en 40m y yo había montado mi sloper hacia el Este, decidí empezar en 20m por si acaso había alguna pequeña oportunidad de ser oído y cazado por algún VK vía paso corto.
But this didn't happen, unfortunately. As soon as I put my first CQ on air, I got called by an activator for a S2S, which at the end of the day resulted in the only S2S of the day for me.
After having logged only 4 QSOs in 4 minutes on 20m CW, I had a number of unresponded CQ calls, so I decided to go to 30m according to the plan.
>Pero esto no ocurrió desgraciadamente. Tan pronto como puse mi primer CQ en el aire, fui llamado por un activador para un cumbre a cumbre (S2S), que al final resultó ser el único S2S del día para mí. Tras haber anotado solo 4 QSOs en 4 minutos en 20m CW, tuve una serie de CQ sin respuesta, así que decidí ir a 30m de acuerdo al plan.
30m is a great band for us in EA, as it provides the perfect skip for contacts within EA and most if not all EU. This band worked so well for me that I consumed all of our available time to be on air there with nearly no stop other than a brief chat with a family of 3 mountaneers who got to the summit and wondered what I was on with a fishing rod on that summit. Of course I explained them about SOTA.
>30m es una banda fantástica para nosotros en EA, pues proporciona el salto perfecto para contactos dentro de EA y de la mayoría, si no toda Europa. Esta banda funcionó tan bien para mí que consumí todo nuestro tiempo disponible para estar en el aire casi sin más interrupción que una breve charla con una familia de 3 montañeros que llegó a la cima y quiso saber en qué estaba yo con una caña de pescar en esa cima. Por supuesto, les hable sobre SOTA.
I logged 45 QSOs in 61 minutes.
This is my full log:
>Anoté 45 QSOs en 61 minutos.
Este es mi log completo:

And this is the S2S log:
>Y este es el log Cumbre a Cumbre (S2S):


As agreed, we went QRT at about 11h utc. After dismantling and packing up, I took a few pictures of the beautiful views from this nice summit.
>Tal como habíamos acordado, quedamos QRT a eso de las 11h utc. Tras desmontar y empacar, tomé unas pocas fotos de las preciosas vistas desde esta bonita cima.

The mountaneers mailbox at the summit and the Pyrenees range far in the distance.
>El buzón montañero en la cima y la cordillera de los Pirineos en la lejanía.
A good number of well known for us local SOTA summits in this view.
>En esta vista, un buen número de SOTAS locales bien conocidas para nosotros.
And in this other one too. Ignacio EA2BD can be seen at the very right end in his operating position after pack-up.
>Y en esta otra también. Ignacio EA2BD está visible en el mismísimo extremo derecho en su posición de operación después de empacar.
Descent was short, easy and fully uneventful. A breif drive back to Pamplona and we got home in time for lunch with our respective families, so our xyl's were happy.
>El descenso fue corto, fácil y completamente sin nada que reseñar. Un breve trayecto en coche de vuelta a Pamplona y llegamos a casa para la comida con nuestras respectivas familias, así que nuestras XYL estuvieron contentas.
Thanks dear chasers for your calls and QSOs.
>Gracias estimados cazadores por sus llamadas y QSOs.
73 and HNY,
>73 y FAN,
Guru