I chose for today another 4 pointer not far from my QTH.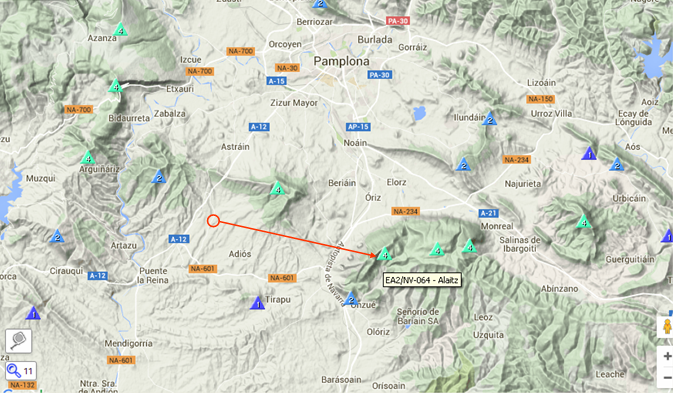 Mt Alaitz is the highest peak of this range with the same name: Sierra de Alaitz and I had not activated it since october 2014.

I took this picture some time ago, not today.
This is the GPS track I followed today from the village of Untzue, although I only did the section from Untzue to the summit of Mt. Alaitz and back through the same way:

The hike was not too steep but long with some sections of the track covered with big loose stones which made the hike quite unpleasant, some patches of snow from time to time, some mud but not much and some nice bleech trees forest like this:

After nearly 2 hours of hike, I got to the summit

I attached my pole to the naked little tree you can see in the center of the picture behind the trig point. It's little but it served perfectly to the purpose.
The propagation conditions seemed to be better today than yesterday or it's just that it's a Saturday today and there are many more chasers around than on a Friday afternoon.
For one reason, the other or both, the fact is that my log shows today many more callsigns than yesterday's with a good number of DX from USA and one from Canada…


After 1 hour and 22 minutes of activation, I started to feel a bit of cold because the sun was getting low, so I decided to go QRT at 16h utc, as I had about an hour and a half descent and I didn't want to get caught by darkness in the mountain.
Let me share with you some of the pictures I took today:

This is to the NorthWest and it shows the area of Pamplona, capital city of Navarra.
This is to the SouthWest and the mountain seen in the center is Mt. Erreniega EA2/NV-092.
This one to the NorthEast shows in the foreground the very summit of Alaitz where I had just been activating a few minutes before taking this picture.
Now with the help of the zoom, you can see the peak Elomendi with the tall tower on top, which I activated yesterday. Behind you can see the summit of Mt. Itzaga, which I may activate tomorrow if everything goes well. Far in the distance you can see in white the Pyrenees mountains covered by snow.
This last picture shows the views to the East with several windpower generators, which didn't produce any QRM today, as they are away enough.
It was again a very nice time in the mountain, as well as on air enjoying your great company.
Thanks everyone for your calls and QSOs and I'll be looking forward to copying you again on the air soon.
Best 73 de Guru