In reply to G4OIG:
Has anyone heard a song by Scottish group RUNRIG,its called Transmitting,?
73 Geoff.
Has anyone heard a song by Scottish group RUNRIGG,its called Transmitting,?
My favourite track on the "transmitting CD" of Runrig is "the wire"


So Runrig is the wrong name of the band, it should be RunSOTA…hi
here´s the link for audio (to hear you must go on "HÖREN":
http://www.weltbild.de/artikel.php?artikelnummer=10194303&mode=art&WEA=8001362&PUBLICAID=359c86581ee9829ed61ee759ed2309cb
Vy73 Fritz
In reply to DL4FDM:
Theres a surprise ,Thanks Fritz, ive had the CD for mny years now,and just thought abt it ,ie music relating to radio.Dont mention" THE WICHITAW LINESMAN"
Vy73 Geoff.
In reply to G4CMQ:
Many apologies David, you and Tom can share the blame…
(Happy to report the offending tune has departed my consciousness - must get away from this thread before it returns…
73 de Paul G4MD
Preparing for a spell of tour gigs on the road from tomorrow.
http://www.sixtiesgoldtour.co.uk/flyer2019.html
It's a "non-reading" gig so I've been practising / prepping to memorise the songs (I'm doing the Mindbenders and Steve Ellis [Love Affair] sets). I've typed myself out a set-list with the keys of the songs to put on the stage in front of me (playing the songs in the same order and same key as the rest of the guys would be professionally advisable I reckon).
There's one rhythm, prominent on the bass in the Love Affair track "Rainbow Valley". I needed a quick and easy way to remind me without taking the notation onto stage. CW to the rescue again! I wonder if CW on a live set-list is a first? Probably not.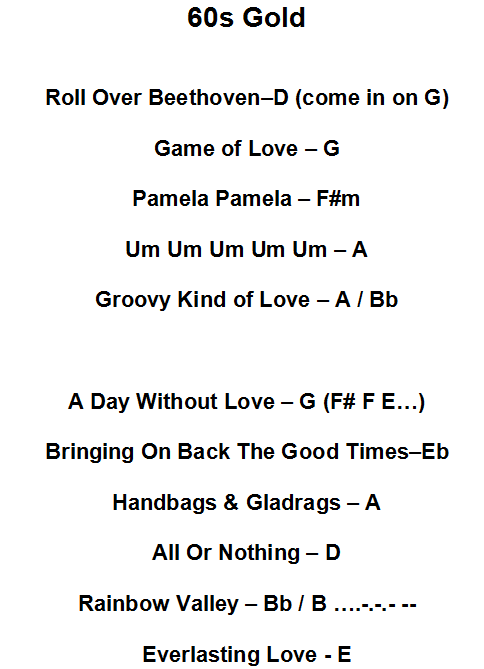 …and for Brian @g8add 's benefit:

…and for everyone else's benefit:
I read all through this thread before I saw "12 years later" just before the last post…
I was going to add 10CC to the list of faves, I just watched the youtube video the other day talking about how they recorded INIL using prerecorded voices on each note of the octave. These days voice sounds are on every digital keyboard. Anyway it rivalled the efforts of Freddy and Co, being one of the major multi track efforts of its time.
If you want another bit of nostalgia and admire a more modern voice, look for Rufus Wainwright singing Wrapped around your Finger at Sting's 60th birthday, 5 years back but worth listening to the classical training being put to good use. Kills it. And the entire band is of course top notch.
In other news, I have been transcribing some bass guitar charts for a US customer in recent days. My current assignment is doing this for a full Joe Satriani album!
I couldn't help but notice a familiar sound in this:
I did a bit of Googling to see if it had been spotted or referenced elsewhere, but nothing found - so maybe it is no more than coincidence. Sticks out like a mile to me though - and no doubt many of my friends on here!
Enjoyed listening to it, my mind wandered a bit, thinking of some Santana tracks it reminded me of. I will have to listen again.
73 Andrew VK1DA/VK2UH
Admittedly it's a bit more YQ than CQ, but the rhythm is the same, and it was the first thing that leapt out at me on first listen!
There were a few other fragments that could have been read as morse - you brass-pounders must have infected me! Otherwise I found the track fluent but a bit soft-centred for my taste.
During the past week about mid morning a Butcher bird has perched on the boom of my 1.3 GHz Yagi and sent 599 reports to his mate who I hear responding in like manner. The rest of his message while well sent is coded and I do not understand what it means.
But then they are but small birds and I'm not Dr Doolittle.
73
R