There had been a lot of rain overnight. Different weather forecasts gave conflicting advice ranging between a nice day and showery. We decided to go for Mynydd Mawr from Rhyd-Ddu: the car park machine appeared to be working but swallowed our £5 without producing a ticket. It was dry but cloudy as we set off back along the A road and up the Nantlle Road to take the forestry track north. The cloud was above the lower peaks with yesterday's Yr Aran looking particularly fine, but Snowdon was mostly cloud topped. After about ¾ mile of flattish forestry track we took a path up through trees to open area with views of Nantlle ridge just below the cloud level. We continued up the generally good path up the steep spur to Foel Rudd, crossing the snow line part way up. As we got to the top of Foel Rudd the weather started to come down: we got brief views of the Mynydd Mawr summit on the other side of valley, but as we walked along fine snowy ridge (with some drops off to left) the cloud came down, the snow started and the wind got up. What had looked like a winter wonderland turned into hard work.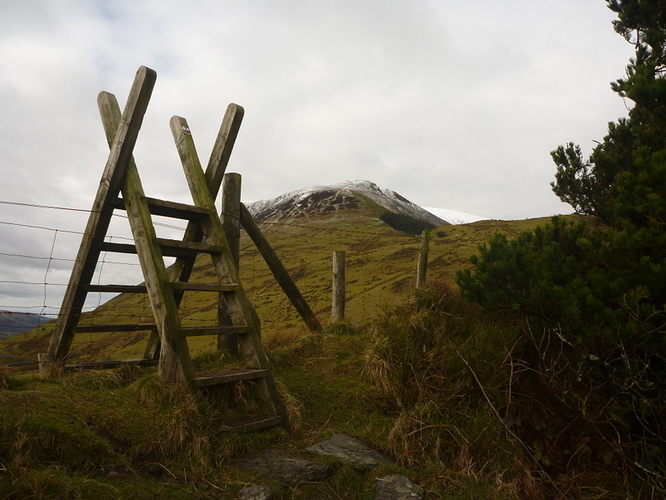 On the way up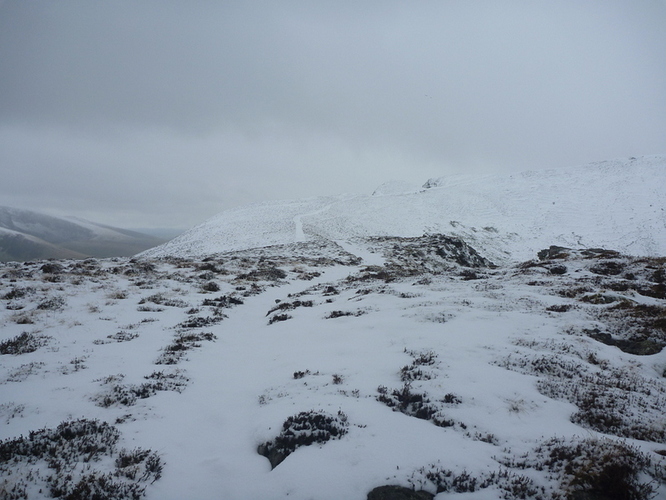 On ridge just before clouds and snow descended
When we got to the summit we found the several shelters all full of snow. The lack of shelter and driving wet snow made it quite unpleasant. We went for a VHF only activation using just the rucksack antenna and an FT817, not even getting out the MFD. For the second day running we managed only 4 contacts, despite braving the conditions for 10-15 minutes after the last contact. We had a welcome but unexpected S2S with Gerald M0WML on High Raise, but unfortunately missed a contact with Viki MW6BWA on an SW summit: we could hear her, but she clearly couldn't hear our calls. It was too nasty for lunch at the summit, so we quickly ate a Hot Cross Bun each to provide some sustenance before descending the same way – we had hoped to do a circular route but the conditions were against us.
As we descended below the snow line the snow and rain stopped, and we found a wall to shelter by to eat our belated lunch. After lunch the rain resumed intermittently and the ground was now wet and slippery and we both managed to fall over soaking our trousers. The rain had stopped by the time we were back at the car and we had superb views of Moel Hebog and Y Garn in the fading afternoon light.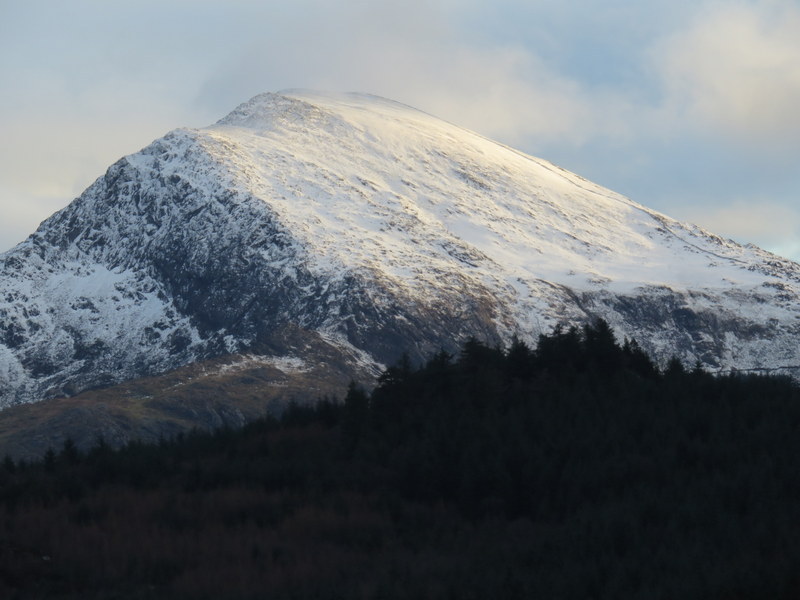 Moel Hebog