Decided to have another go (and get bonus points) by going back up Moel y Gamelin
The plan was 2m and HF. After a 30-40min walk to the top I arrived at a rather breezy summit.
Unpacked and got the mast out and what I thought might help support the mast while I got the guy ropes setup, I tried to use the jack handle from a Defender bottle jack… Didnt really hold in the wind.
Got the guy ropes out the bag only to find they guy ropes looked like knitted spaghetti. After about 30mins of un-tangling the guy ropes in the strong wind, I was ready to get the mast supported. (one rope was a bit tangled but useable)
Guy ropes need to be lower down I think…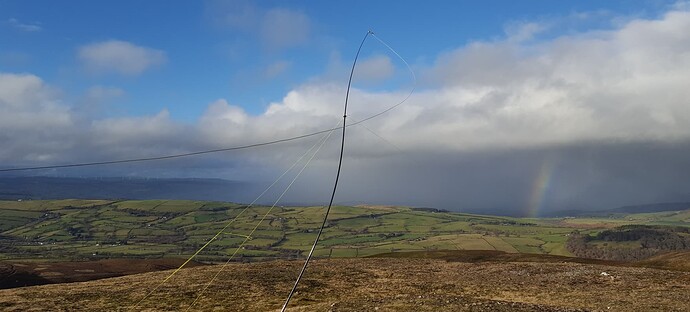 I was going to use my HF lnked dipole for 20m and 40m but I decided to try my old 10m EFHW via an external ATU-100 fed by the FT-857.
Eventually got setup just as two walkers sat down about 5ft away from me. After a quick chat, I said, dont mind me if I crack on.
Set a frequency, listened for 5 mins or so while I got pen and pad ready and a quick drink - nothing heard. Set a spot and called CQ and then two station appeared who were testing a setup. They told me the frequency was good and I got on with it.
15 European stations in the log.
1 UK/Wales station - MW0IDX
1 S2S with HB9EAJ/p on DM/BW-003
Also EA2DT - I heard the 'DT' and recognised the call sign straight away.
As the wind was getting a bit stronger and rain was appearing behind me, I called CQ for the last time - Nothing heard so I packed up.
Headed back down the hill and put my kit in the Landy and then to the Ponderosa Cafe for coffee and cake.
While there I did ponder the option of doing Cyrn-y-Brain but the rain had started and was nearly 15:00. Decided to head home.
Next time I think I will try the 10m EFHW fed from the base of the mast and take wire to the top and then to a guy rope and down to the ground.
Cheers
John
m0vaz.