Spots do not seem visible - not sure if there is a database problem
In what way not visible?
The page loads for me and I can place a test spot.
Sorry - Alerts ( Just engaging brain in the morning ) - Nothing visible
Yes, does look a bit broken.
This has been happening for me intermittently with both spots and alerts, but I was blaming Chrome! And very aware that systems are being worked on behind the scenes in a big way, am happy to refresh the page manually when I need to.
I have been having the same problem with both Spots and Alerts. Sometimes after the automatic refresh, one or both are missing any details. I have to go to "More Spots" or "More Alerts", or sometimes to "last 24 hours" to get the missing info to display. Using Chrome browser.
Dave AA1VX
Jon has done some background work to minimise the load when lots of apps and browsers are hitting
SOTAwatch for spots etc. As of yet, it's not perfect and there are some issues that result in the spots vanishing. Normally a refresh brings them back, or waiting 1 minute then refreshing to bring them back. But as you say, there is work ongoing. The alerts outage for some minutes this morning was some other work taking place.
Like a lot of things, the time that can be spent working on SOTA software is limited by the people doing SOTA systems having full time jobs and family commitments that get in the way of doing as much as we'd like to do.
No big issue for me. I know how much work you all do. Mrs G4TJC

Yes, I just saw the same thing when viewing spots: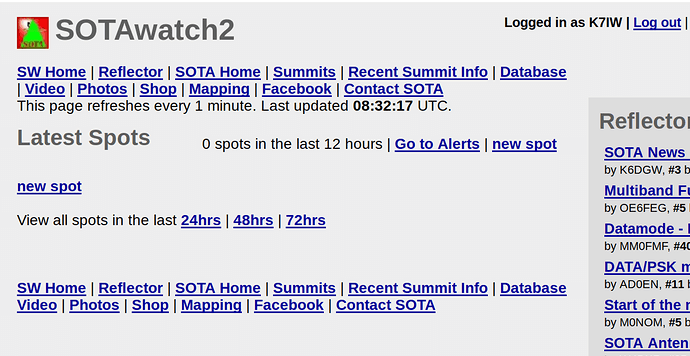 I thought I saw a recent spot there at one point, but now I have to go to at least the 24 hour view to see any spots. I'm not too worried, but thought I'd just mention it. Can't wait to see the results of your hard work towards SOTAwatch3!
I was convinced there was a problem this morning but everything is working. There had not been any spots for 12hrs so the display was blank. I switched to 24hrs and then the combined spots/alert view and my test was visible. The test spot came through at once on the SOTA cluster.
It's just quite unusual now for such a long period with no activity as we now seem to have worldwide activity 24/7.
Maybe we have reached "peak SOTA"?
Not if you look at the number of new signups each week!
would it be possible for you (and not too tedious) to give us a rough idea of that number and which nationalities? I'd find it interesting.
Maybe this won't be the right place to give us such information and perhaps a brief note on the monthly SOTA news would be perfect.
But I leave it entirely up to you. Perhaps you have your own reasons for not publishing it.
73,
Guru
Signups are just potential. The reality of SOTA activity is there for all to see in the Database, the Activator and Chaser Rolls of Honour. These Honour Rolls show a steady year on year increase in the numbers of participants recording their activities in the database. This includes this year, although it isn't over yet and it may be weeks into the New Year before everyone catches up with their "paperwork"!
The main reason such figures are not published is simply because they'd need to be collated etc. and we all have too many things to do. The software used for the reflector gives all sorts of numbers that can be used to gauge the health of the community just from viewing the dashboard. For example, 27 people signed up in the last 30 days and 14 of those people have already made their 1st post. I don't have the nationalities for the reflector but I'm sure it can be found but requires some digging.
The database sends out an email every time somebody registers. I don't keep records of the signup rate other than if I haven't seen a signup mail for 2 days I go digging to see if something is broken! I read them all mainly to see if there are any spammers trying to sign up. What I noticed in recent times is that there have been many database sign ups from Taiwan (BV) and Brasil (PY). We have just added BV and have been adding PY associations for the last few months so it is good to see engagement from new associations where English is not the primary language. It's particularly pleasing to see BV signups due to the vast difference in fonts and writing etc.
Writing about PY reminds me I need to verify that all the recent LU and PY associations are reported when All LU or All PY is selected on the database.
I have monthly backups for the last 2 years at any time and yearly backups for the last 9 years. I normally produce a load of stats for the end of year reports based on this year and it may be worth me running through those past snapshots to produce some growth figures.
Thanks for all of the hard work!
Kent K9EZ
I've just had a look through the emails received from the database as new users sign up and in the same period (last 30 days) 76 hams have created a database account from the following associations:
BV x3
DL x3
EA1
EA4
EA5
EA7
G x4
GW x4
HL x2
JA x10
JA5 x2
JA6
KP4
LA
LZ
ON
PY1 x2
SP x4
TK
VK2
VK4
W0M
W2 x2
W4V
W5A
W5T x2
W6 x6
W7A
W7I x2
W7O x3
W7U
W7W x2
W9
YO x4