Likely to be covered in one of the Pacificon lectures from Wayne, I suspect -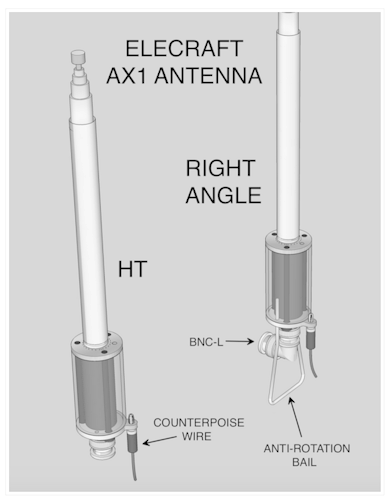 More details here:
https://va2ss.com/2017/10/19/elecraft-ax1-ultraportable-1720-meter-antenna-system/
Will I need to sell a kidney to raise enough money to buy one?

unless they've found a way to defy the laws of physics, this will not perform very well
Andy,
It looks like an eyeball or a hand will suffice. Save the Kidneys for the KX4 release next year
Why give away a valuable organ for just a telescopic antenna?
Ok its a nice one but i do expect it to perform in the tradition of Elecraft - meaning very well
I would give some toes to frostbite victims for a Begali key or two?
John
ve3ips
I wouldn't spend my money on it … you can easily make such an antenna yourself.
See my post here :

Luc ON7DQ
Completely agree. Such aerials are easy to make but so poor that I just can't be bothered. 8 feet of wire will outperform it on any HF band, 16-25 feet (as Elecraft say here) will be better still. Save your money folks!
Les
Strange coincidence. I was listening to QSO Today this morning with Wayne Burdick N6KR from Elecraft. Wayne discusses his desire to design a rapid deployment antenna for 20m with gain "pocket yagi". The AX1 falls a bit short!

http://www.qsotoday.com/podcasts/n6kr-and-the-bay-area-meetup
I feel as though Elecraft have reinvented the wheel here - I received a 'free' ATX Walkabout antenna when I bought my FT817 way back in 2001. I still have the ATX Walkabout, I think I even had a contract on it once, to Italy, on 6m, back when someone had paid the bill for propagation.
I'm sure Elecraft will sell loads of the AX1, especially with lovely Elecraft branding.

Colin