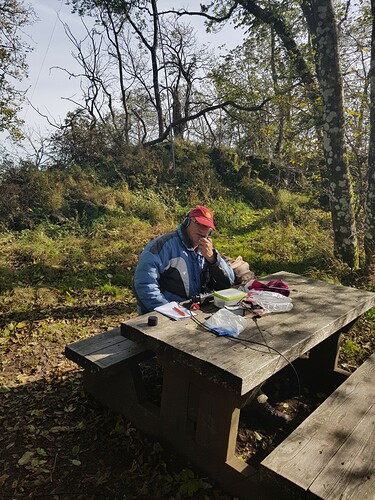 Hello all,
I had a succesfull 3 days trip, all alone this time.
I activated 15 summits, 81 points en made about 240 qso's.
Day 1: DM/RP-001, DM/RP-002, ON/ON-009, DM/RP-003.
Day 2: ON/ON-016, -006, -004, -010, -013.
Day 3: ON/ON-011, -024, -025, -001, 026, 029.
I think I have 987 summits now, so #1000 is coming in the begin of 2022?
Many $$ petrol hi hi.
With help of spotting I had fast contacts all the time, also near the evening.
Best DX N2BTD, my first USA in a long time.
Only one time I had a problem, lumberjackers were busy on the route to the top of ON/ON-013.
I had to clime over a lot of logs. Worse, they started coming to the summit region,
I was allowed to stay short. Setting up was difficult in the mud and it was nearly evening, I managed to work 3 chasers quickly and was saved by Kurt ON4CB with the last one!!
Some forrests are closed some days for hunting, I had the luck not when I was there.
Working days: 6:30 local out of bed, in the car before 7:45. Back in the hotel at 18:00.
I used a hotel in Winterspelt Germany at the border near ON/ON-009 and DM/RP-003
Only a few drops of rain.
Thanks to all chasers!
73 de Hans PA3FYG.