After a long, too long break of nearly 4 months without activating, I finally managed to do it today.
It was a perfect chance for me to get back on SOTA activating and wishing you all my very Merry Christmas.
After my last summer activation, I got stuck on 499 activator points and it has taken all this time to finally cross the half-MG score line of 500 activator points.
This morning was extremely foggy in Pamplona but we decided to go for it anyway, as I was pretty sure that we would have a nice sunshine up in the summit.
Today's activation was in company of my 7 years old son, his two 7 years old twin brother friends and their parents.
I chose Mt. Lakarri for today, because it's an easy walk, located just 25Km from my QTH and it would give me 4 points plus the 3 extra points of the winter bonus, thus letting me cross with ease the half MG line of 500 points.
This is its location North East of the city of Pamplona.

Here you can see the GPS track we followed after parking by the road NA-2337 at the Alto de Errea:

The track was very muddy after the snow falls we had some few days ago. Most of the snow had melted by now, although temperature was around freezing with ice on the surface of all the puddles.
The ascent had no issues and we easily got to the summit. The views were great with the blue sky, the low clouds in the valleys and the snow in the Pyrenees. Unfortunately, I forgot my camera and didn't take any good pictures with my mobile phone.
This picture shows a bit of what I've just described and it was taken when I had just started to set up. More precisely when attaching the endfed wire end to the top end of my telescopic fishing pole.

At the summit we found a big group of goats and the leader of the pack came by me to find out how I was doing with my MG. I told him about my commitment to get back into activating for 2018 and he let me proceed with the activation with no issues.

I started on 30m CW where I logged 14 QSOs in 13 minutes,
When the pile-up died out, I QSYed to 40m CW, where I logged 10 QSOs in 11 minutes.
I know there were some chasers still calling me when I announced QSY, but the non ham people with me were starting to get fed up of so much morse code and I felt the urgent need to QSY to phone in order to give them something a bit more understandable for them. My apologies…
So I QSYed to 20m SSB and had a good run of 16 QSOs in 13 minutes, one of which was a S2S with SV2RUJ/P activating SV/EP-101.
By this time, my friends suggested that it would be good to start thinking about packing up and descend as while I was sitting on a rock well protected out of the breeze, they were mainly standing and walking around much more exposed to the cold breeze, so the mother of the twins was starting to get a bit cold.
I announced QSY to CW and went to 20m CW for a quick CQ SOTA. I immediately got picked up by the skimmers and got spotted on SOTAwatch by RBNHole, great. The spot brought Mariusz SP9AMH immediately to the frequency and we completed a very special charming QSO. Thank you Mariusz. It was very, very nice to QSO with you today.
One or two more CQ calls with no callers gave me the chance to QRT and quickly start to pack up.
This is today's full log,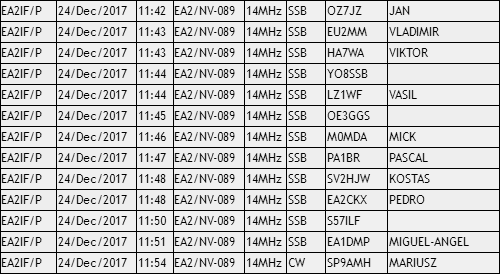 And the S2S of the day,


Mission accomplished!

Descent was a bit more difficult than the ascent because of the mud and the very slippery surface on several sections. The boys fell down on the mud a few times and you can easily imagine how "clean" they got to the car…

´
I didn't say it before, but when we reached to the summit trig point, there were some people there celebrating Christmas with Cava (made in Spain similar to Champagne) and biscuits. They very kindly invited us to a cup of cava and I want to take advantage of the following picture taken in that very moment to wish you all a very Merry Christmas,
Best 73,
Guru